This Bourbon Brown Butter Gingerbread Cake is a gingerbread loaf is fully of spices and topped with a rich brown butter bourbon glaze.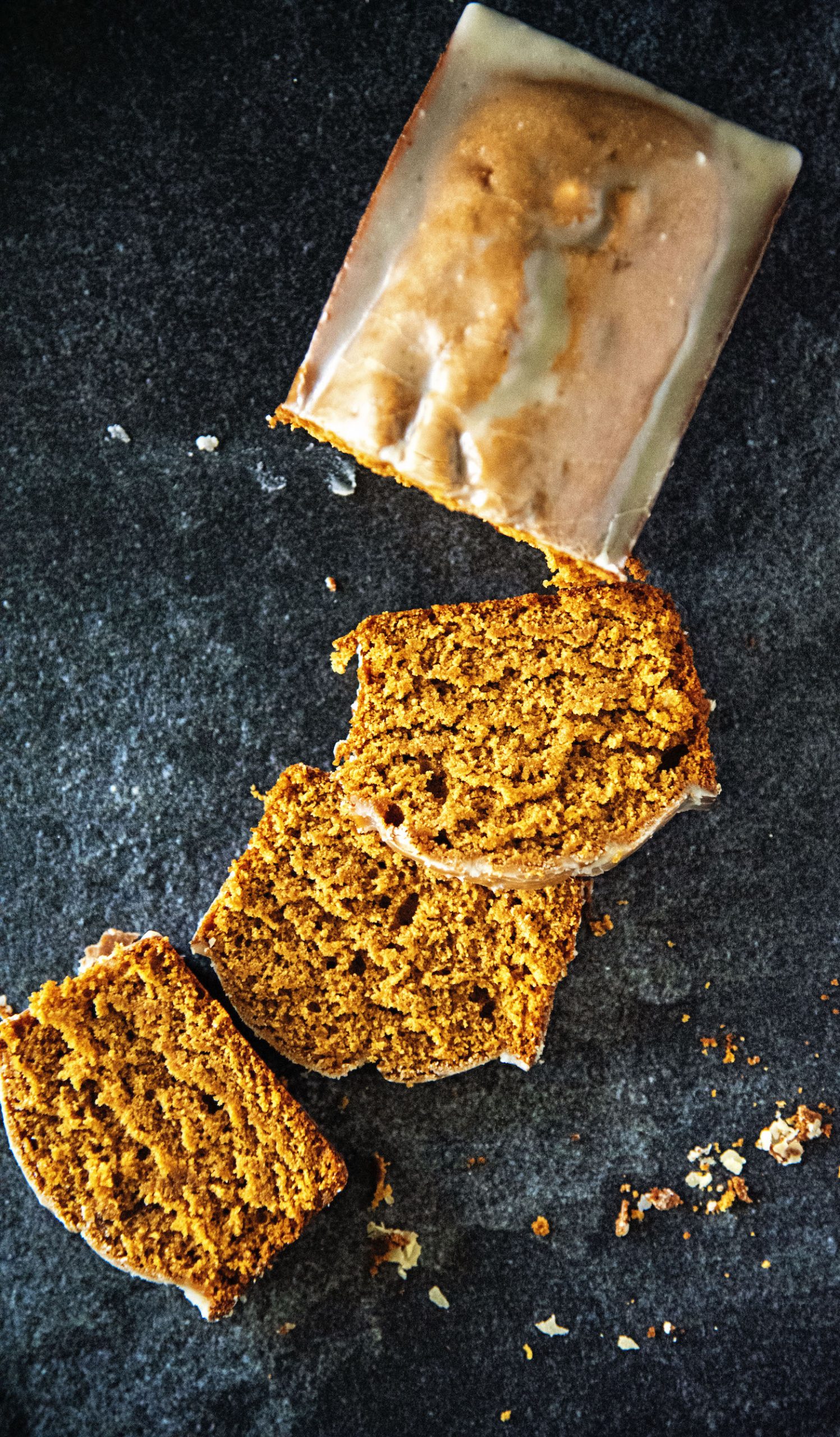 I am a mini loaf-aholic.
Not sure if that's a real thing but I'm making it a thing.
Why do I love the mini loaves so much?
For sharing.
And while I am always sharing my baked goods, holiday time has me sharing even more.
Mini loaves work great for putting together baskets of a variety of breads and cakes.
Plus they bake up quicker!
If you want just one mini gingerbread loaf for yourself you can try out Dessert For Two's version.
But I for one want all four loaves. 🙂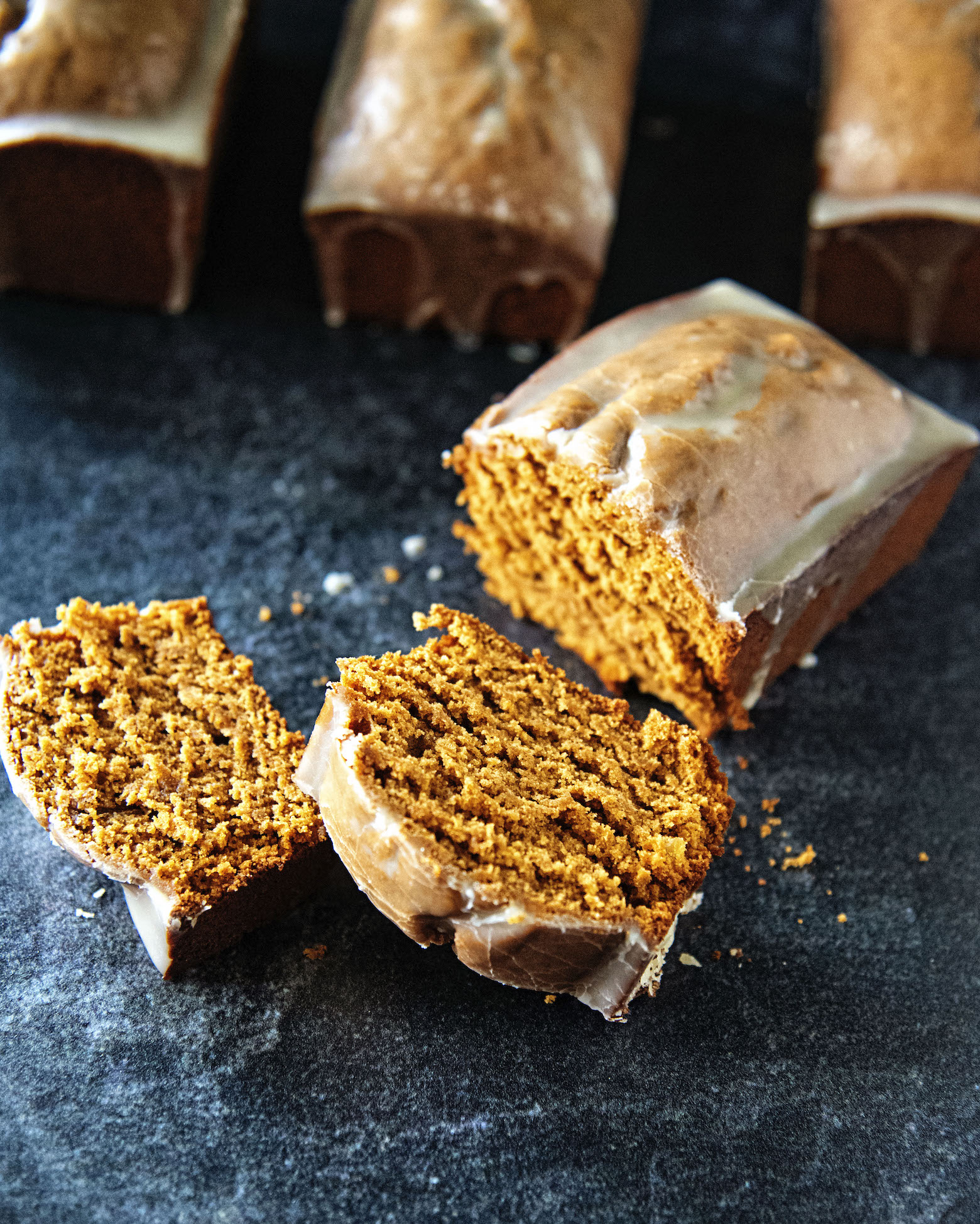 These Bourbon Brown Butter Gingerbread Cake is perfect for making into mini loaves.
I know someone will ask, yes, you can make this into a full loaf.
Obviously you would need to adjust the baking time.
My guess would be about an hour on baking time but really I've never made this recipe as a large loaf so I don't really know.
I would just start watching it around the hour mark and then keep inserting a tester until it comes out clean.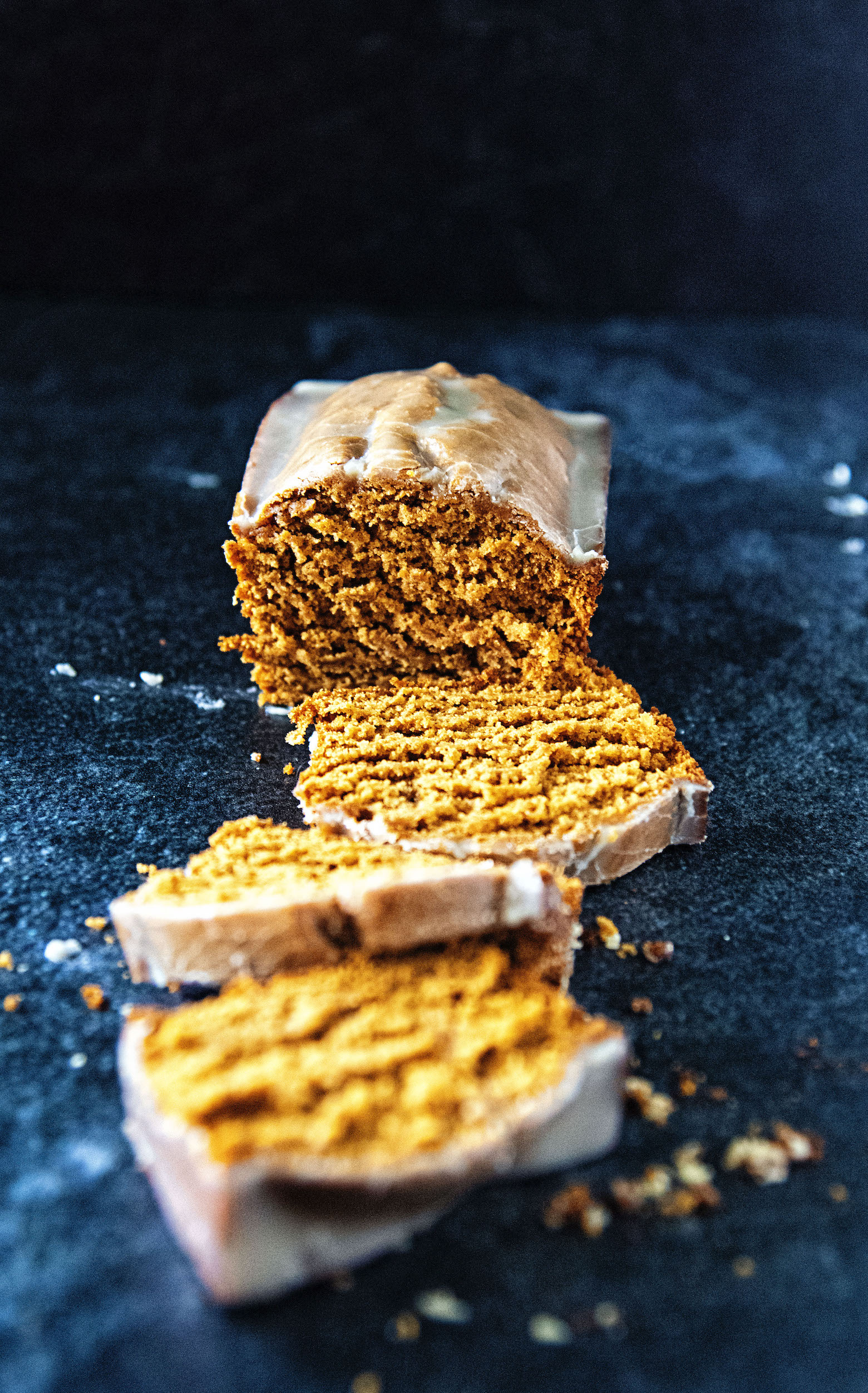 I did use candied ginger in this recipe.
Not everyone is a fan of candied ginger and so please know it is optional.
If you do choose to get rid of the candied ginger I would add another teaspoon of gingerbread spice to the batter.
As the candied ginger adds a little heat to the cakes.
If you are not familiar with how to brown butter you can head over here to see how to do it.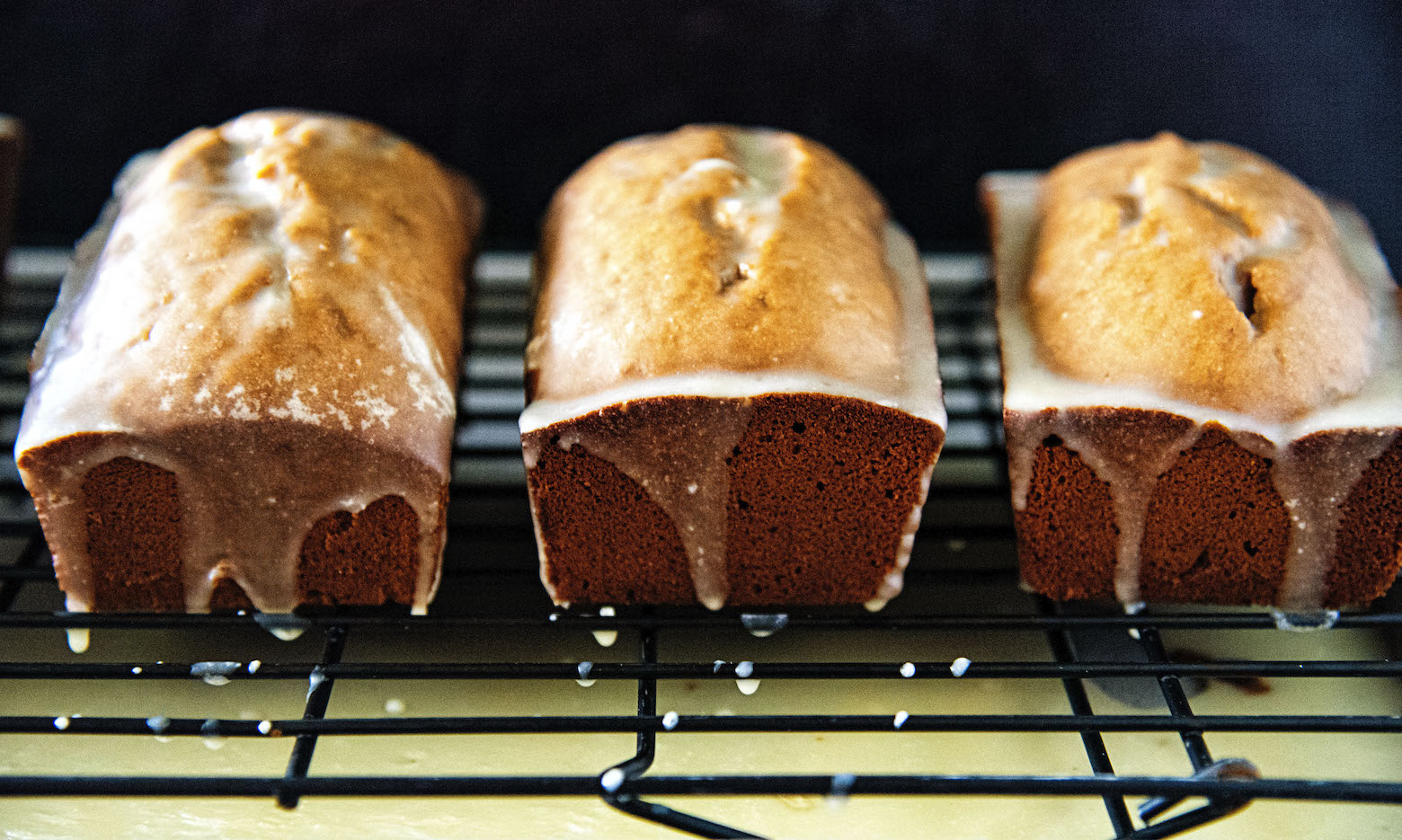 Everyone always asks what pans I use and I use Chicago Metallic Commercial II Non-Stick Mini Loaf Pans.
I have several sets of them especially for this time of year when I want to give away baked goods to others.
These have held up really well as I have had my first two sets for about 13 years now.
And they get used and washed in the dishwasher over and over and over with not issue.
So I hope you will make some mini loaves to share with some people this year I'm quite sure it will make someone's day.
And as always it's a great day to order my cookbook.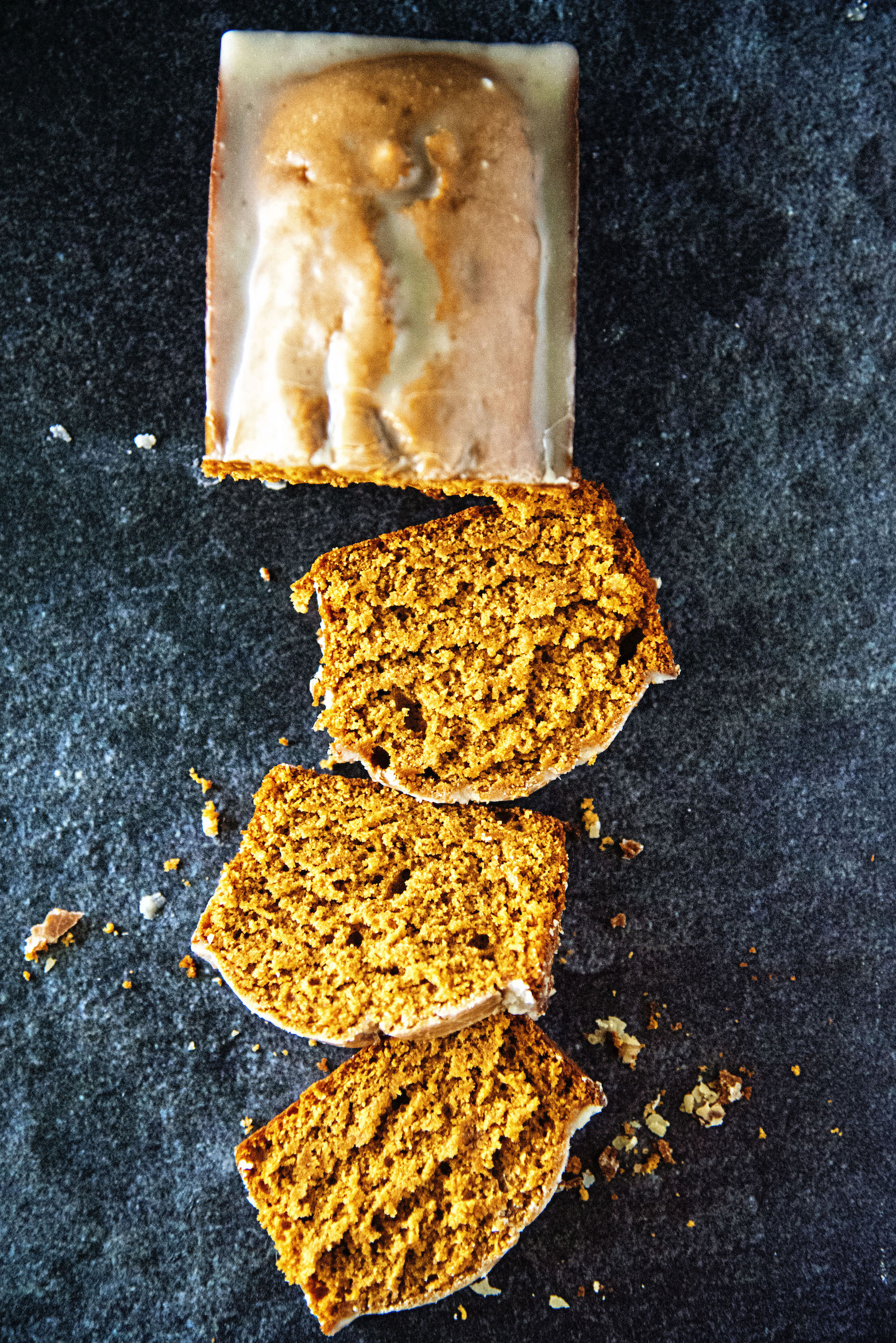 Want More Gingerbread Recipes?
Gingerbread Cheesecake Cheeseball
Clementine Upside Down Gingerbread Cake
Chocolate Gingerbread Layer Cake
Cream Cheese Frosted Gingerbread Sweet Rolls
Ingredients
For the Cake:
2 1/2 cups plus 2 tsp. all-purpose flour, divided
3/4 cup granulated sugar
1/2 cup unsalted butter, at room temperature
1 large egg
1 cup molasses
1 cup hot water
1 TBSP gingerbread spice
1 1/2 tsp. baking powder
1/2 tsp. salt
1/2 cup candied ginger, diced finely
For the Glaze:
3 TBSP heavy cream
3 TBSP Bourbon
2 TBSP brown butter
1 1/2 cups powdered sugar
Instructions
For the Cake:
Spray four 5.75-inch by 3.25-inch by 2.25-inch mini loaf pans with baking spray. Set aside.
Preheat oven to 350F.
Using a stand mixer with a paddle attachment beat together the butter and sugar until light and fluffy, about three minutes.
Add the egg and molasses and beat until fully combined, it should be dark in color now due to the molasses.
Add 2 1/2 cups all-purpose flour, baking powder, salt, and spices to the molasses mixture and mix on low until a thick dough is formed.
Add hot water and mix until fully incorporated. At this point it should have gone from thick to a pourable batter.
Place the candied ginger pieces and the remaining 2 tsp. of flour and toss the pieces in the flour to coat.
Fold in the candied ginger pieces.
Scoop or pour the batter into the prepared pans.
Bake for about 35-04 minutes or until a toothpick inserted in the center of a loaf comes out clean.
Cool on a wire rack while you make the glaze.
For the Glaze:
Whisk together the cream, Bourbon, browned butter, and powdered sugar in a medium bowl.
When cakes are cool pour glaze over the top of them.
Let it firm up. Should take about 30 minutes depending on the temperature in the room.