This Blueberry Lemonade Babka is a yeasted sweet braided dense bread filled with fresh blueberry lemon compote and lemonade glaze.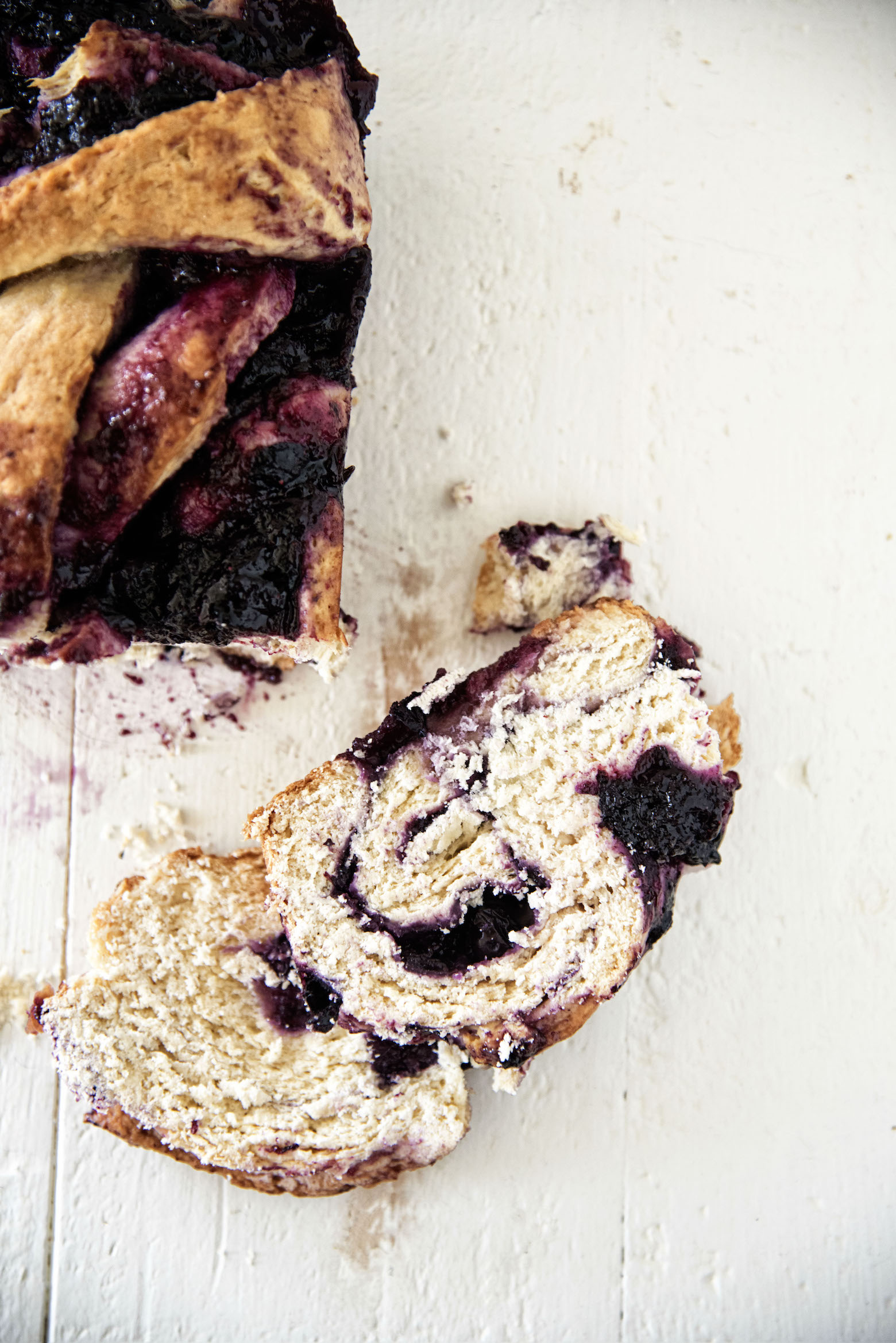 It was a weird weekend.
Friday night here in the Seattle area as most of the nation knows, a man stole a plane.
At first there was panic that it was a terrorist attack.
Neither me nor my husband felt that.
Partially because he works on the marine side of the Port of Seattle and I know that SEATAC has some of the best security in the nation.
So it wasn't a total surprise to my husband to hear it was an airline employee and not some random person getting ahold of a plane.
The news channels had very little on it at first.
Twitter however had a lot of videos that people took of the plane flying around and the fighter pilots following it.
Then a reporter out of Canada of all places who covers the arctic went through all the air traffic control communications (which is legal and available to all FYI).
It was then you knew that this guy was not interested in harming anyone…other than himself.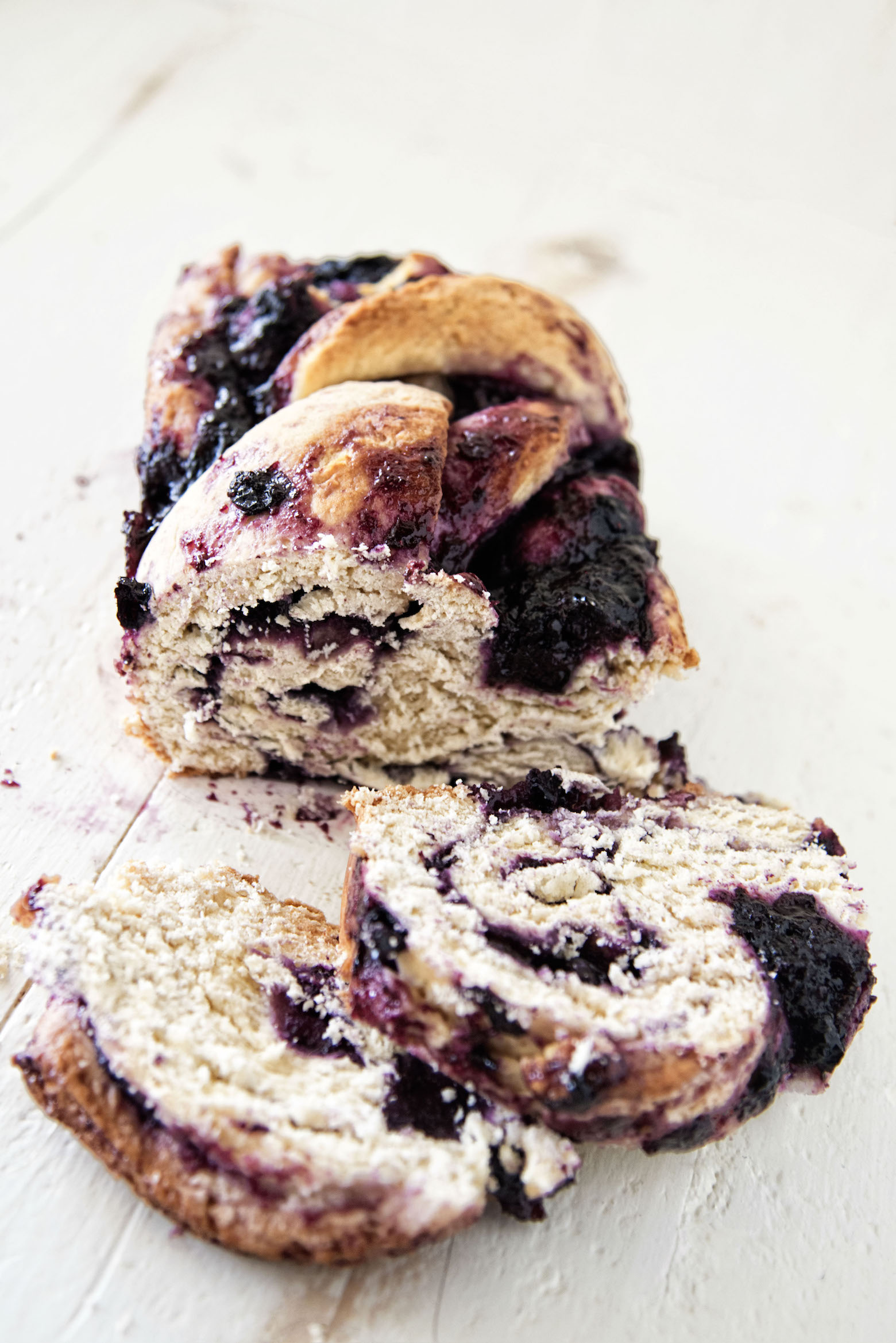 While I am angry that this person did this and put others lives at risk you cannot help but feel for this guy.
Clearly something was going on in his life that made him snap.
You just never know what is truly going on in some ones life.
I feel really, really bad for the air traffic control guy who did an amazing job of keeping the guy calm and doing all that he could to get the guy to land the plane.
They all wanted the guy to land the plane.
I sure hope he gets some support as well as I think it will be very hard on him too.
Even though it cooled down this weekend (it's heating back up again) it was muggy and I had no desire to bake.
Except it's filled with a blueberry compote (we have great blueberries right now) and glazed with a lemonade glaze.
The fruit will fall out when you cut it..don't worry…just shove it back in there. 🙂
Have a good week and be kind to each other.
P.S. It's a great day to buy my cookbook Holy Sweet!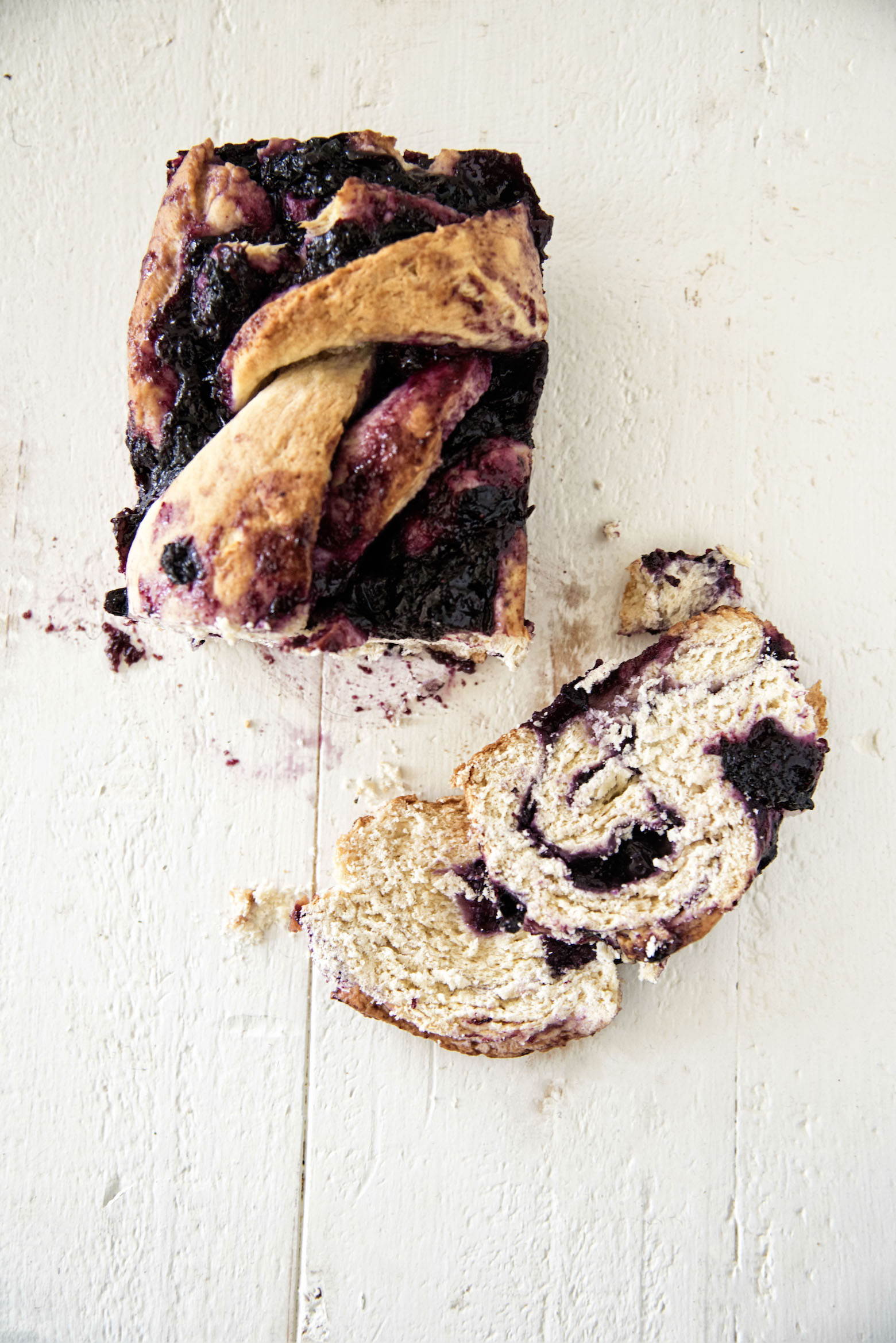 Want More Babka Recipes?
Oatmeal Chocolate Chip Cookie Babka
Ingredients
Blueberry Compote:
1/2 cup water
1/2 cup granulated sugar
2 cups blueberries
1 1/2 tablespoons fresh lemon juice
For the dough:
1 TBSP dry active yeast (I used Red Star Yeast)
1/2 cup + ½ tsp. Granulated sugar
½ cup lukewarm water (105-110F)
4 ½ cups all-purpose flour
1 tsp. vanilla extract (I used Rodelle)
1 TBSP lemon juice
Zest of one lemon
½ cup whole milk
¾ cup (1 ½ sticks) unsalted butter, melted
2 eggs
For the Glaze:
2/3 cup lemonade
1 cup granulated sugar
Instructions
For the compote:
Boil water, sugar in a 1-quart heavy saucepan, uncovered, 5 minutes.
Stir in blueberries and simmer, stirring occasionally, until blueberries begin to burst, 3 to 5 minutes.
Remove from heat and stir in lemon juice.Set aside to cool and then in fridge while you make dough.
To make the dough:
Place the yeast and ½ teaspoon sugar in a small bowl.
Add the lukewarm water and stir gently to mix.
Set aside until foamy, 5 to 10 minutes.In a stand mixer fitted with a dough hook, mix together the flour, 1/2 cup sugar, lemon juice, and vanilla.In a medium saucepan, scald the milk (bring almost to a boil, until milk is just simmering).
Allow to sit for 1 minute to cool just slightly.
With mixer on low, add the water-yeast mixture, lemon zest, milk, and melted butter.Add eggs one at a time.
When the dough begins to come together, after 2 to 3 minutes, turn off mixer and scrape down the sides.Raise the speed to high and mix for another 5 to 10 minutes until the dough is shiny and elastic.
Place dough in a greased bowl with a damp towel on top.
Allow to rise until it has doubled, about 1 to 2 hours.
While dough is rising, make the glaze.
For the glaze:
Combine lemonade and sugar in a medium saucepan.Bring to a low boil until the sugar has dissolved.Set aside to cool.
Making the babka:
Cut the dough into two equal parts.Roll out one part into a rectangle.
Spread 1 1/2 cups of blueberry compote onto the rolled out dough.
Roll dough up like a cinnamon roll and cut it straight down the middle so the filling is exposed.
Cut ½ inch off each end.Layer each cut piece on top of one another and twist.
Fruit will come out, that is to be expected.Place in a greased loaf pan.
Repeat with other babka dough.
Lightly drape a kitchen towel over the top of pans.
Allow to rise another 30 minutes.
Preheat oven to 350°F while the dough rises.
Bake for 20 minutes with aluminum foil lightly tenting the bread.
Remove foil and brush with two layers of the lemonade glaze.
Put back in oven and bake another 15-20 minutes.
The edges should be slightly brown and the middle should be slightly doughy.
Immediately brush with another 3 layers of lemonade glaze.
Allow to cool for 5 to 10 minutes.
Using a butter knife, loosen sides of the babkas from the pans and place on top of parchment wire rack to cool.