This Blackberry Lime Layer Cake has a blackberry white cake filled and frosted with blackberry lime Swiss meringue buttercream.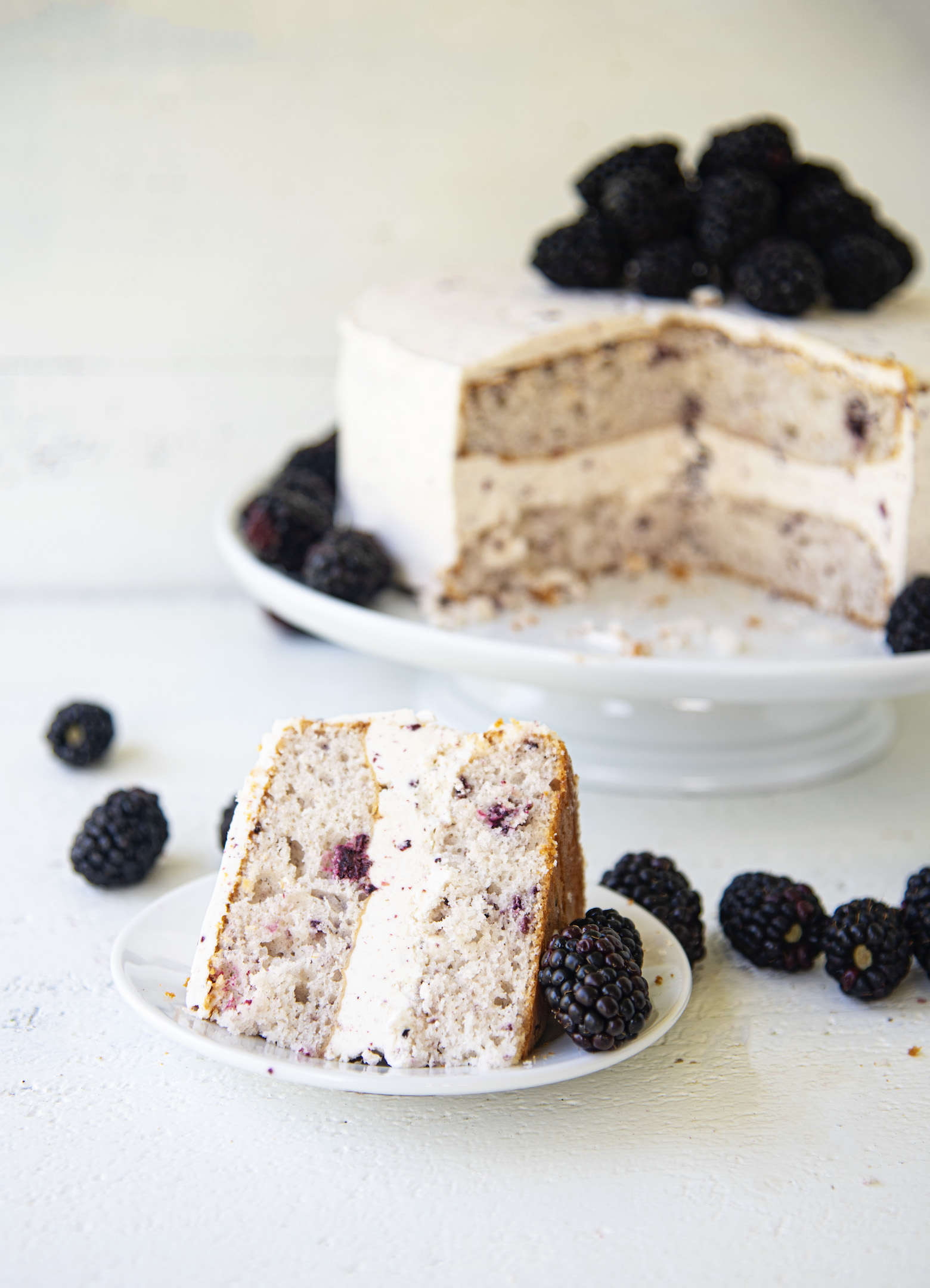 It's the final day of Summer Dessert Week.
Hope you enjoyed the six recipes I made.
I know I did.
For some reason I tend to end Summer Dessert Week with a layer cake.
Not sure why, I just do.
Maybe it's like a wedding…where you hold out until the cut the cake.
Or maybe that is just me…but I won't leave without getting cake. 😀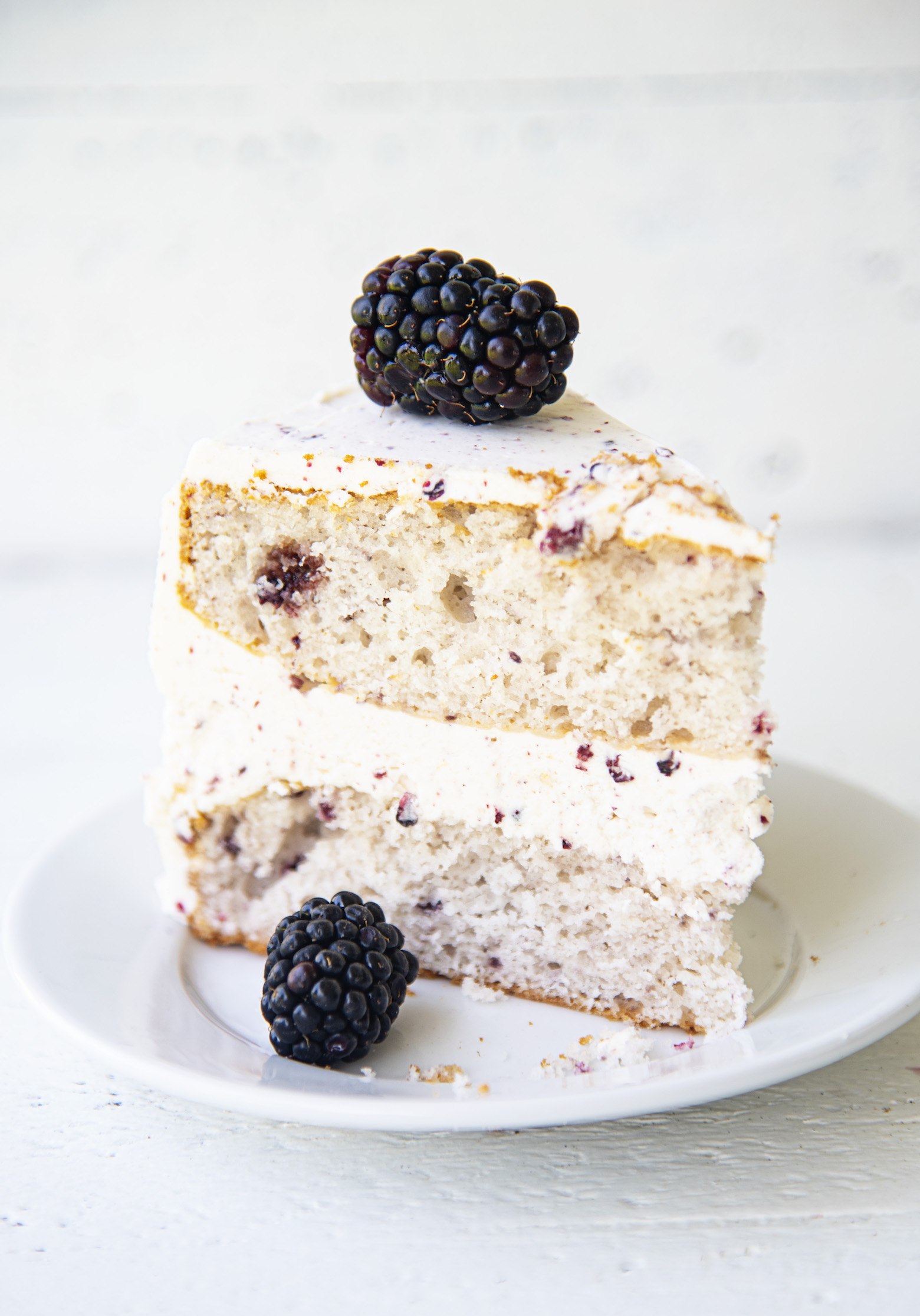 And so I made this Blackberry Lime Layer Cake.
It's a rather simple cake.
I didn't get all fancy.
Not that I can get super fancy with my decorating skills.
But it's just covered in fruit.
No piping.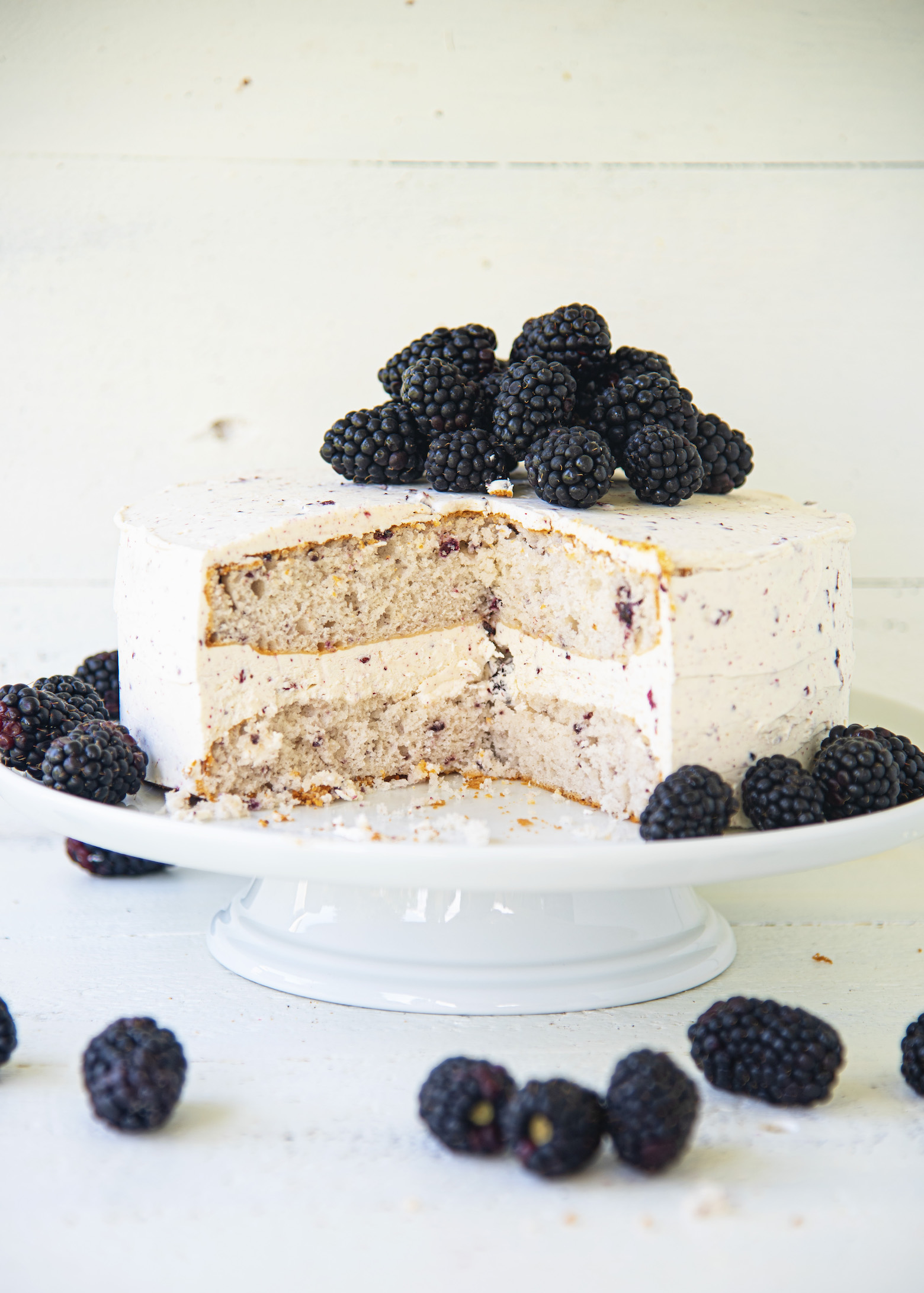 There are freeze dried blackberries in both the cake batter and the frosting.
Then lime juice powder is added to the frosting as well to give it a nice tart touch.
Yes, powdered lime juice.
All the flavor of lime juice but none of the moisture to ruin the frosting.
This is a perfect cake for summer.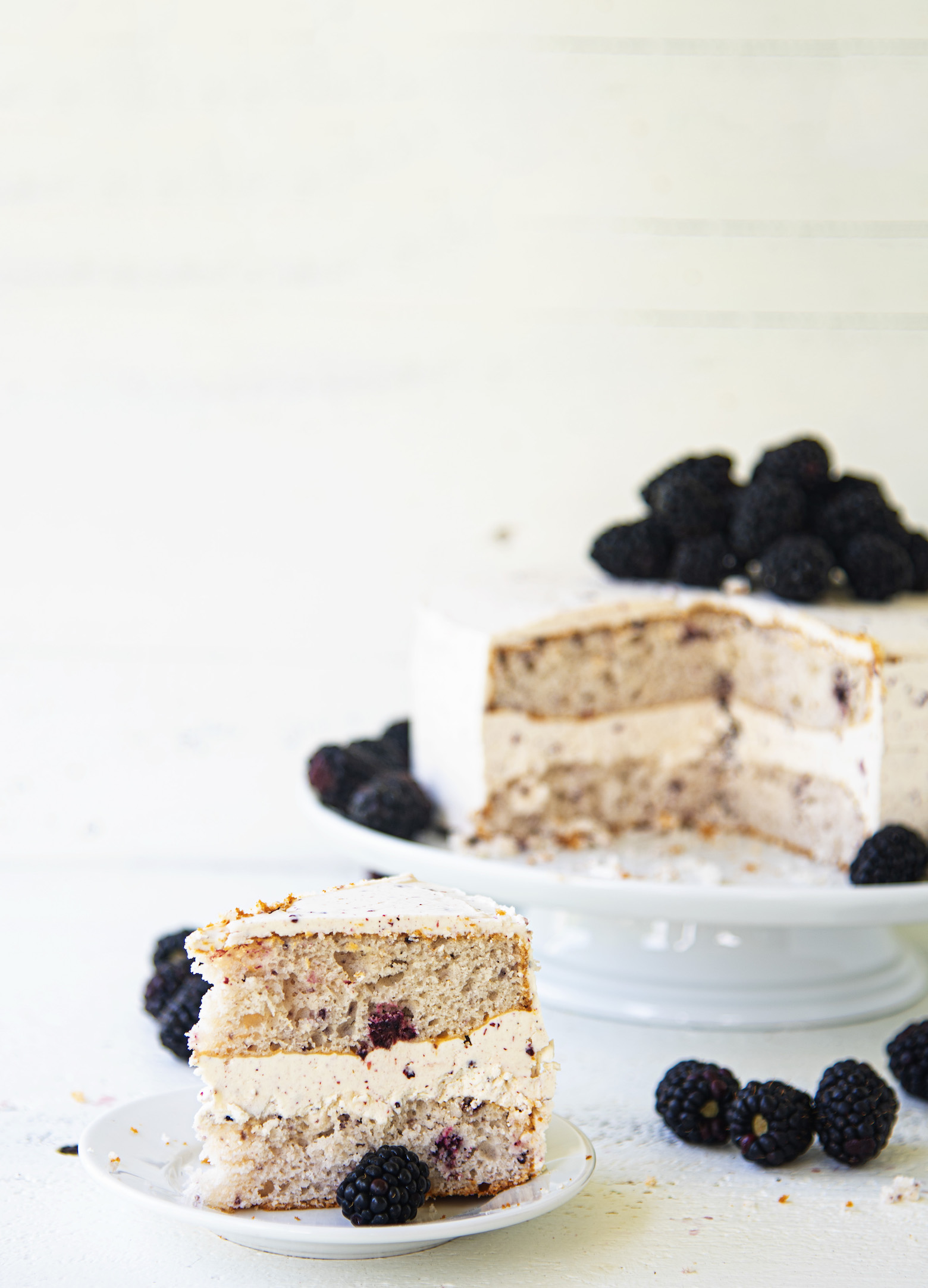 Welcome to the 4th Annual #SummerDessertWeek event hosted by Angie from Big Bear's Wife. We're celebrating all things summer with a week-long event that is absolutely filled with some of the best summer dessert recipes! Follow the hashtag #SummerDessertWeek on social media to find recipes and make sure to check out the bottom of this post for even more summer desserts!
Check out the amazing #SummerDessertWeek recipes from our bloggers today!
Ice Cream & Chilled Desserts:
Summertime Pies:
Summertime Drinks:
Sweet Summertime Cakes and Cupcakes: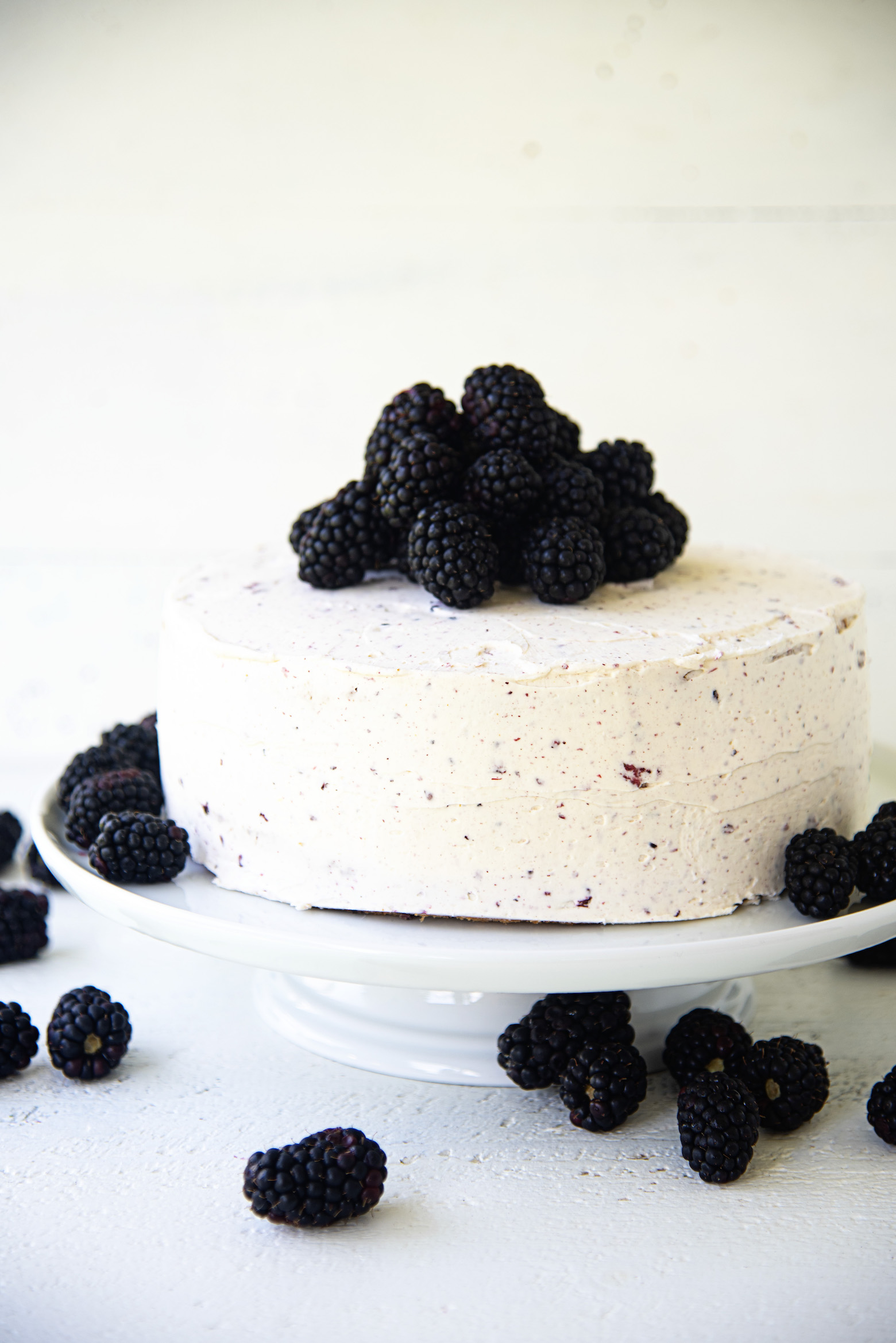 Want more Layer Cake Recipes?
Circus Animal Cookie Layer Cake
Strawberry Mascarpone Buttermilk Layer Cake
Chocolate Salted Caramel Popcorn Layer Cake
Strawberry Lemonade Layer Cake
Ingredients
For the Cake:
4 large egg whites
8 TBSP unsalted butter, at room temperature
1/4 cup vegetable oil
1/3 cup sour cream
1 cup whole milk
1 tsp vanilla extract
1 tsp. salt
2 cups all-purpose flour
1 3/4 cups granulated sugar
2 tsp. baking powder
For the Frosting:
1 cup egg whites
2 cups granulated sugar
3 cups (6 sticks) unsalted butter, cubed and at room temperature
pinch of salt
2 tsp. vanilla bean paste (I used Rodelle)
1/3 cup freeze dried blackberries, finely crushed
Instructions
For the Cake:
Preheat the oven to 350°F.
Line two 8-inch cake pans with baking spray and parchment circles.
Using a stand mixer with a paddle attachment, beat the butter, sugar, and oil together until it becomes lighter in color, about 3 minutes.
Add egg whites on medium-low speed for 2 minutes.
With the mixer running, add the milk, sour cream, vanilla,, and salt. Mix for 1 minute until well combined.
Sift together the flour and baking powder and add to the batter.
Mix on medium until just combined, 10 to 20 seconds.
Remove the bowl and paddle from the mixer and use the paddle to scrape the bottom and sides of the bowl, ensuring that everything is well mixed.
Fold in the freeze dried blackberries.
Divide the batter evenly into the prepared baking pans.
Bake in the middle of the oven for 25 to 28 minutes, rotating the pan halfway through.
Cakes are done when the centers spring back when you touch them.
For the Frosting:
Place the egg whites and sugar in the metal bowl of a stand mixer and set over a small pot of simmering water (the bowl should not touch the water).
Heat, stirring occasionally, until mixture is 160F or hot to the touch.
Transfer bowl to stand mixer and beat on high speed with a whisk attachment to medium stiff peaks, about 8 minutes.
Reduce mixer speed to medium low and add butter a tablespoon at a time, letting it incorporate into the meringue for few moments before adding more.
Add vanilla bean paste, blackberries, lime powder, and salt and beat on high for 1-2 minutes until smooth and creamy.
Frost cake with a generous amount of frosting between the two layers.
Why not Pin this Recipe?