This Blackberry Lime Curd Biscuit Cobbler is a very unique and easy to make biscuit cobbler uses blackberries and tangy lime curd.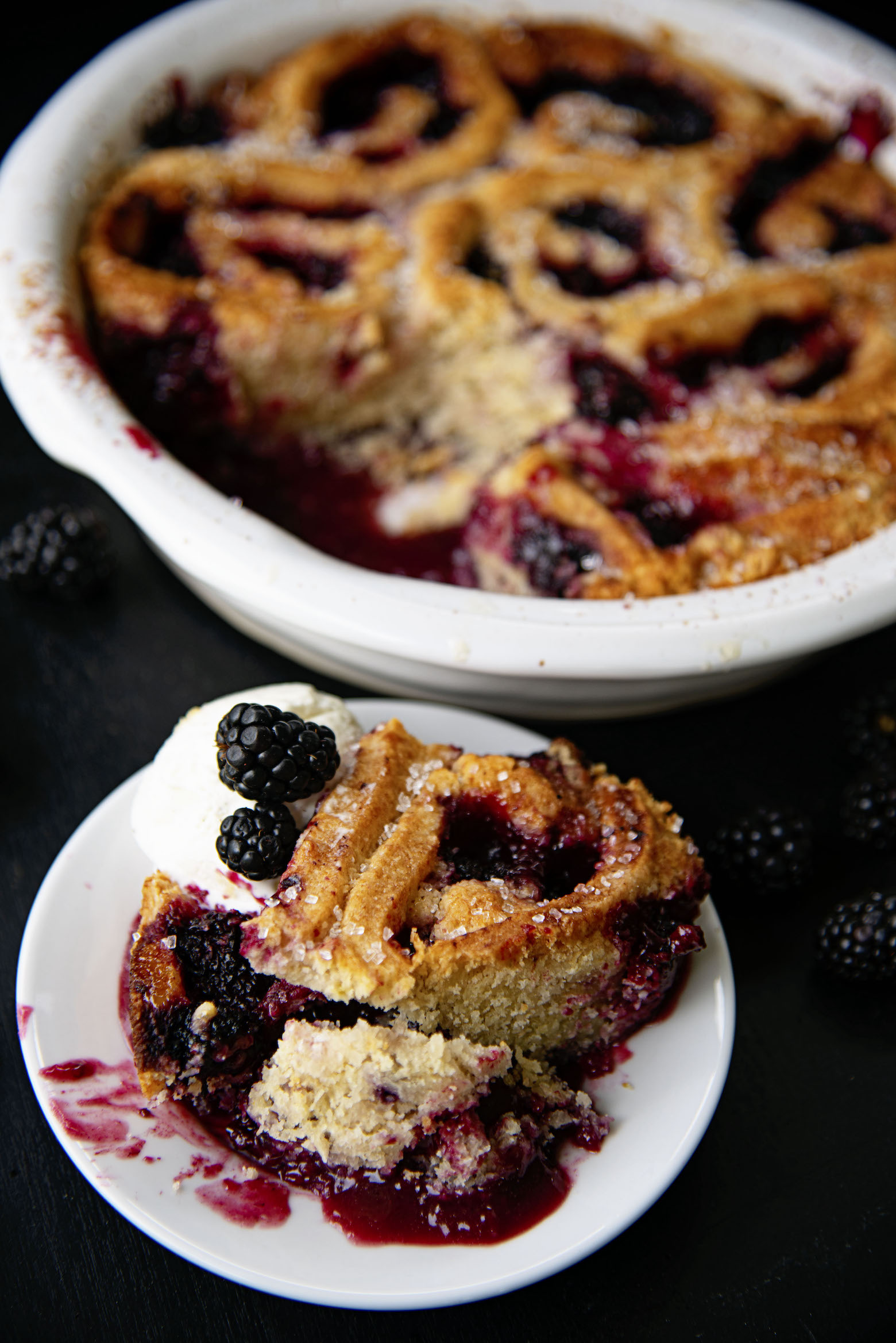 Today is my 7 year wedding anniversary.
It's a Monday.
In a pandemic so it's extra low key this year.
Which is fine.
I'm not a grand gesture kind of gal.
My husband is one of those that constantly does small gestures and that's my love language so to speak.
He does things like filling up my gas tank without me knowing so when I go to my car it's all filled up.
Or randomly buying towels at Costco because ours were looking sketchy.
He always checks the store for the newest coffee creamer (there is a Fruity Pebbles one out right now FYI).
My husband has a knack of knowing when I'm craving Chinese food without me telling him and he shows up with it after work.
Or being at the auto store and finding me Hello Kitty floor mats.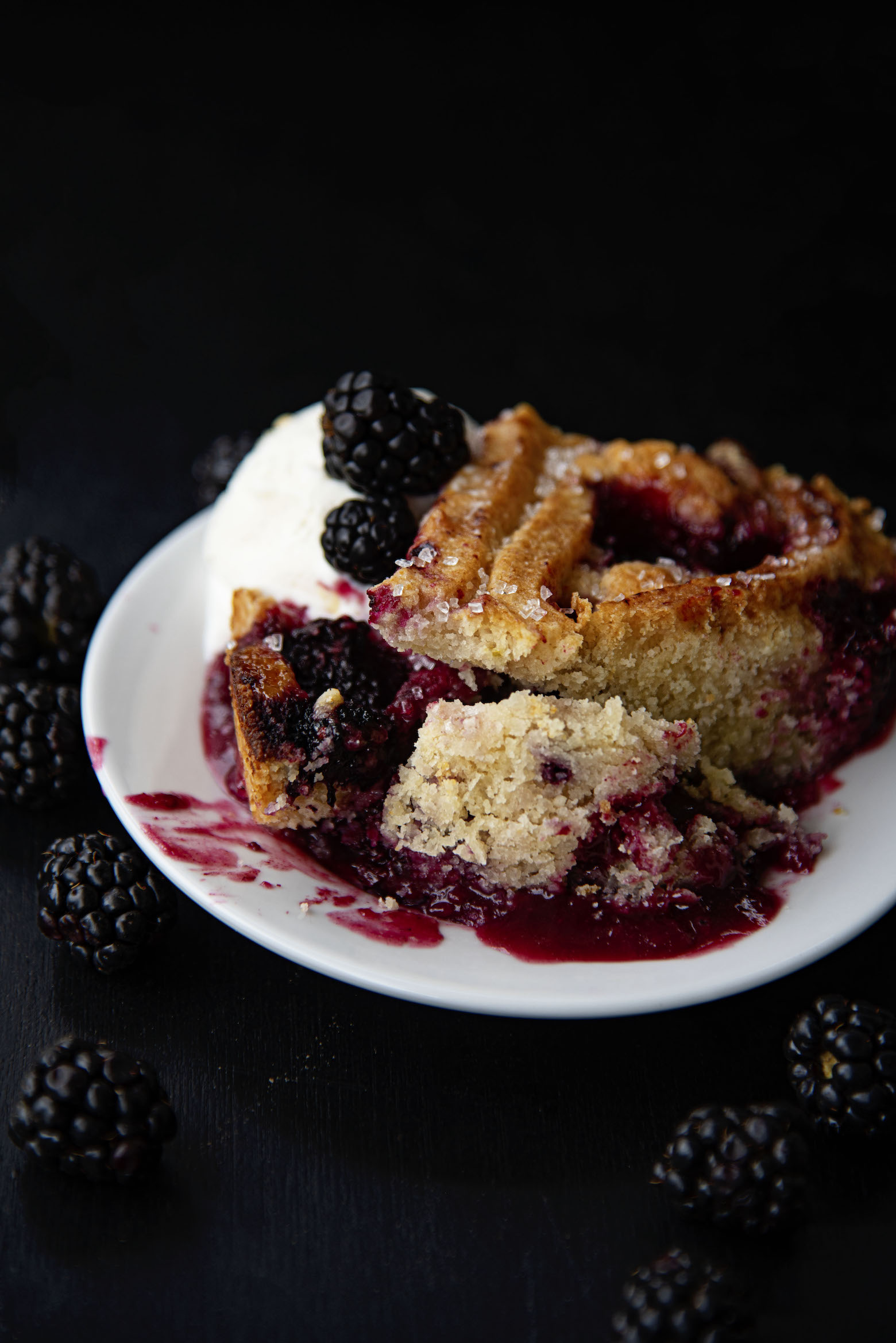 For our anniversary this year he got me a giant bowl.
Giant.
Because he notices I never pick a large enough bowl for what I'm mixing. 🙂
Which is often the case.
He also got me a fermenting kit.
Because he heard me mention I want to ferment things this year with our CSA box.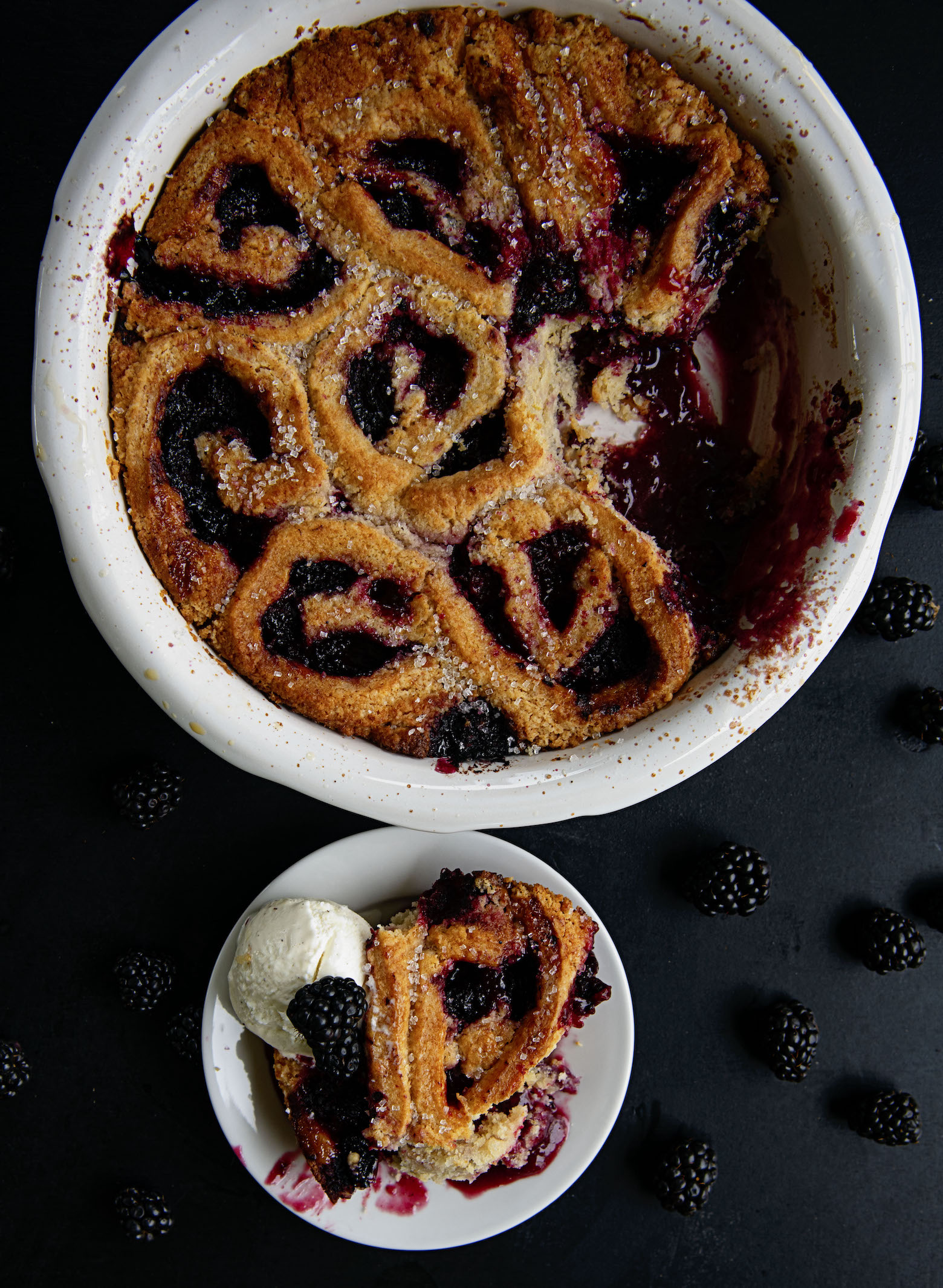 This Blackberry Lime Curd Biscuit Cobbler wasn't for our anniversary.
I made it last week.
Cobbler gets made around here a lot.
While I usually wait until summer for a blackberry cobbler, I had some frozen blackberries taking up freezer space.
This cobbler works just as good with frozen or fresh.
And the addition of the lime curd was absolutely genius if I do say so myself.
SO good adding it.
It's a great day to buy my cookbook.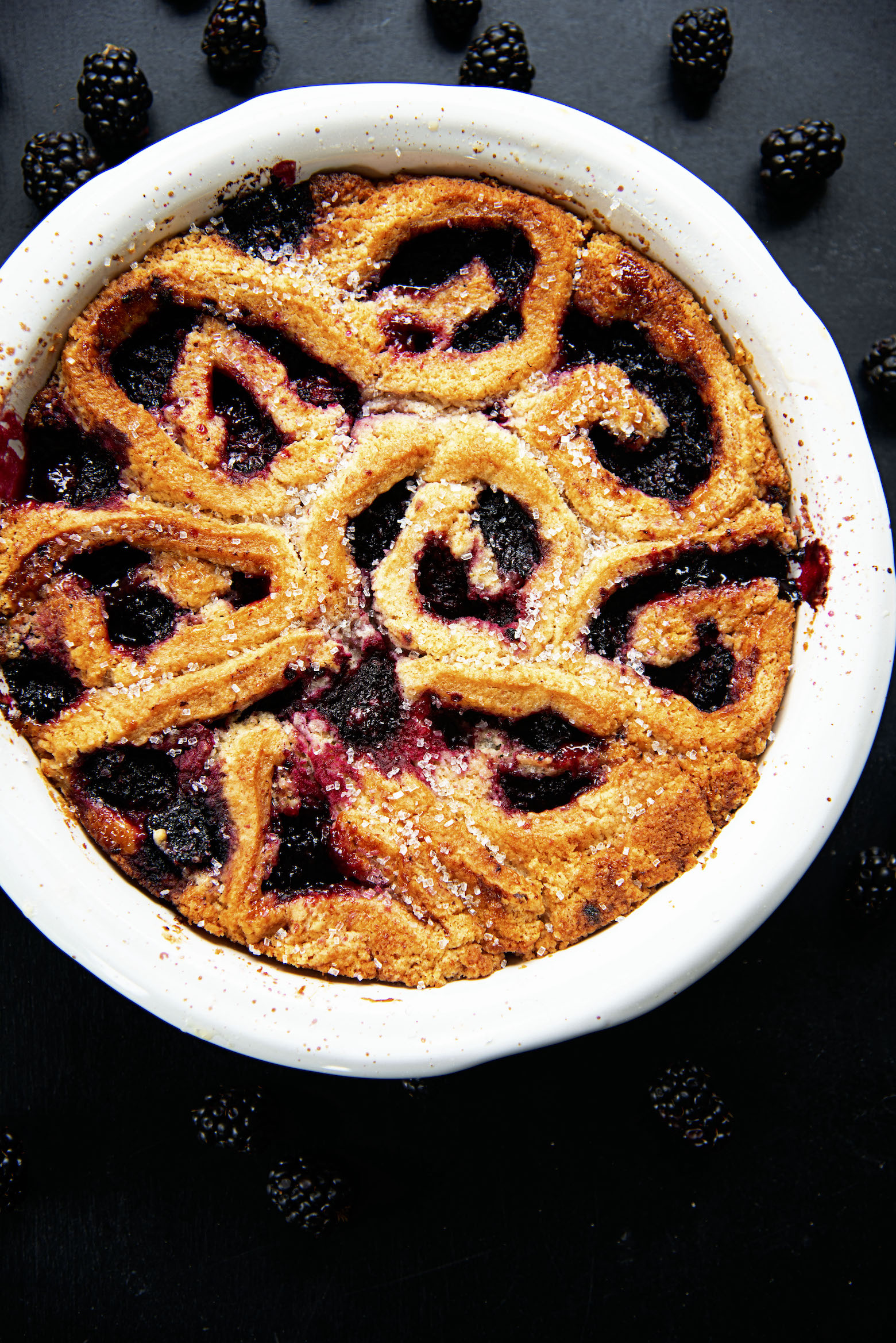 Want more Cobbler Recipes like this? Try these:
Ingredients
1 stick (1/2 cup) unsalted butter, plus 1/2 stick (4 TBSP) cut into bits and chilled
1 cup water
1 cup granulated sugar
1 1/2 cups self-rising cake flour
1/3 cup milk
zest of one lemon
3 cups fresh or frozen blackberries
1/2 cup lime curd
2 TBSP sparkling sugar
Accompaniment if desired: vanilla ice cream
Instructions
Preheat oven to 350°F.
In a 10-inch glass pie plate or baking dish melt 1/2 cup uncut butter in oven.
In a small saucepan combine water and 1 cup sugar and heat over moderate heat, stirring occasionally, until sugar is completely dissolved.
In a food processor pulse together flour and remaining 1/2 stick (4 TBSP) cut-up butter until mixture resembles fine meal.
Add milk and pulse just until a dough forms.
Turn dough out onto a lightly floured surface and with a floured rolling pin roll into an 11- by 9-inch rectangle.
Spread lime curd thinly across the dough.
Scatter blackberries evenly over top of the dough.
Beginning with a long side roll up dough jelly-roll fashion and cut into 1 1/2-inch thick slices. (Slices will come apart and be messy).
Arrange slices, cut sides up, on melted butter in pie plate or baking dish.
Pour sugar syrup over slices, soaking dough, and bake cobbler in middle of oven 45 minutes.
Sprinkle sparking sugar over cobbler and bake 15 minutes more, or until golden.
Serve cobbler warm with ice cream.