These Blackberry Laminated Brioche Brown Butter Crumb Rolls are brioche filled with blackberry jam and brown butter crumb topped with vanilla bean glaze.
I love it when I stumble upon a new blog and fall in love with it.
Honestly, that hardly happens anymore.
In the jam packed world of food blogging there are few of us left that use it at a creative expression more than a business.
Certainly you can have both but as I sit on forums of burned out bloggers and look at their sites…I know they are cranking out recipes just to crank them out.
And well, I want to be inspired.
I know not everyone is looking for that.
Sometimes you just want a throw together meal for your family.
And I get that.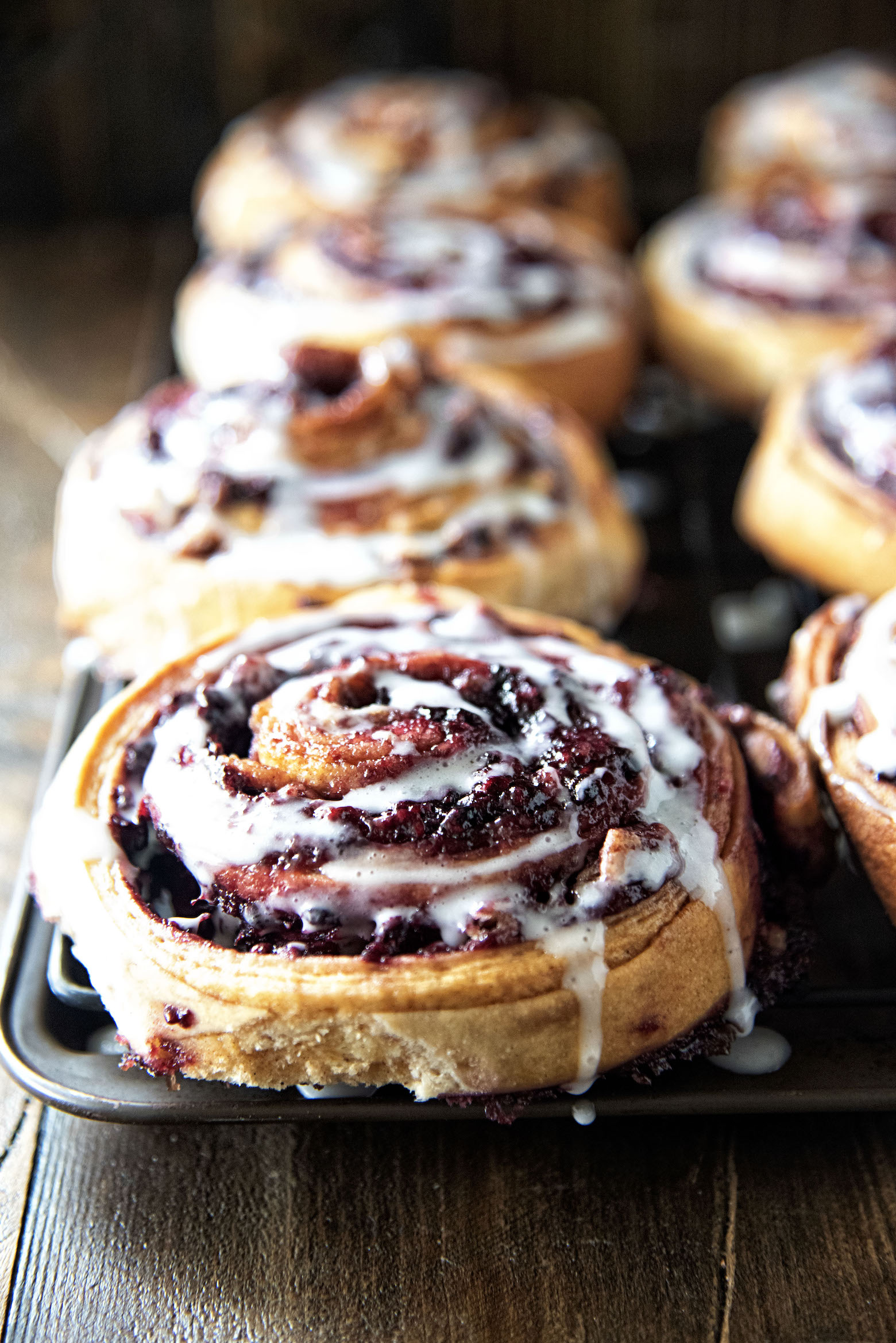 But that isn't really what I do here.
So when I stumbled across a recipe for caramelized onion, goat cheese, and sundried tomato pesto pretzel buns I knew I was in love.
Then I got to poke around the site more and that's when I saw her beautiful peach buns.
But I just made Bourbon Brown Sugar Caramel Peach Sweet Rolls not too long ago and so I put them out of my mind.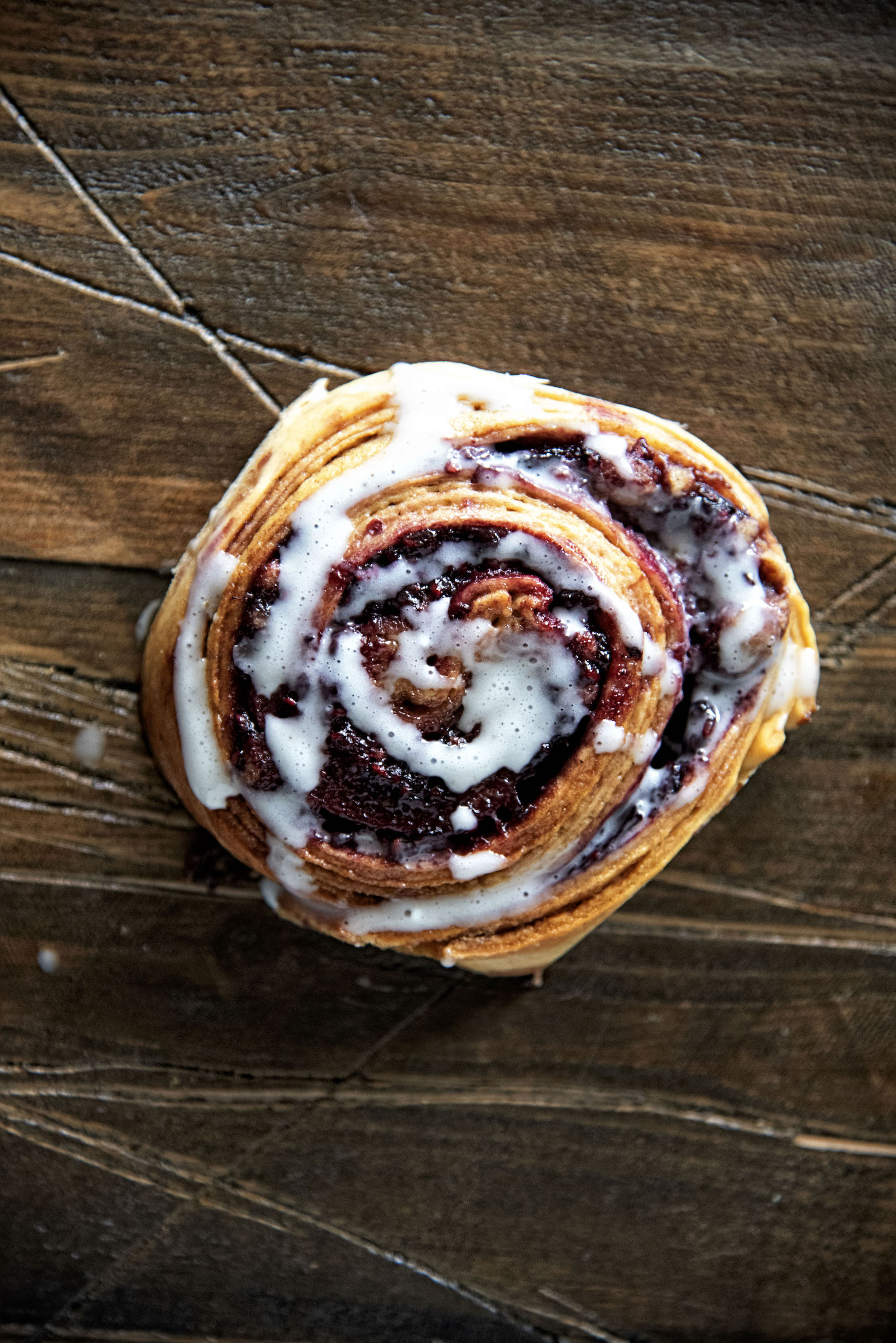 That was until my husband came in from the backyard with a bucket of blackberries.
The Pacific Northwest is the breeding ground for blackberries…they take over.
This year they were especially aggressive.
Yes, blackberry bushes can be aggressive.
They overtook everything in the yard…and fast this year thanks to unseasonably warm summer temps.
And so my husband went out to attempt to tame the bushes.
But he is at least well trained enough to know to pick the ripe berries along the way.
If he does…he gets rewarded.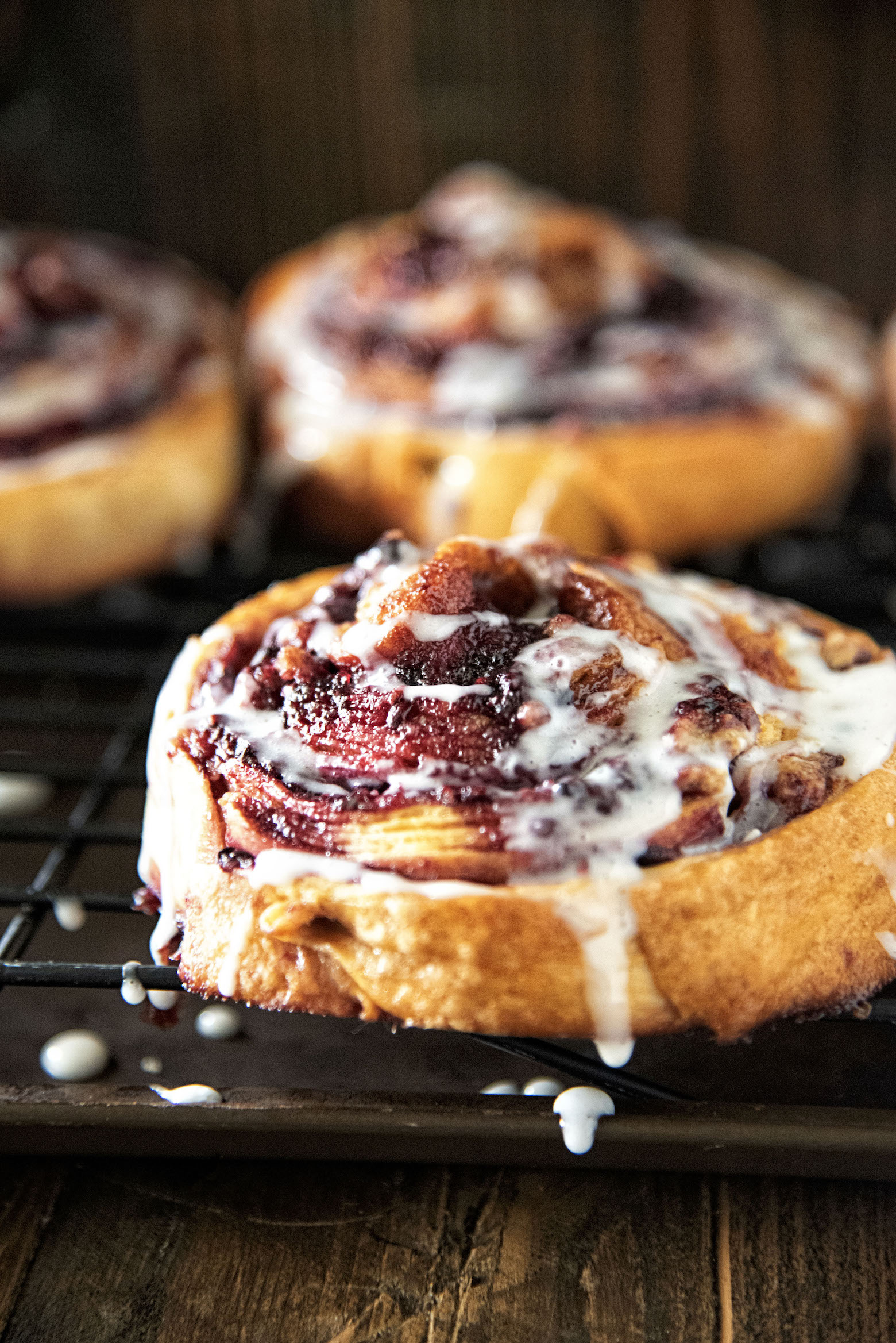 What intrigued me most about these was the lamination process.
The kind I use is normally much more involved and this seemed like a short cut version.
Which it was but it worked pretty well.
Love the idea of the cinnamon sugar being stuffed in the layers instead of just the center like traditional cinnamon rolls.
The recipe is originally written in metric.
Which I know people in the states hate…but really people you should come to the dark side…aka metric when you bake.
You really do get better results.
I did give you the recipe in cups and what not.
You will have leftover blackberry filing and crumbs.
Sprinkle it over ice cream or wait until later this week when I have a recipe using up the rest of the filling and crumbs.
I don't think I need to tell you that these Blackberry Laminated Brioche Brown Butter Crumb Rolls were awesome.
P.S. It's a great day to buy my cookbook Holy Sweet!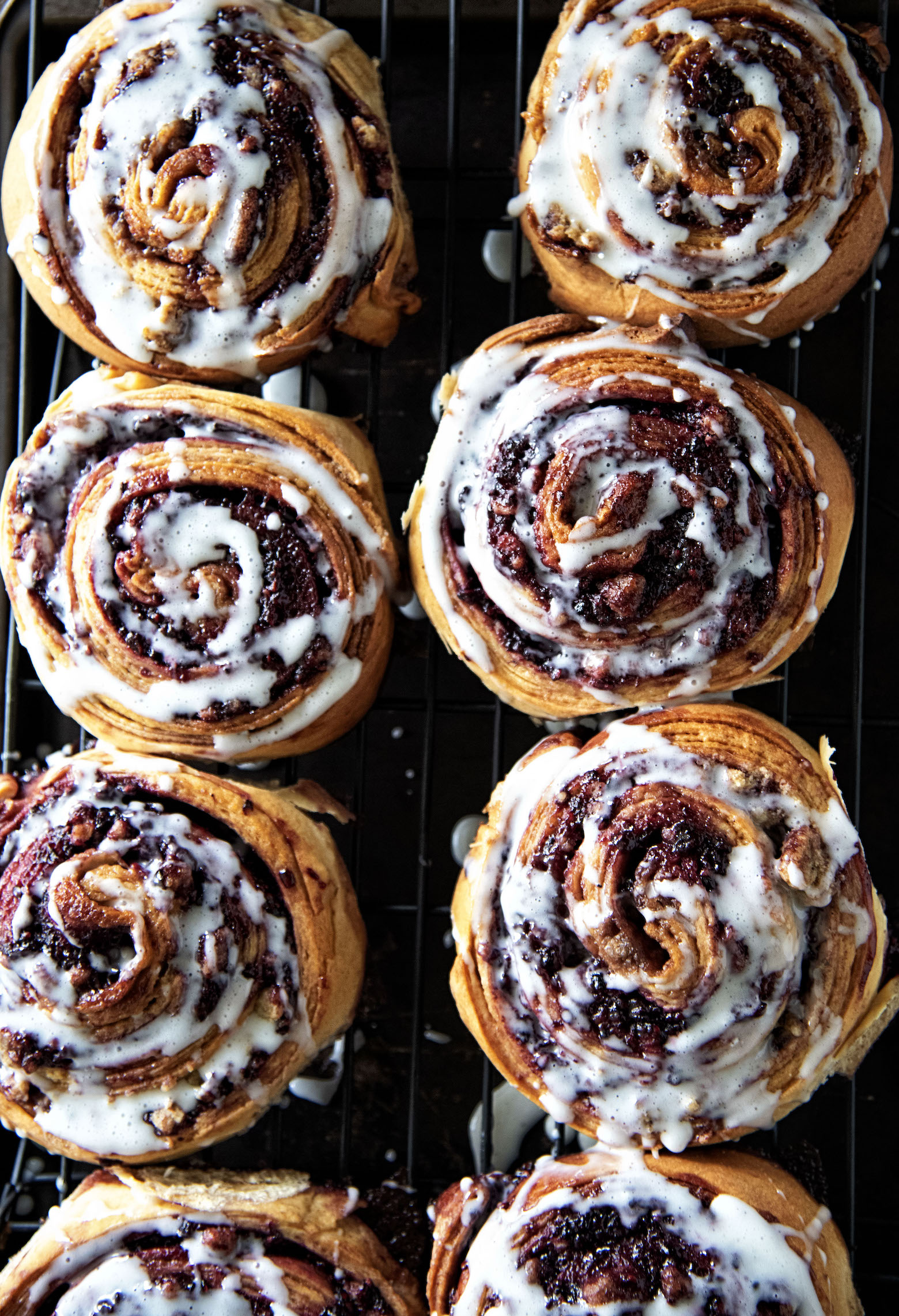 Tips for Baking With Yeast:
Know the Difference in Yeast:
There are two types of yeast: Dry Active and Rapid Rise.
Dry Active yeast needs to be activated with warm liquid.
Rapid Rise can simply be added to the recipe.
Almost all the recipes on this site use Dry Active.
Don't kill the Yeast: 
You will see in all my recipes that call for yeast that if in the very first steps of activating (proofing) the yeast with the warm water (or milk or buttermilk) the yeast doesn't froth or bubble up then to start over again.
Two things happened if your yeast did not froth or bubble up.
If your liquid was too hot and killed the yeast or your yeast was expired.
Don't go crazy with the Salt:
Salt counteracts yeast.
You will see a small amount of salt in some recipes and a minimal amount is fine as long as you DO NOT let the salt touch the yeast.
Which simply means when you are proofing don't add salt.
You may add salt with the rest of the dry ingredients when you continue baking.
Sugar and Starches:
While you don't need sugar to activate the yeast it is often added for the proofing.
You do however need it in your recipe as yeast feeds off of sugar.
If you are making a non-sweet bread the yeast will feed off of the starches.
When the yeast is feeding is when you see it rise as it releases CO2 gases.
Do not think you can make your proofing or rise go faster by adding more sugar…this will not work.
Yeast is happiest between 70-80F: 
You are going to get the best rise out of your yeast if you are letting the proofing and rises happen in a room with temperatures between 70 and 80F.
If your room is colder than that then your dough will take longer to rise and you need to take that into consideration.
Same goes for if you have a very warm room.
Storing Yeast: 
Yeast goes dormant at 50F, so store your yeast in the freezer and it will last longer.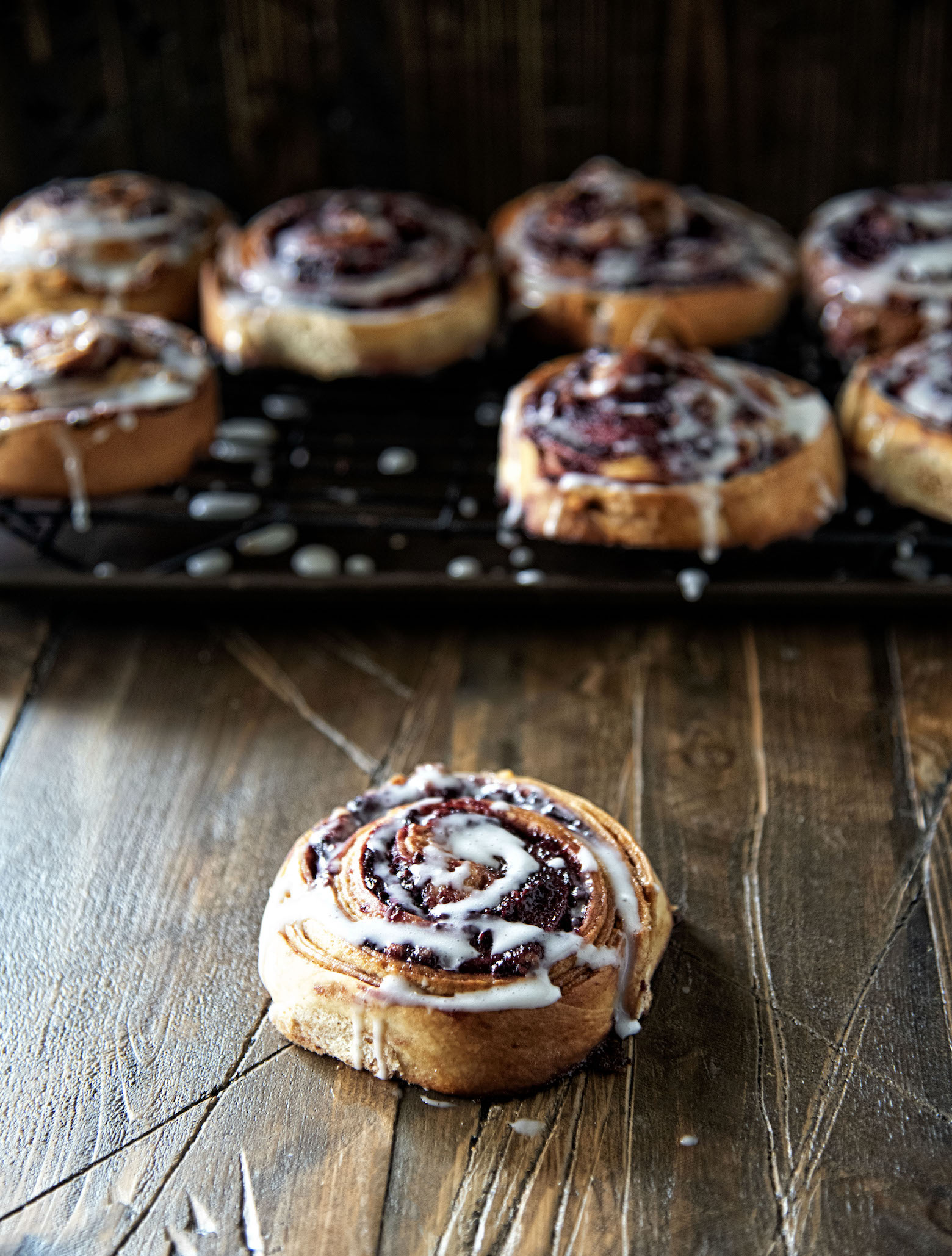 Want more recipes?
Bourbon Brown Sugar Caramel Peach Sweet Rolls
Salted Caramel Apple Sweet Rolls
Cinnamon Toast Crunch Sticky Buns
Ingredients
Brioche Dough:
1 envelope (2 1/4 tsp) active dry yeast (I used Red Star Yeast)
3/4 cup plus 1 TBSP whole milk (about 110F)
4 TBSP dark brown sugar
3 3/4 cups all-purpose flour
1 tsp salt
2 eggs, at room temperature
1 tsp vanilla bean paste (I used Rodelle)
115g (8 tbsp) unsalted butter, at room temperature
Blackberry Filling:
4 cups fresh (or frozen) blackberries
1 cup granulated sugar
1/2 tsp vanilla bean paste
1/2 tsp salt
Brown Butter Streusel:
11 TBSP unsalted butter, sliced into 1 TBSP pieces
1 cup brown sugar, packed
1 tsp salt
1 tsp vanilla bean paste
1 1/2 cups plus 1 TBSP all-purpose flour
Cinnamon Filling:
4 oz unsalted butter, melted and cooled
3/4 cup plus 2 TBSP brown sugar, packed
1 1/2 tsp cinnamon
pinch of salt
Vanilla Bean Glaze:
3/4 cup powdered sugar, sifted
3 TBSP heavy cream
1 tsp vanilla bean paste
Instructions
For the Brioche Dough:
In a small bowl, combine the yeast, milk and 2 Tbsp of the sugar.
Mix well, and leave to sit for 10-15 minutes, or until foamy.
In the bowl of a stand mixer fitted with the dough hook, combine the flour, salt, and remaining 2 Tbsp sugar.
Mix briefly to combine.
Add the eggs, vanilla, and foamy yeast mixture to the bowl.
Mix on low for 2-3 minutes, until the dough is starting to come together.
It may look slightly dry but do not worry – it will mix together nicely in the next steps.
Increase the mixer speed to medium, and mix for another 10 minutes, until the dough is soft and smooth. 
Reduce the mixer speed to low, and add the butter a little at a time, waiting until it is fully incorporated into the dough before adding the next piece.
This process should take 3-4 minutes.
Once the butter is fully incorporated, increase the mixer speed to medium, and mix for a further 5 minutes, until the dough is very soft and smooth. 
Transfer to a greased bowl, and cover tightly with plastic wrap.
Place in a warm spot until doubled in size, approximately 1 – 1 1/2 hours, or overnight.
Blackberry Filling:
Place all of the ingredients into a medium pan and place over medium heat.
Bring to a boil, stirring occasionally, then roughly mash.
Continue to cook, stirring frequently, fro 15 minutes, or until thick.
Transfer to an airtight container and chill completely.
Can be made ahead.
Brown Butter Streusel:
Preheat the oven to 350˚f / 180˚c. Line a baking sheet with parchment paper. 
Place the butter in a small pan, and place on the stove over medium heat.
Heat, stirring occasionally, until the butter has melted.
Continue to cook, until the butter begins to foam, smells nutty, and goes a deep golden brown color.
Remove from the heat and place in a medium heatproof bowl.
Add the remaining ingredients, and mix well to combine.
Using your hands, break up any large lumps.
Spread evenly over the baking sheet, and bake until lightly golden and toasty, 10-15 minutes.
Remove and allow to cool completely before storing in an airtight container.
For the Rolls:
In a small bowl, combine the brown sugar, cinnamon, and salt.
Turn the dough out onto a lightly floured surface, and roll into a 16"x26"(40cmx66cm).
Lightly brush with butter, and sprinkle with half of the cinnamon sugar mixture.
Fold into thirds like a letter, then roll out again into a 16"x26" (40cmx66cm) rectangle.
Brush again with butter, and add the remainder of the cinnamon mixture.
Spread the dough with a cup of the peach compote, and sprinkle with a cup of the brown butter streusel.
Starting on the SHORT side, roll up into a log.
Place the log onto a parchment lined baking sheet, lightly cover with plastic wrap, and transfer to the freezer for 20 minutes.
Alternatively you can chill it in the fridge for about an hour.
If your dough is still quite cold if you did an overnight rest, you can skip this step if you like, but I find it helps a lot with keeping a nice tidy spiral.
Line a baking sheet with parchment paper.
Trim the ends of the log of dough so that they are tidy.
Using a very sharp knife, measure the log of dough, and cut into 12 even pieces.
Arrange on the baking sheet. Use toothpicks to hold in place if they start to lose shape.
Lightly cover the buns with plastic wrap, and place in a warm spot for 45 minutes to an hour, until they are puffy.
While the buns are rising, preheat the oven to 350°f / 180°c.
Bake the buns for 30 to 35 minutes, until golden brown.
Remove from the oven and allow to cool.
For the Glaze:
Combine all the ingredients into a small bowl.
Adjust the amount of cream if needed to make a consistency that will drizzle.
Drizzle the glaze over the buns. Store leftover buns lightly covered at room temperature.
Rewarm in the microwave briefly before eating if desired.