Blackberry Brown Butter Crumb Coffee Cake: Crumb topped coffee cake made with a blackberry swirl filling, brown butter crumb topping, and all topped with blackberry icing.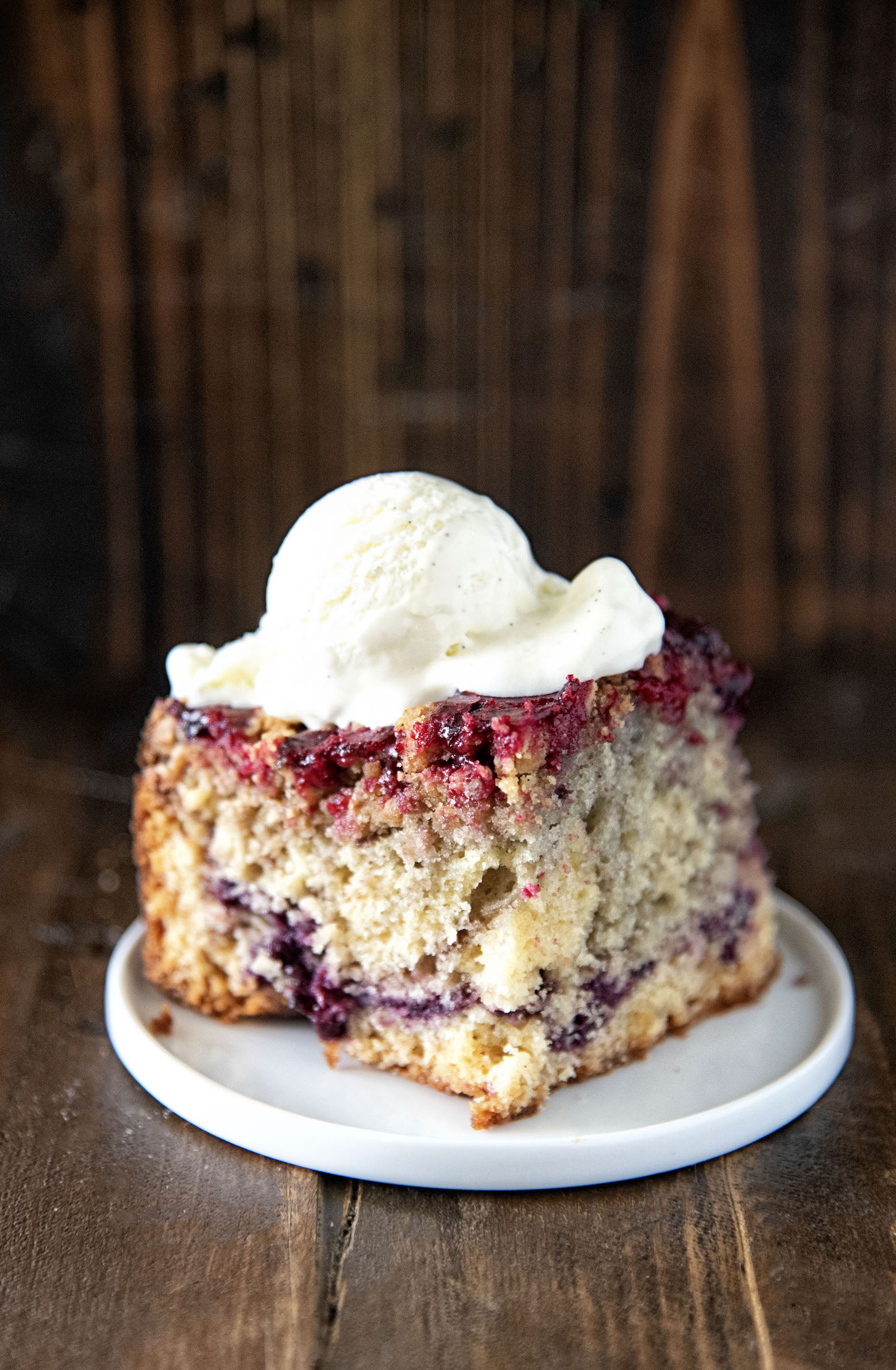 Most bloggers, not me anymore, try to figure out what you the reader wants.
I say not me anymore because I found that following trends and making foods I didn't want to just because they were popular right now sucked the soul out of blogging for me.
Made it no fun.
And almost made me quit a few times.
So I went back to just making recipes I like.
But one thing all bloggers agree on is we can never really guess what will be popular.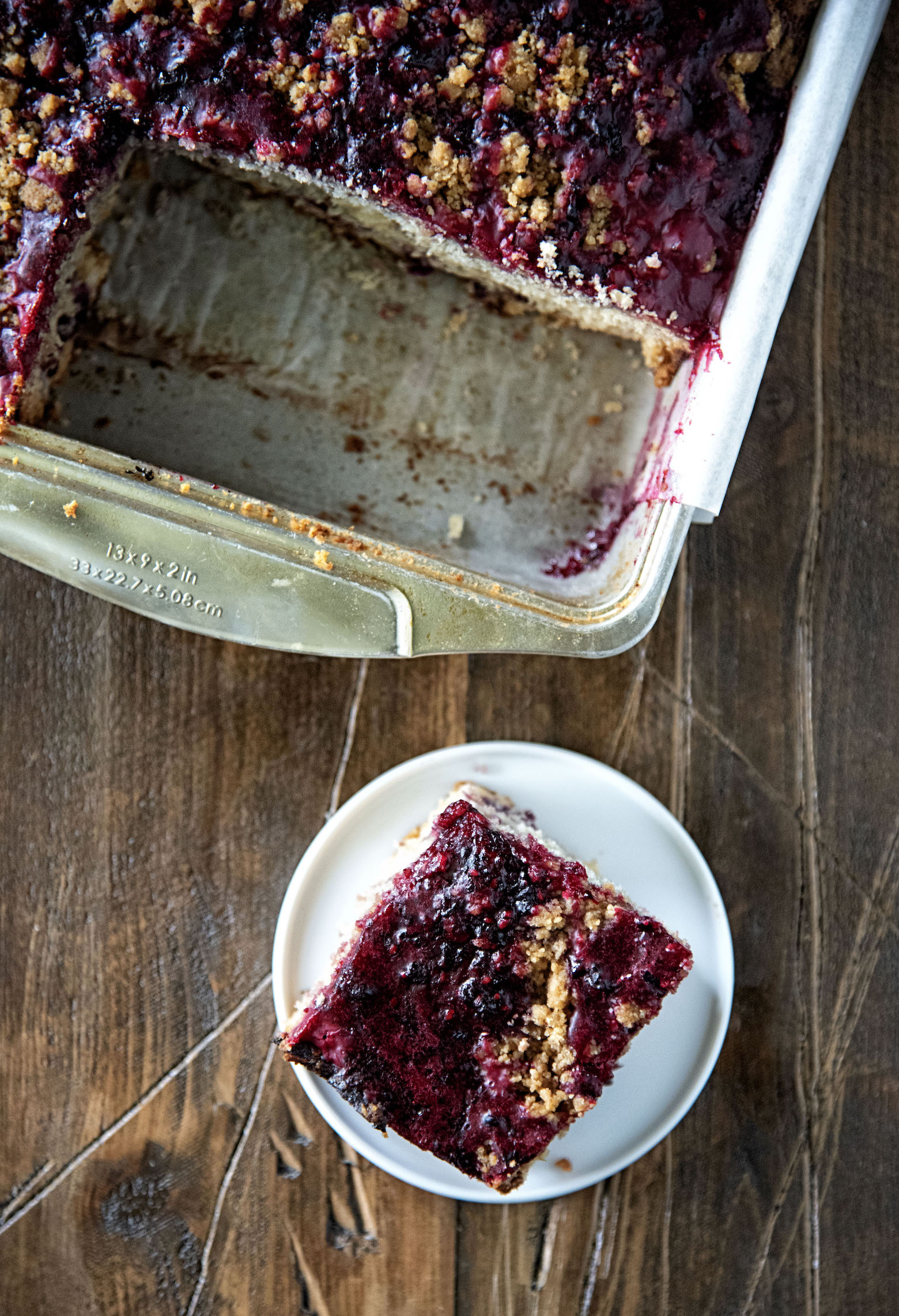 I will make a recipe and swear it will be a hit and no one seems to care.
Then, with something like this cake, that I almost didn't even take a picture of, all these people were like when is that recipe going on the blog.
This cake was an afterthought.
It was a what should I do with this leftover blackberry filling and brown butter streusel that I had left over from the Blackberry Laminated Brioche Brown Butter Crumb Rolls.
And then on a whim I put ice cream on it (to eat) and took a photo and posted it on Instagram.
People loved it and wanted the recipe.
I had to go back and take real photos….and we had already eaten some of it. 🙂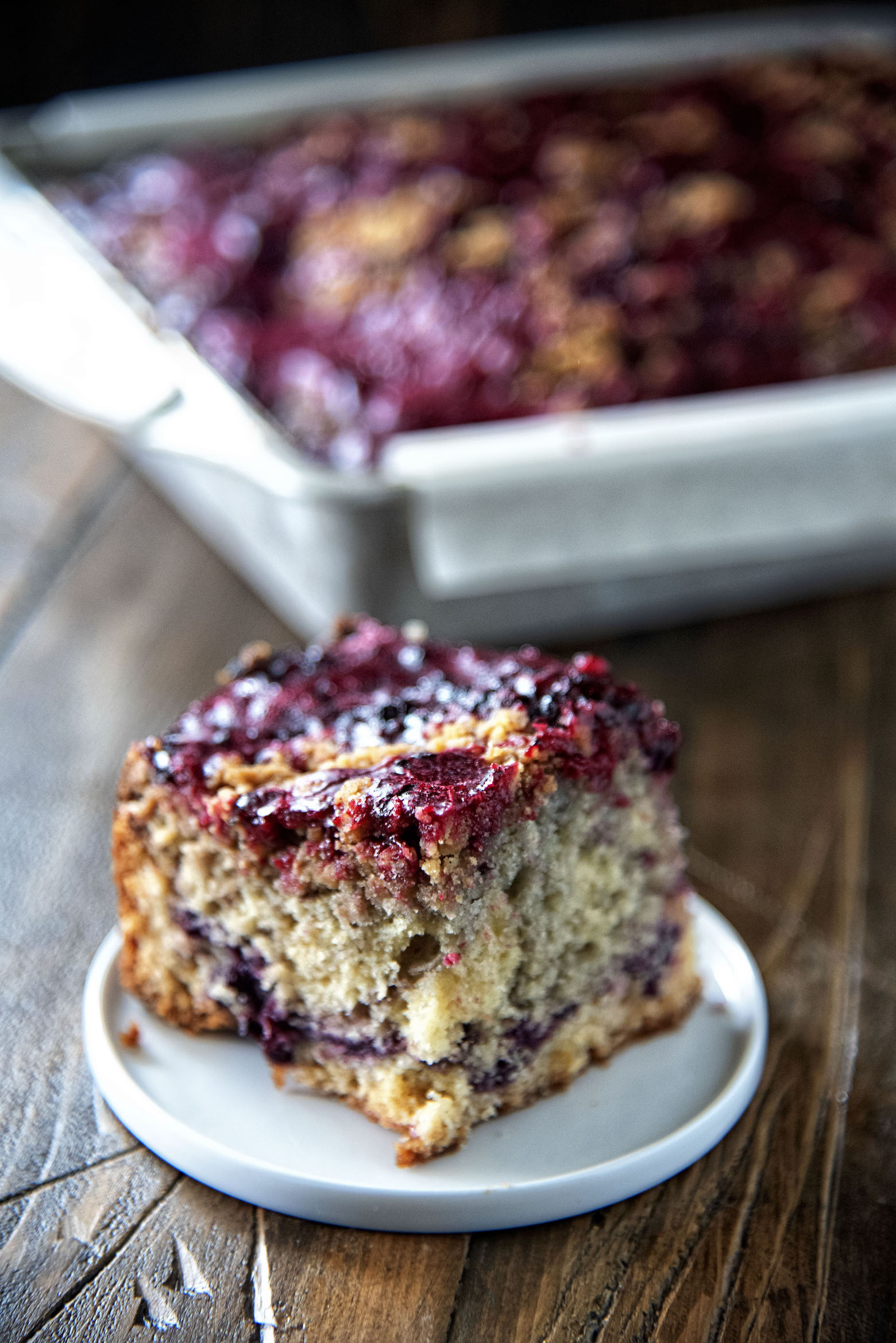 Like I said, I had no idea just a simple coffee cake using up leftovers was going to be a hit.
Speaking of leftovers you will not use all of the blackberry filling and the brown butter streusel.
Which is how this cake came about.
It is great on top of ice cream if you don't want to bake something else with them.
But whatever you do…don't discard it.
Both are downright tasty!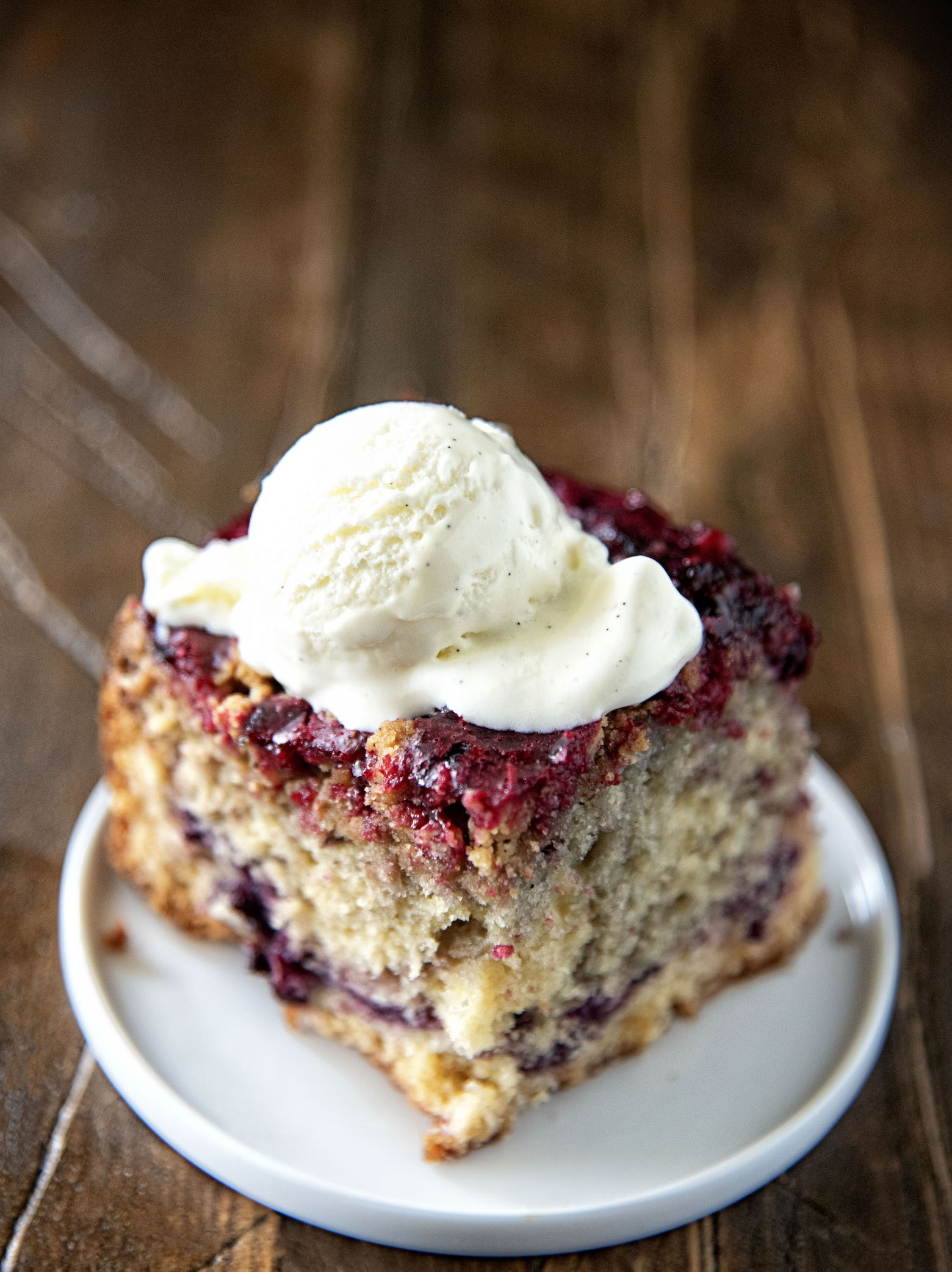 This is a simple coffee cake.
It's not overly sweet and you can totally have it without ice cream.
But why would you? 😛
At the last minute I decided to make a glaze with the blackberry filling and I'm glad I did.
Also, if you do not have buttermilk you can use all sour cream if needed.
Just make sure it's full fat.
P.S. It's a great day to buy my cookbook.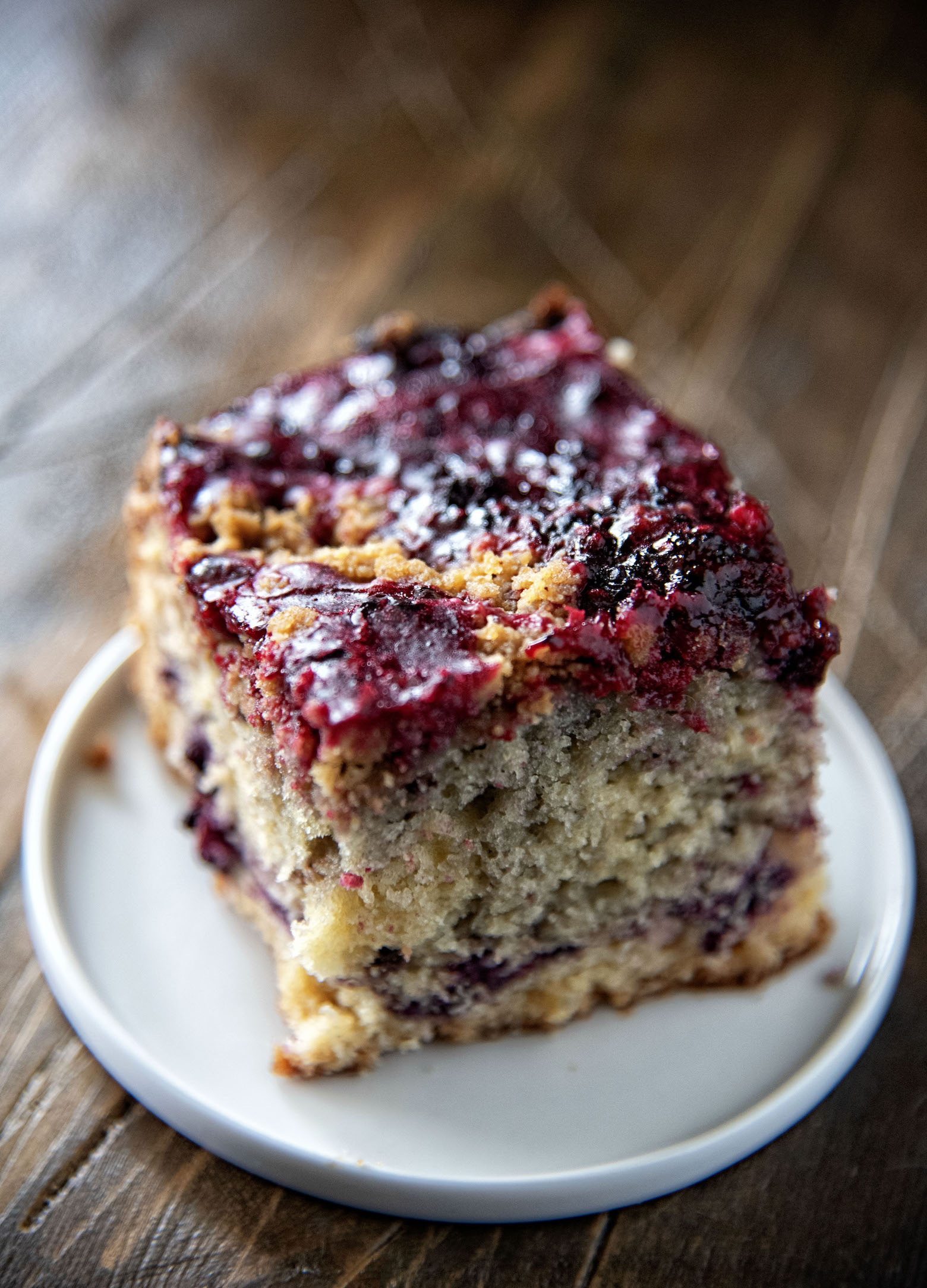 Want more recipes? Try these:
Greek Yogurt Coffee Cake with Chocolate Chips, Dried Cherries, and Coconut
Ingredients
Brown Butter Streusel:
11 TBSP unsalted butter, sliced into 1 TBSP pieces
1 cup brown sugar, packed
1 tsp salt
1 tsp vanilla bean paste
1 1/2 cups plus 1 TBSP all-purpose flour
Blackberry Filling:
4 cups fresh (or frozen) blackberries
1 cup granulated sugar
1/2 tsp vanilla bean paste
1/2 tsp salt
Cake:
3 1/2 cups all-purpose flour
1 tsp. baking powder
1 1/2 tsp. baking soda
1/2 tsp. salt
1 cup unsalted butter, at room temperature
2 1/2 cups granulated sugar
4 large eggs
8 oz. full fat sour cream
8 oz. full fat buttermilk
1 1/2 tsp. vanilla bean paste (or extract) (I used Rodelle)
1 cup blackberry filling
1 1/2 cups brown butter streusel
For the icing:
6 TBSP blackberry filling
1 cup powdered sugar
Instructions
Brown Butter Streusel:
Preheat the oven to 350˚f / 180˚c. Line a baking sheet with parchment paper. 
Place the butter in a small pan, and place on the stove over medium heat.
Heat, stirring occasionally, until the butter has melted.
Continue to cook, until the butter begins to foam, smells nutty, and goes a deep golden brown color.
Remove from the heat and place in a medium heatproof bowl.
Add the remaining ingredients, and mix well to combine.
Using your hands, break up any large lumps.
Spread evenly over the baking sheet, and bake until lightly golden and toasty, 10-15 minutes.
Remove and allow to cool completely before storing in an airtight container.
Blackberry Filling:
Place all of the ingredients into a medium pan and place over medium heat.
Bring to a boil, stirring occasionally, then roughly mash.
Continue to cook, stirring frequently, fro 15 minutes, or until thick.
Transfer to an airtight container and chill completely.
Can be made ahead.
For the Cake:
Preheat the oven to 350° F.
Spray baking spray into a 9×13-inch baking pan.
Sift together the flour, baking powder, baking soda, and salt together in a medium bowl.
In the bowl of a stand mixer fitted with the paddle attachment, cream the butter until smooth.
Scrape down bowl and add sugar.
Beat until the mixture is light and fluffy, about 3 minutes.
Add the eggs, one at a time, beating well after each addition and scraping bowl as needed.
Add the sour cream, buttermilk, and vanilla bean paste and beat just until incorporated.
Add the dry ingredients in three additions, scraping down the bowl before each addition and beating only until each addition is just incorporated. Do not overmix!
Pour one half of the cake batter into the prepared pan. Spread batter evenly in pan.
Spread 3/4 of the blackberry filling on top of the batter.
Spoon remaining batter over the blackberry filling.
Spread the remaining blackberry filling on top of the batter.
Swirl with a knife.
Smooth top to make flat.
Sprinkle the crumb topping evenly over the top of the batter.
Bake in the center of the oven for one hour, or until a toothpick inserted in the center of the cake comes out clean.
Let the cake cool on a wire rack for 30 minutes.
For the Icing:
Mix the powdered sugar and berry juice together. If you want thicker add more sugar. If you want thinner add more juice.
Pour over the top of the cake and let set up for about 30 minutes.
Serves 12-16 depending on how you cut it.