These Birthday Cake Batter Cereal Blondies are filled with sprinkles and topped with marshmallows and cake batter flavored cereal.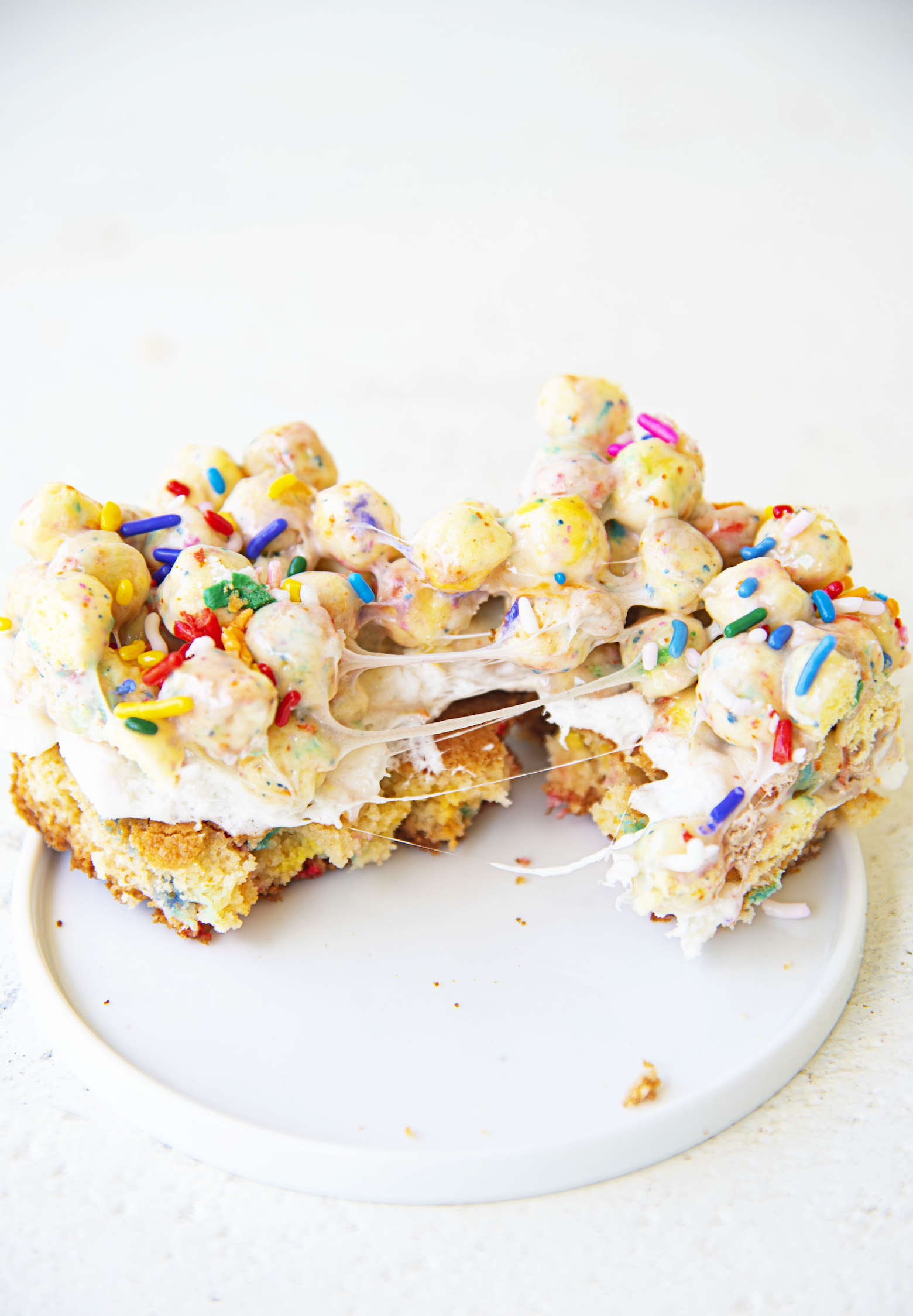 First let me apologize (how very Canadian of me).
I realized after I made these that the cereal is super hard to find.
See, every year for the last 9 years there has been a mini hockey tournament for my birthday.
It's called Peafest.
After my name…we don't gather to celebrate the vegetable.
Though I'm sure that could be fun too. 😛
We play hockey.
I make 400 Jell-O Shots for donations to Old Dog Haven.
And I make treats.
Over the years Rice Krispie and other cereal treats have been a big hit.
And so I just make a ton of cereal treats.
But just like my Jell-O shots I like to mix it up a little.
Find new flavors to try out.
Sure we do a few tried and true ones but I always want at least one new one.
So all throughout the year I collect different Jell-O flavors and different cereals I think will be good as treats.
While at Winco I found that Malt-O Meal teamed up with Cold Stone Creamery and made a few cereal flavors.
One of those was their Birthday Cake Remix flavor.
That sounded like a great thing to make treats out of.
I bought it and put it off to the side to make treats for Peafest.
But of course, Peafest, just like everything else this year did not happen.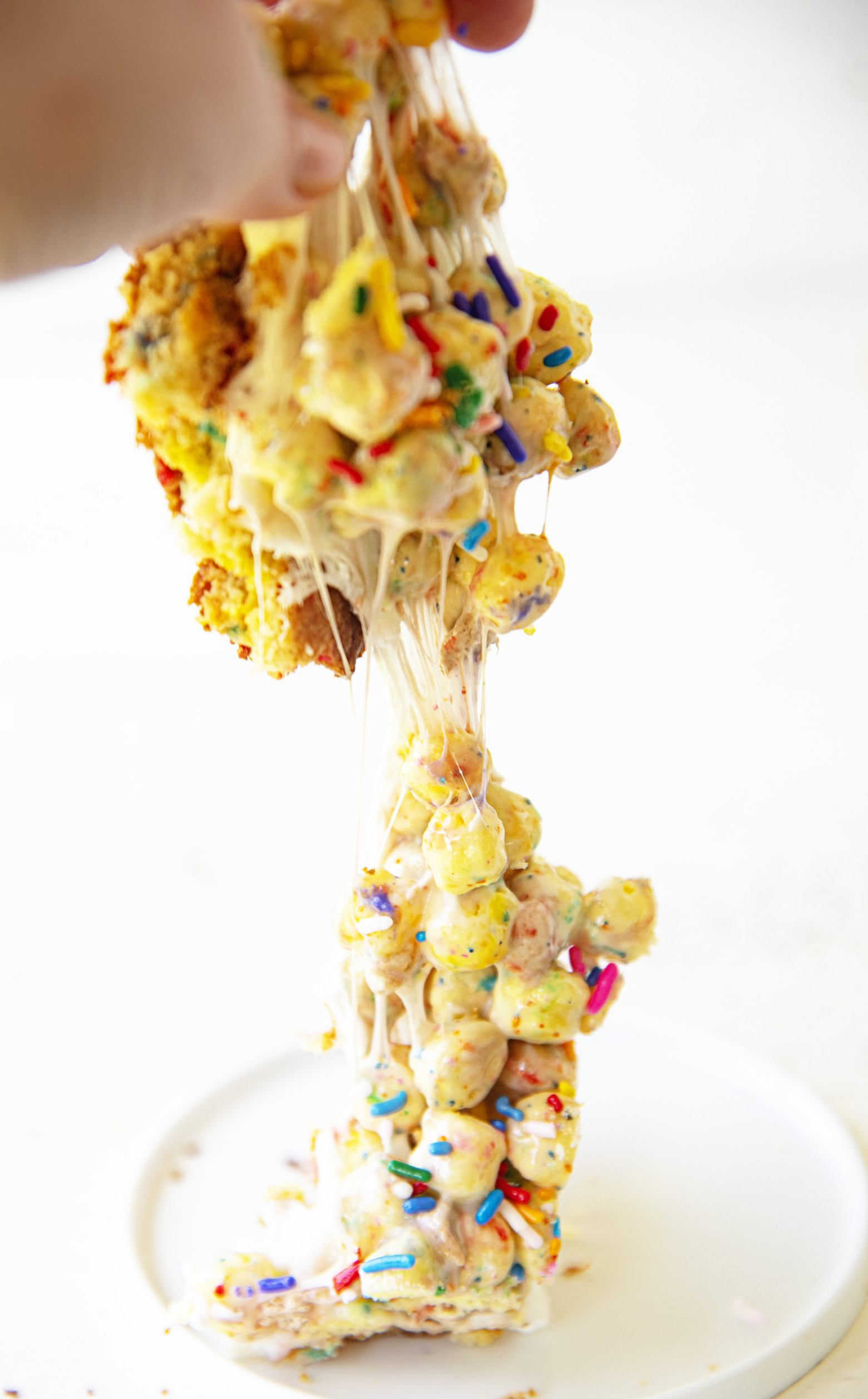 So I had all this cereal and Jell-O.
Which is why you are seeing so many Jell-O shots as of late.
The cereal we sometimes just eat.
In fact my husband held it up the other day and asked are you going to do something with this or can I eat it.
It's a pretty big bag so he got some to eat and I had some to make these Birthday Cake Batter Cereal Blondies.
When I went to link in the recipe where to buy the cereal I realized they aren't making it right now.
Boo.
But Froot Loops makes a birthday cake cereal that you can still find.
If you are in Canada I believe you can still get the Timbits Birthday Cake cereal.
You can also just use a different cereal they just won't takes like birthday cake as much.
The secret ingredient to the blondies is the Buttery Sweet Dough Emulsion which is basically an extract.
It's what gives the treats a funfetti-ish flavor.
These are obviously a fun treat for kids.
Or for those of us who refuse to grow up (raises hand).
As always, it's a great day to order my cookbook. 😀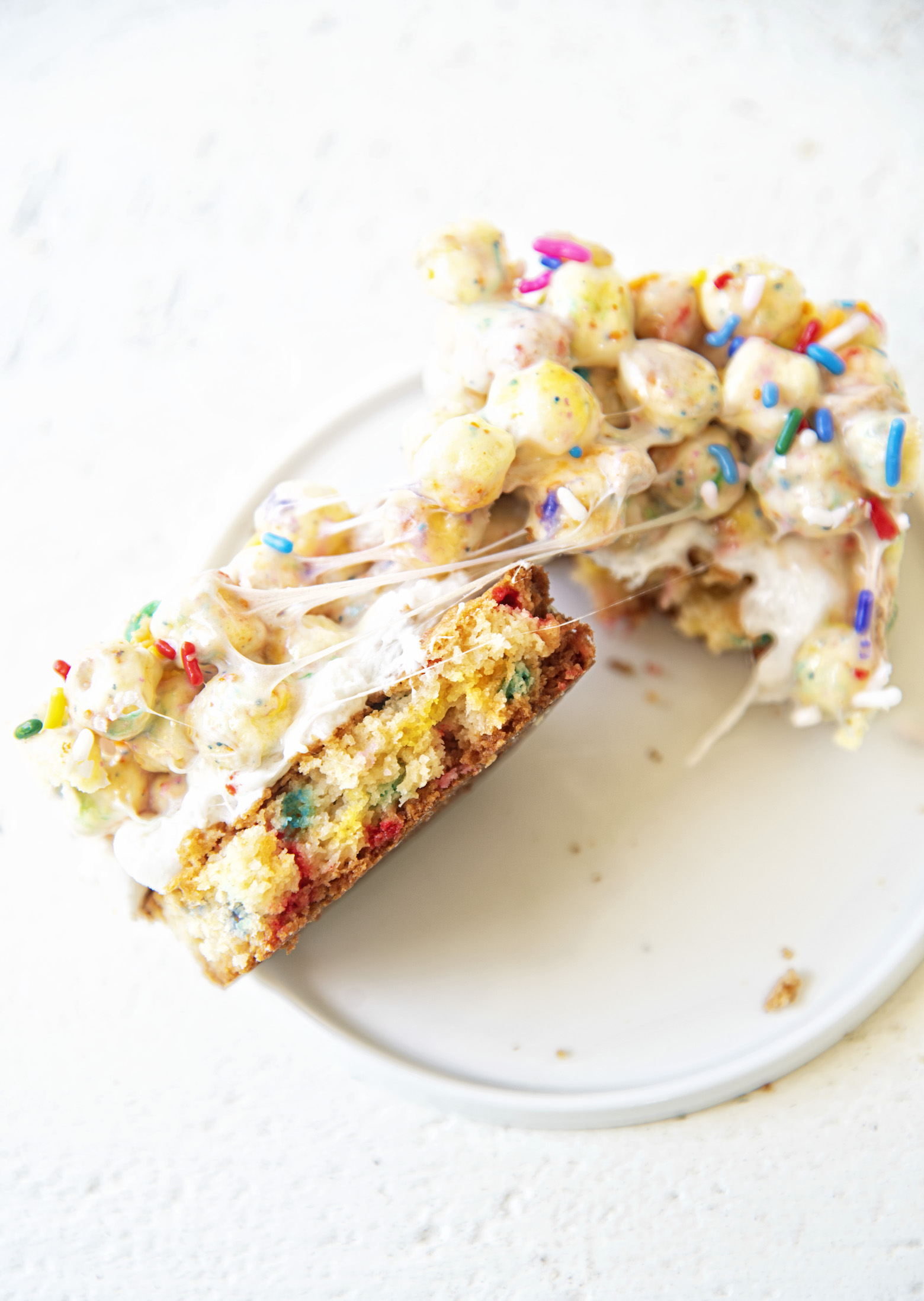 Want More Bar Recipes?
Salted Chocolate Chip Butterscotch Toffee Cookie Bars
Strawberry Lemonade Lemon Bars
Chocolate Chunk Churro Cookie Bars
Ingredients
For the Blondies:
2 cups unbleached all-purpose flour
1 tsp. salt
1 1/2 sticks (3/4 cup) unsalted butter, at room temperature
3/4 cup granulated sugar
1 cup brown sugar, loosely packed
3 large eggs
1 tsp. vanilla extract
1/3 cup sprinkles
For the Topping:
16 oz mini marshmallows, divided
3 TBSP unsalted butter
4 cups Birthday Cake flavored cereal (such as Malt-O Meal Cold Stone Birthday Remix or Birthday Cake Froot Loops)
sprinkles for garnish
Instructions
For the Blondies:
Preheat oven to 325 degrees F.
Grease a 9×13-inch baking pan or heat proof glass dish with baking spray. Set aside.
In a medium bowl, whisk together the flour and salt to blend. Set aside.
Using a stand mixer with the paddle attachment beat together the butter, granulated sugar, and brown sugar on medium speed.
Beat in the eggs, one at a time, blending thoroughly and stopping to scrape down the sides of the bowl after each addition.
Mix in the vanilla and Buttery Sweet Dough Emulsion and beat for 30 seconds.
Mix in the flour mixture until well combined. 
Fold in the 1/3 cup sprinkles and mix until they are distributed somewhat evenly.
.Spread the batter evenly in the prepared pan with the back of a spoon or a rubber spatula.
Bake for 25 minutes.
Remove from oven and sprinkle 6oz of mini marshmallows on top of the blondies and place them back in the oven for 3-5 minutes. You want the marshmallows to get gooey.
Once you have the blondies topped with marshmallow back in the oven, make the cereal layer.
In large saucepan melt butter over low heat.
Add marshmallows and stir until completely melted.
Remove from heat.
Add the cereal and mix until well coated in the butter marshmallow mix.
Pour that mixture on top of the blondies that just came out of the oven.
The melted marshmallows you added at the end of the bake should help the cereal portion stick to the blondie portion of the bars.
Using buttered spatula or wax paper evenly press mixture into the pan.
Top with more sprinkles.