This Baseball Nut Caramel Tart has vanilla ice cream caramel, cashews, and black raspberry jam in honor of the Baskin Robbins flavor.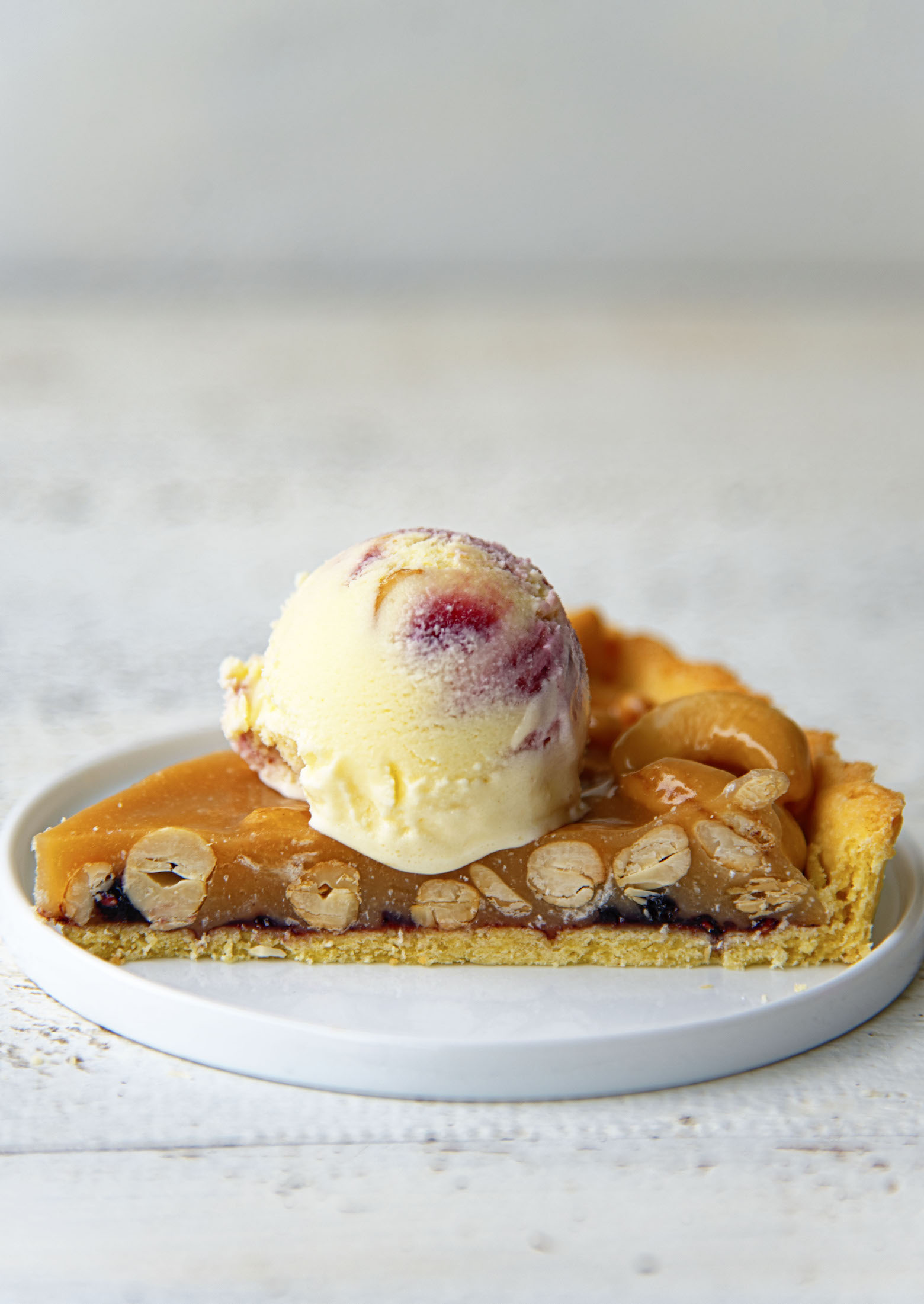 One of my favorite ice cream flavors growing up was Baseball Nut and so I made a Baseball Nut Caramel Tart in it's honor.
I'm old.
And back in my day going out to ice cream was a thing.
An exciting thing.
Because it meant you got to pick the flavors you wanted.
You didn't have to argue with your siblings about a flavor you could all agree on.
No, you got your own scoops.
We were allowed two scoops.
One of my scoops was ALWAYS World Class Chocolate.
Which is actually ironic because I'm not that big of a chocolate fan…especially in ice cream.
But I did and still do love that flavor.
Sometimes that flavor was bubble gum.
Other times it was Butter Pecan.
And when you could get it, I would get Baseball Nut.
The name tell you very little.
You certainly wouldn't be guessing the flavor just by the name.
Sure you could guess that it would have nuts maybe.
But since the song we sing in the 7th inning stretch talks about peanuts you could assume peanuts were the nut.
They are not.
The nut in Baseball Nut are cashews.
Baskin Robbins created the flavor in honor of the Brooklyn Dodgers moving to LA.
My guess is it's supposed to look like a baseball, maybe?
The vanilla being the white of the ball.
The black raspberry ribbon being the stitching?
Again, I'm guessing here.
I have no idea where the cashews come in.
But together they do make a tasty ice cream no matter what it's called.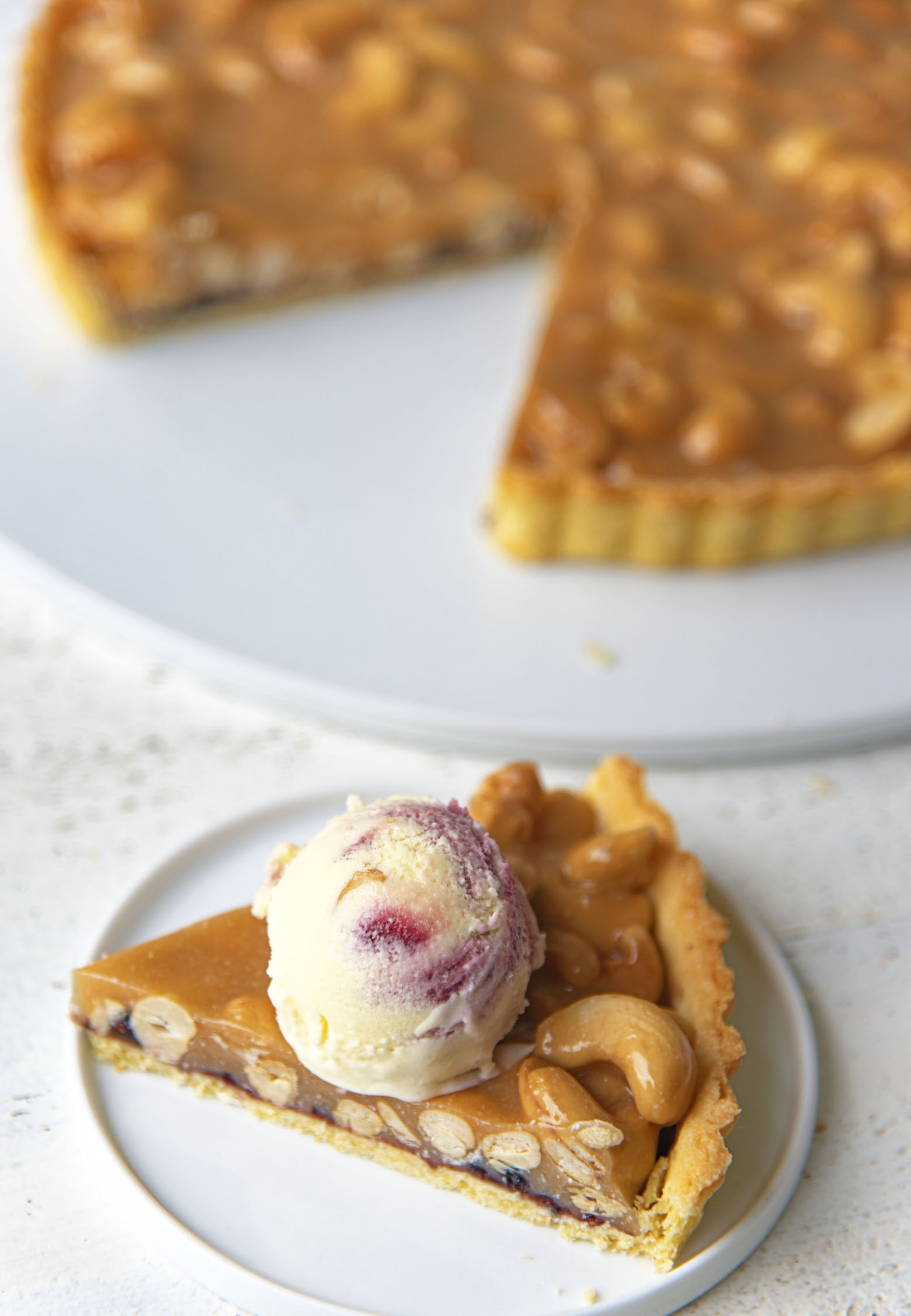 For a long time I wanted to make something using the flavors.
Originally it was going to be fudge.
Probably still will be a fudge flavor I make.
But one of the things I do make over and over from my own blog is my salted caramel cashew tart.
I thought I could change it a little to honor the ice cream flavor.
The tart pastry is some of my favorite.
It's VERY forgiving.
Which I love in a tart dough.
It's kind of like a big butter cookie.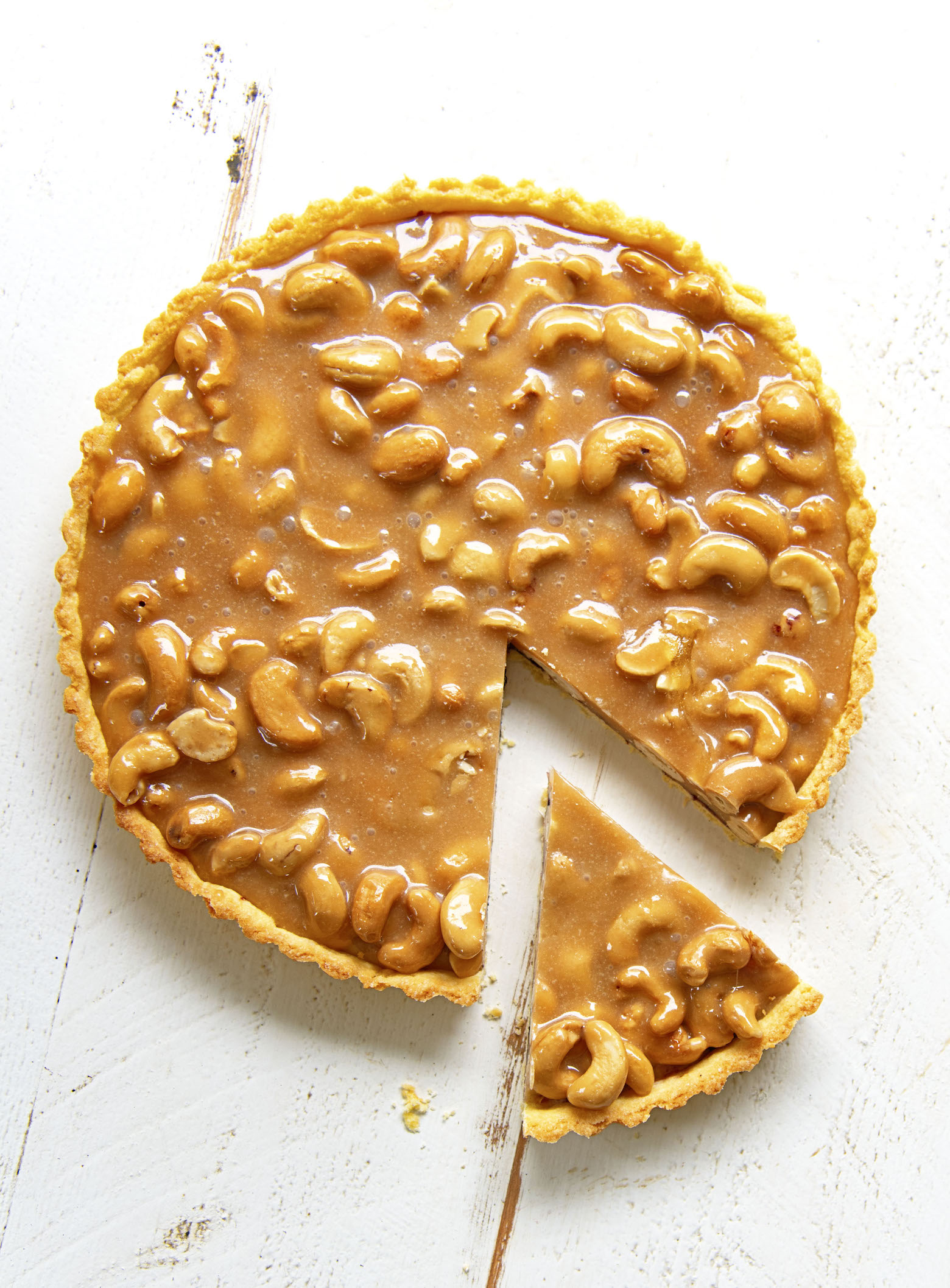 The caramel uses vanilla soft serve ice cream mix.
Which I use A LOT in my bakes.
A lot.
I love it.
Do you have to use it?
No.
But you won't get the hint of ice cream like I was going for.
If you don't want to use it just add 1 tsp vanilla extract.
But, again, I really suggest using some.
Black Raspberry Jam can be hard to find sometimes.
I luck out because a farm in my area carries it.
But if you can't get ahold of it mix half raspberry jam with 1/2 blackberry jam and you will get the same flavor.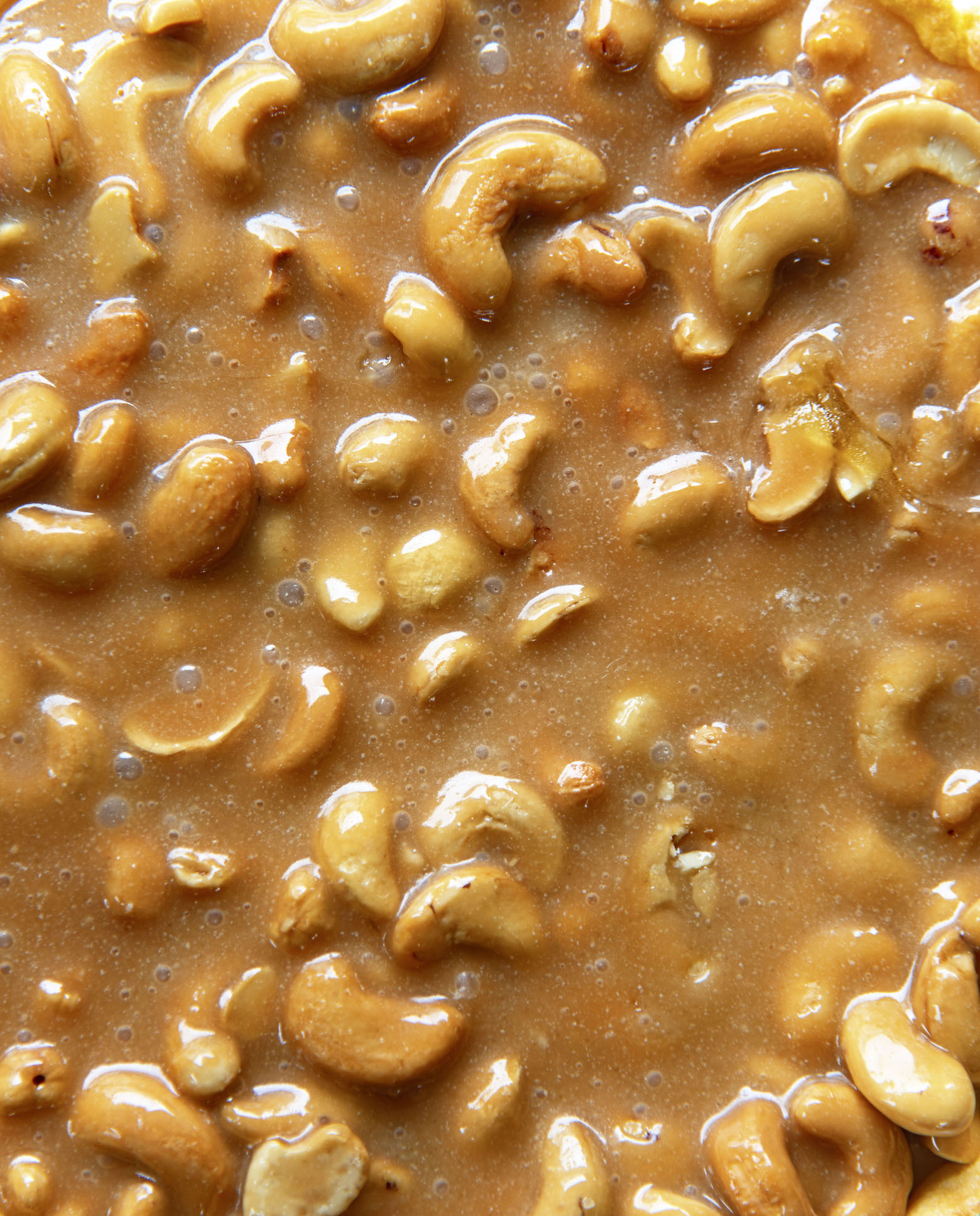 The cashews in the Baseball Nut ice cream are not salted.
But I chose to use salted cashews in mine.
I feel it adds a little something.
If you prefer unsalted cashews, feel free to do that.
P.S. It's a great day to buy my cookbook.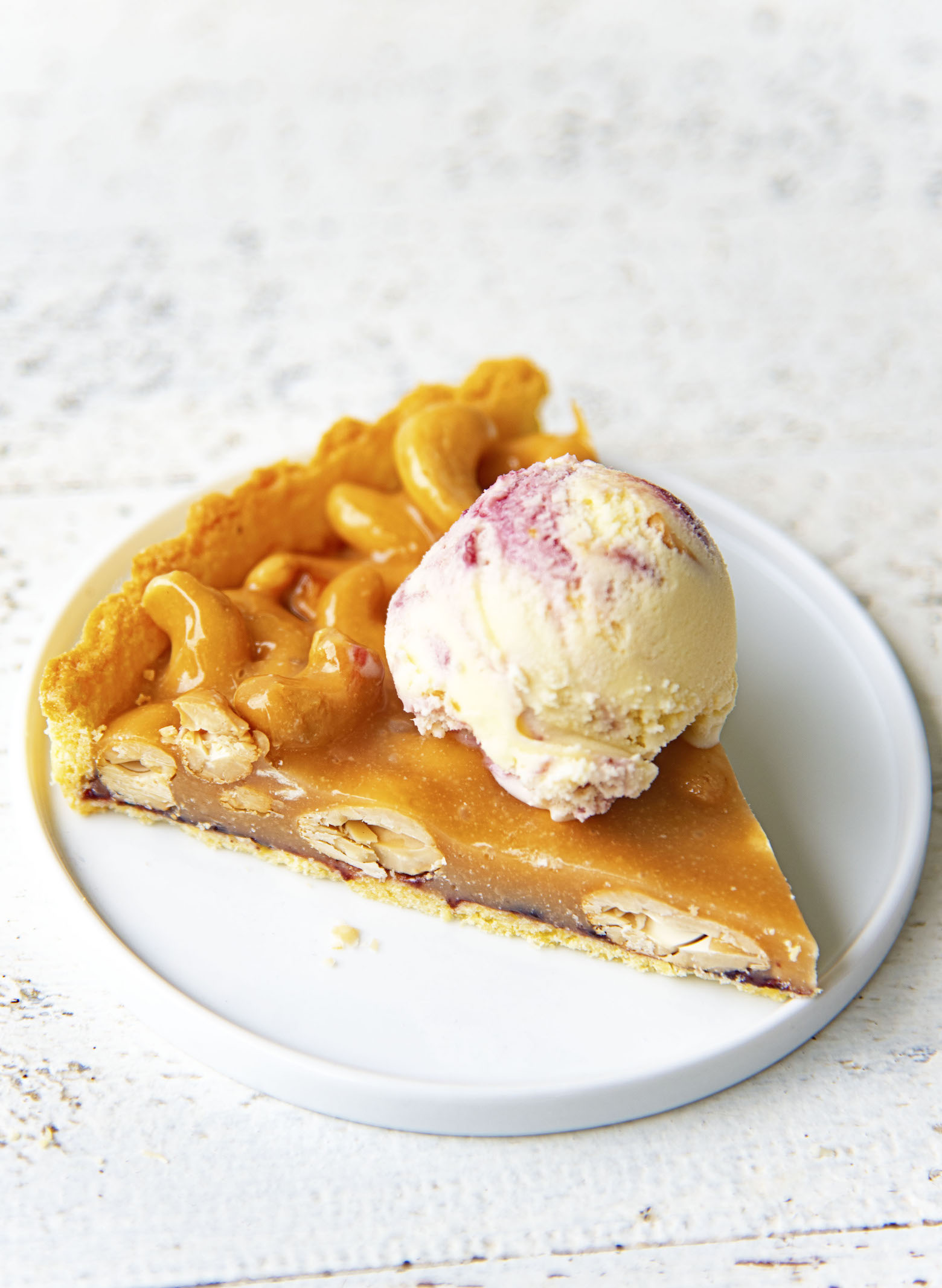 Want More Tart Recipes?
Mini Bailey's Irish Cream Mocha Tarts
Ingredients
For the tart shell:
1 cup all-purpose flour
4 TBSP granulated sugar
½ cup butter unsalted butter, cut into small pieces
4 egg yolks
pinch of table salt
1/3 cup black raspberry jam
For the filling:
1 cup granulated sugar
4 TBSP water
¼ cup heavy cream
4 TBSP light corn syrup
1 1⁄2 cups roasted salted cashews
4 TBSP unsalted butter
Instructions
Preheat oven to 375°.
For the Tart Shell:
Whisk together flour, sugar, and the table salt in a small bowl (or use food processor)Add the butter.
Using a pastry blender, cut butter into flour mixture until mixture resembles coarse meal.
You can also use a food processor and pulse.
Add egg yolks.Knead lightly until dough comes together or use the pulse setting.
On a well-floured surface, roll into a 10-inch circle.
Place circle of dough into a tart pan with a removable bottom.
Press dough against sides of the pan.Trim away and discard excess dough.
Chill shells until firm, 15 minutes.
Bake pastry shell 15-20 minutes; cool.
Once cool spread the black raspberry jam in an even layer on to the bottom of the tart.
For the Filling:
Place sugar, water, and corn syrup in a small skillet over medium heat.
Swirl pan lightly to mix.
Simmer mixture until it turns the color of iced tea, about 5 minutes.
Remove caramel from heat; stir in the butter.
Add cream; stir until caramel is smooth.
Add in the vanilla soft serve mix and quickly mix together.
Add cashews; pour caramel filling evenly into baked tart shell.
Serve with Baseball Nut ice cream or vanilla ice cream.