These Banana Espresso Chocolate Sweet Rolls are made with banana brioche filled with chocolate and espresso and covered in espresso glaze.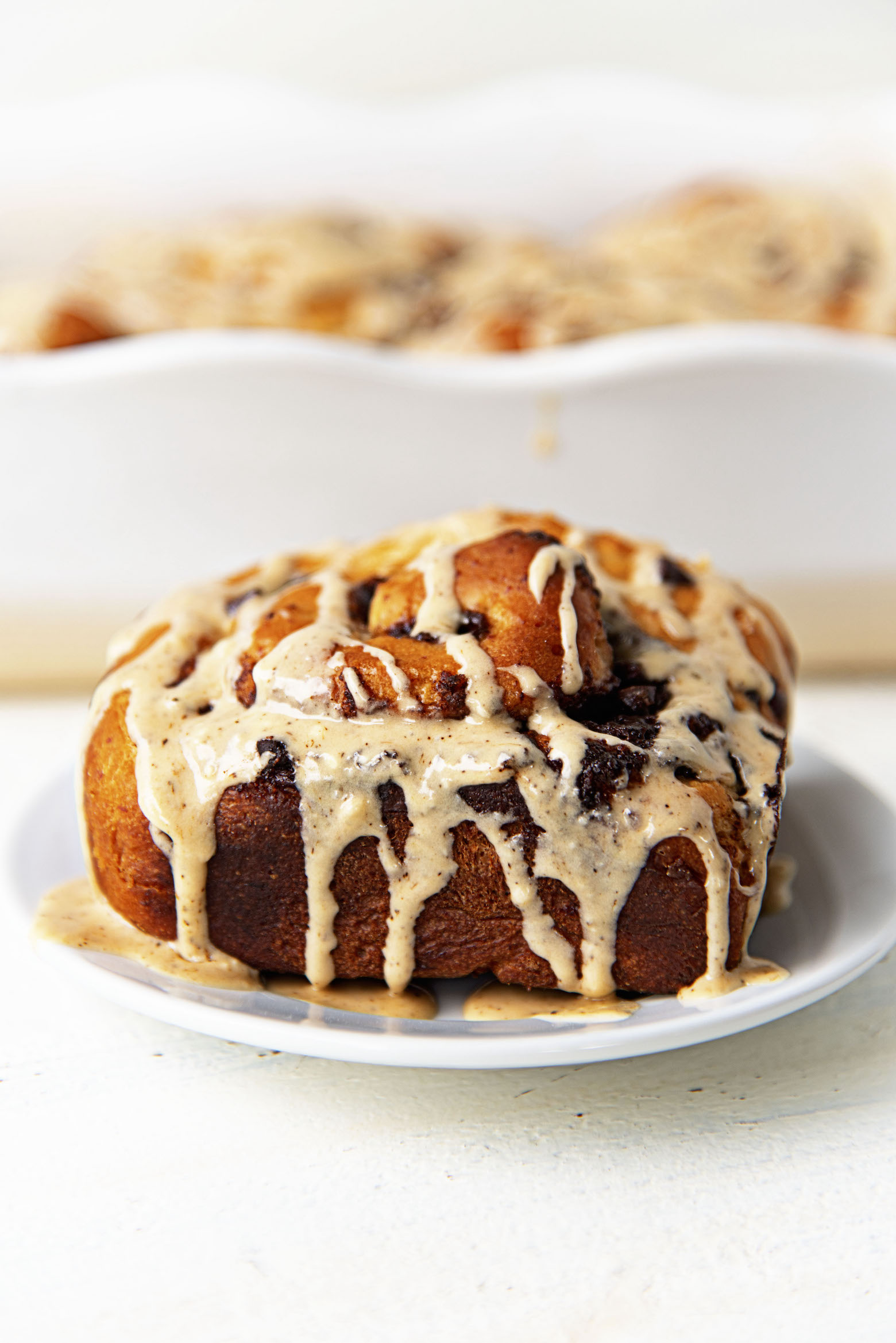 This past year brought the banana bread craze.
Combined with the sourdough craze a lot of people made my Chocolate Chocolate Chip Sourdough Banana Bread.
And while I do love me a good banana bread I love them even more in a yeasted bread.
Especially when made into sweet rolls.
Or in this case Banana Espresso Chocolate Sweet Rolls.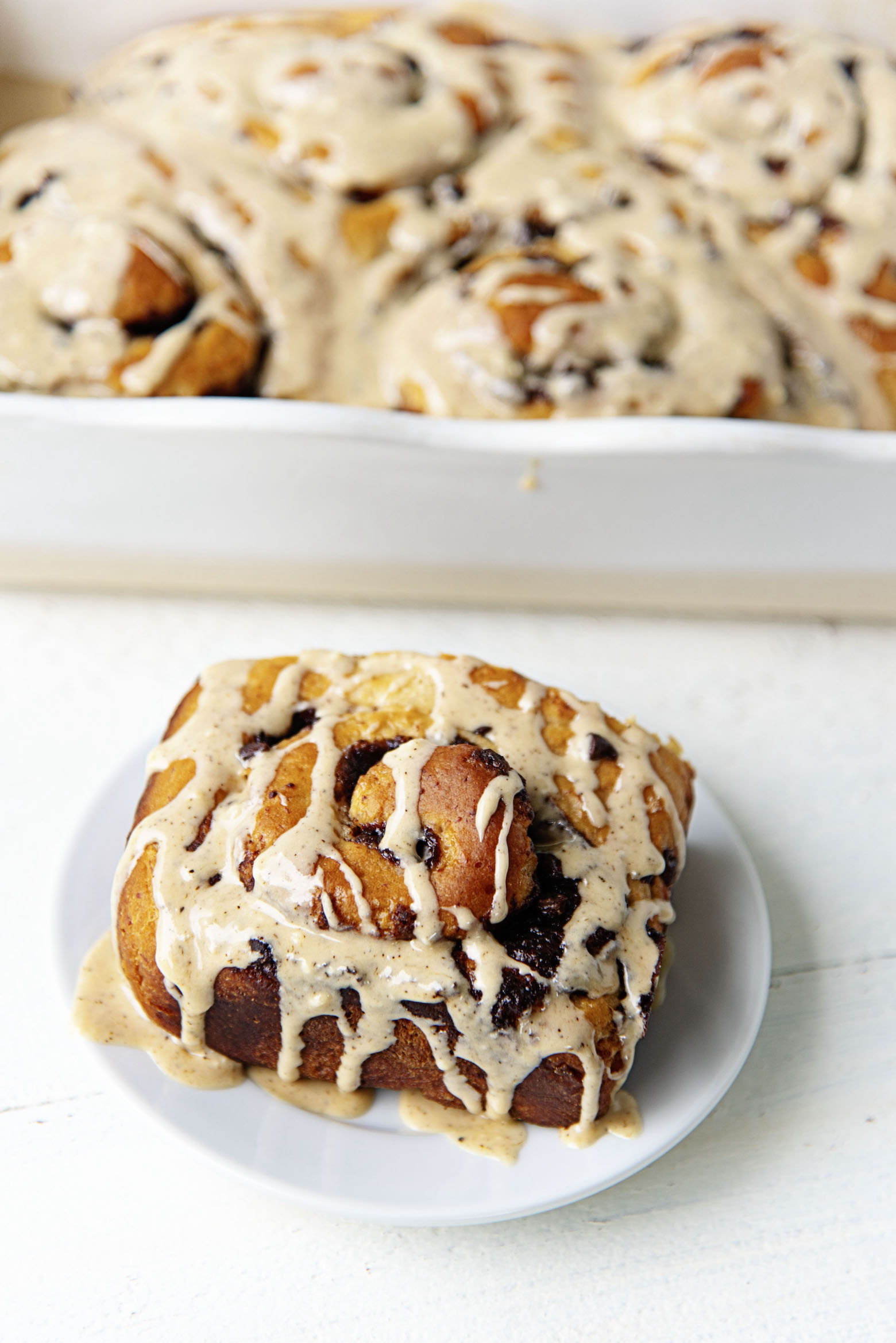 Way back in 2008 a cookbook called Baked: New Frontiers in Baking came out.
Most of us in the baking food blogging world fell in love with the book and all their books that came after it.
But in their book was a recipe for a Banana Espresso Chocolate Chip Muffins.
Which I make (with my own spin) at least once a month.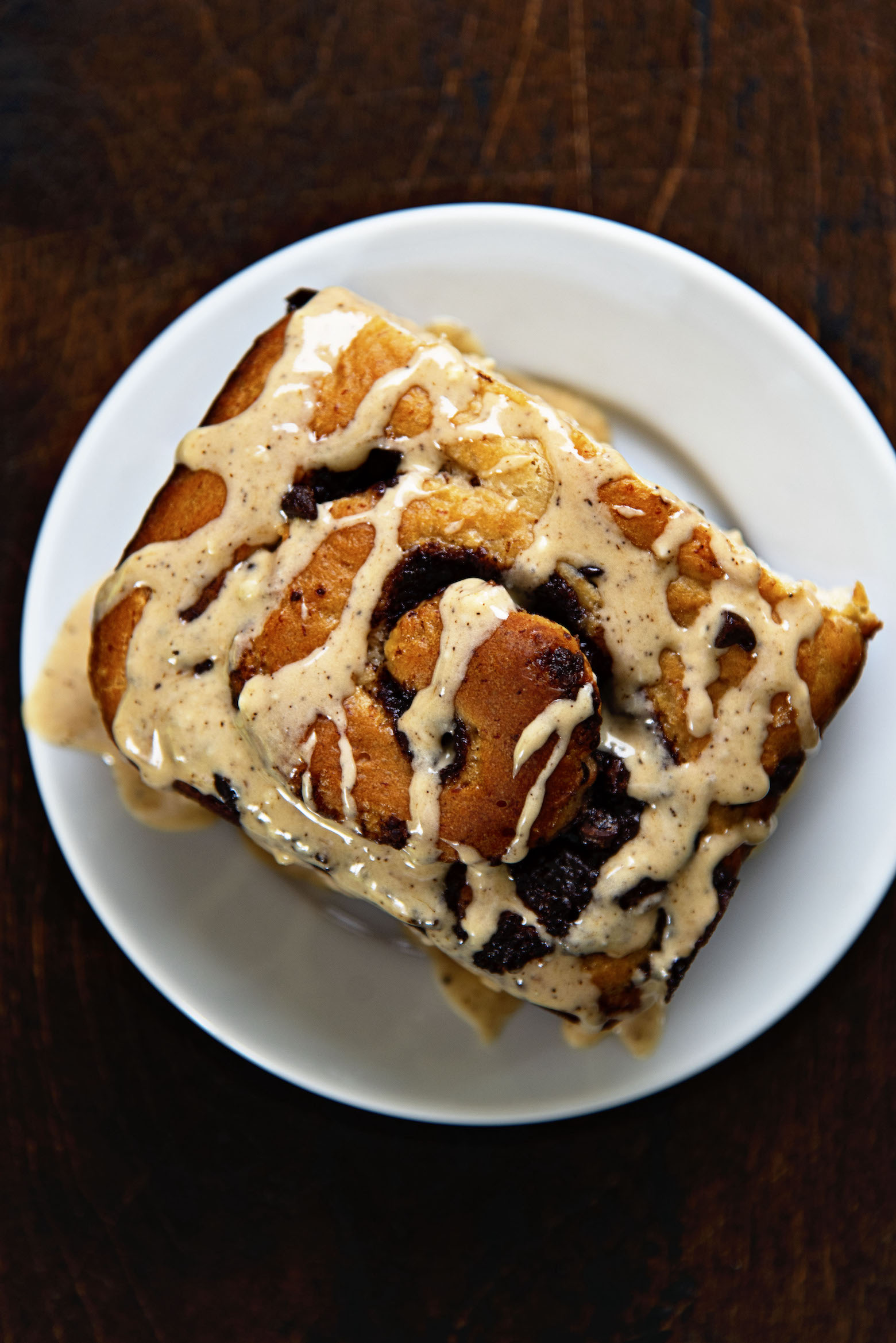 So I'm actually surprised it took me so long to think of these sweet rolls.
I make banana brioche often and why it never occured to me to replicate the muffin as a sweet roll is beyond me.
In the muffin recipe I use mascarpone cheese.
Which was more for a texture thing than anything.
However, I could see how using it like cream cheese to make a frosting could be a good alternative to the icing I made.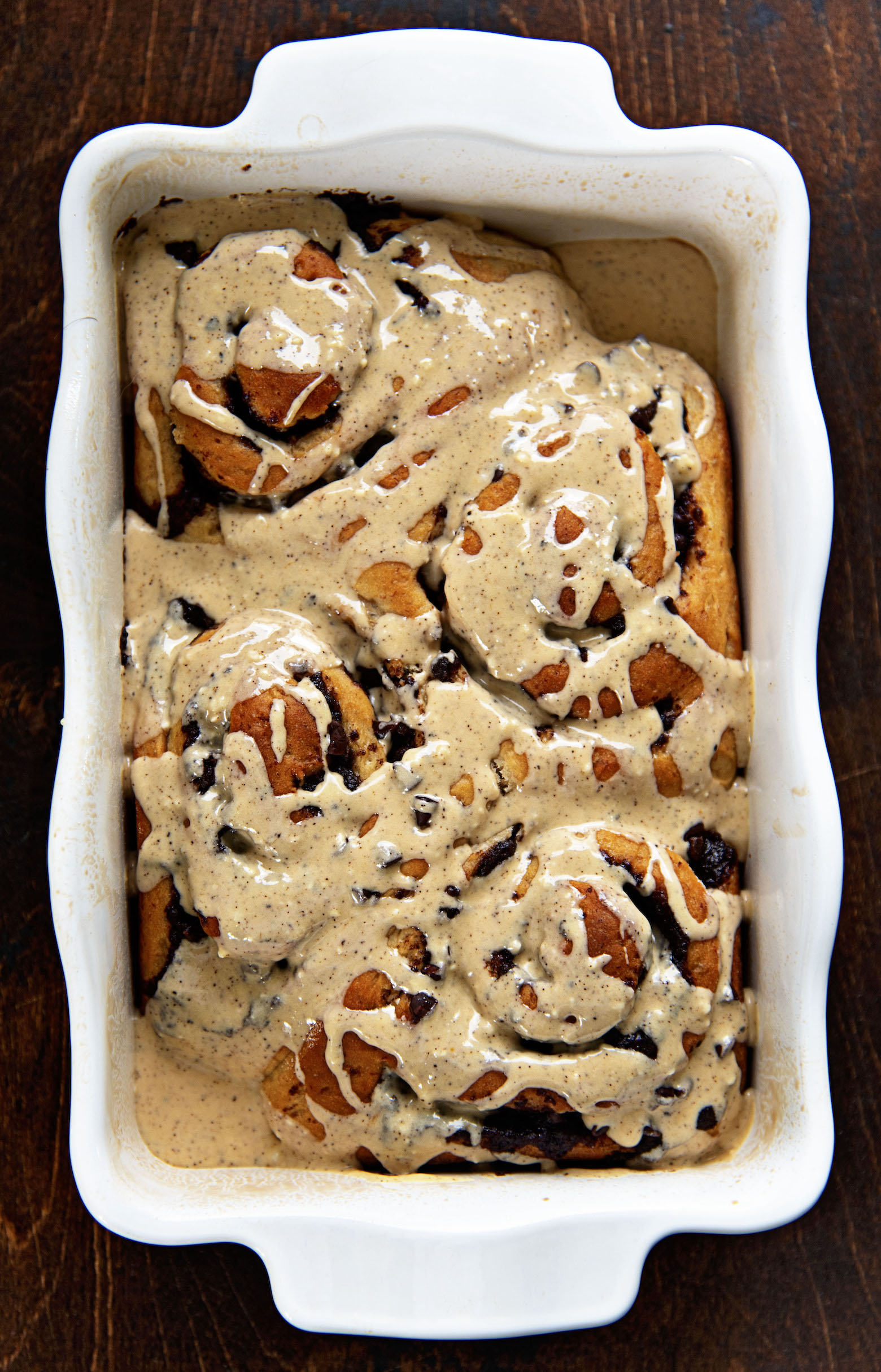 But for now it stays as a soft banana brioche bun that has just a hint of espresso in the dough.
Then it if filled with butter, brown sugar, mini chocolate chips, and more espresso powder.
Topped with a simple milk, powdered sugar, and espresso glaze.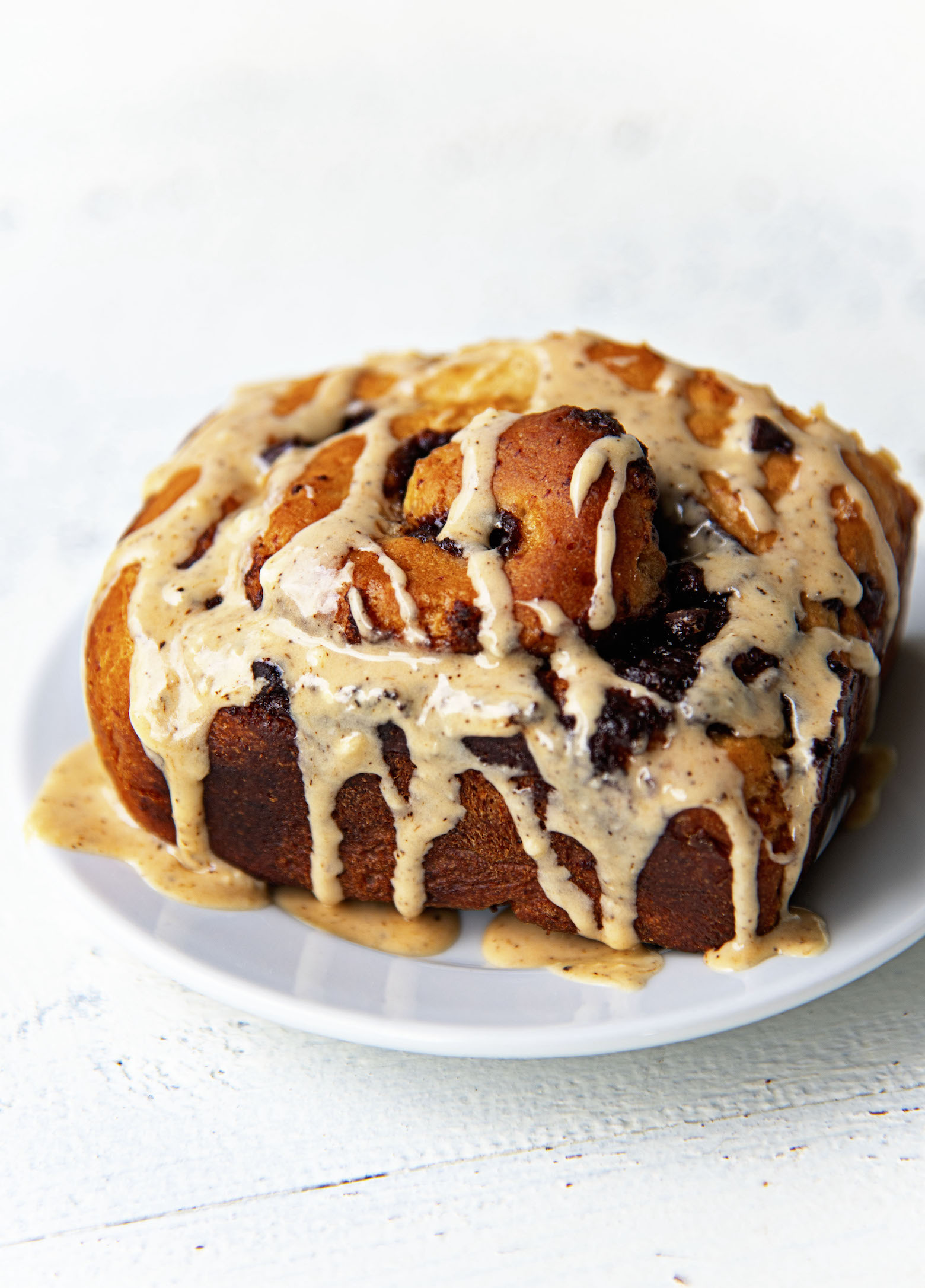 If you were a fan of those muffins you should totally make these.
Or if you have never made those muffins you should make these sweet rolls.
And then go make the muffins as well…because they are good.
P.S. It's a great day to buy my cookbook.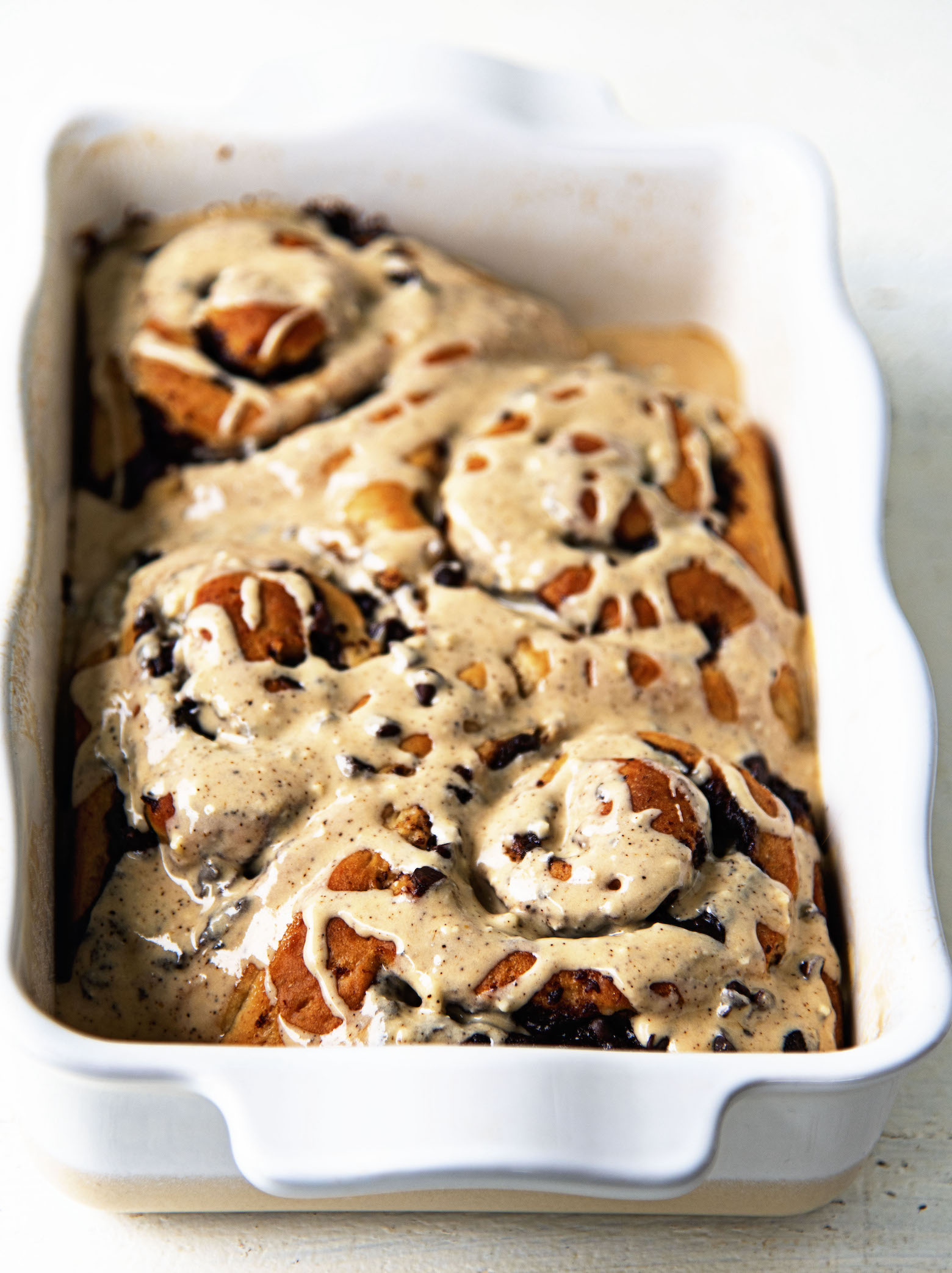 Want More Roll Recipes?
Pineapple Upside Down Sticky Buns
Bourbon Butterscotch Sweet Rolls
Chocolate Clementine Sweet Rolls
Bourbon Brown Sugar Caramel Peach Sweet Rolls
Ingredients
Banana Bread Dough:
½ cup whole milk
¼ cup unsalted butter
2 TBSP brown sugar
2¼ tsp. yeast (one packet) (I used Red Star Yeast Platinum)
3 ½ cups all-purpose flour
1 tsp espresso powder
1 tsp. salt
2 large ripe bananas, mashed (about 1 cup)
For the Filling:
1 tsp espresso powder
1/2 cup brown sugar
6 TBSP unsalted butter, super soft but not quite melted
2/3 cup mini chocolate chips
For the Espresso Glaze:
1 cup powdered sugar
1 TBSP vanilla
1 TBSP espresso powder
1-2 TBSP milk
Instructions
Put the milk and butter in a small bowl and heat to temperature is 110F (you will need a thermometer if it's too hot it will kill the yeast).
If it gets too hot, just let it cool for a few minutes.
Pour into the bowl of a stand mixer.
Place the brown sugar and then the yeast and whisk to mix all the ingredients.
Let this mixture stand for about 5 minutes, or until it begins to foam.
Put together two cups of the flour, espresso powder, the salt, and the bananas to the yeast mixture and beat well.
Add the remaining flour, ½ cup at a time, stirring well after each addition.
When the dough has just pulled together, turn it onto a lightly floured surface and knead until smooth, about 5 minutes (alternately, use the dough hook on a stand mixer).
If using the dough hook (I did) when the dough has pulled away and forming a ball on its own and no dough is sticking to the sides it is ready.
Place the dough in a greased bowl and cover with plastic wrap.
Allow dough to rise until double, about 1 hour.
In the meantime in a small bowl add the brown sugar and espresso powder and mix together to incorporate.
When the dough has risen, sprinkle flour out on a flat surface and roll out the dough into a 12 X 9-inch rectangle. 
Spread the 6 TBSP softened butter evenly over entire surface (hands work best).
Sprinkle and spread brown sugar mixture evenly over butter layer (try to leave about 1/2-inch border uncovered along all edges).
Sprinkle the mini chocolate chips as evenly as you can over the brown sugar espresso layer.
Roll up the dough from the long side and pinch seam to seal. Cut into 12 equal sized pieces.
Place the dough pieces cut-side down.
Cover and let rise until doubled (or refrigerate overnight).
Bake rolls at 375 ° F. for 25 to 30 minutes or until browned.
Remove and let rest for 5 minutes.
For the Glaze:
Whisk all the ingredients in a bowl and pour over breakfast buns.