These Bailey's Irish Coffee Caramel Cookies have Bailey's Irish Cream Baking Chips, dash of whiskey, and espresso powder topped with caramels.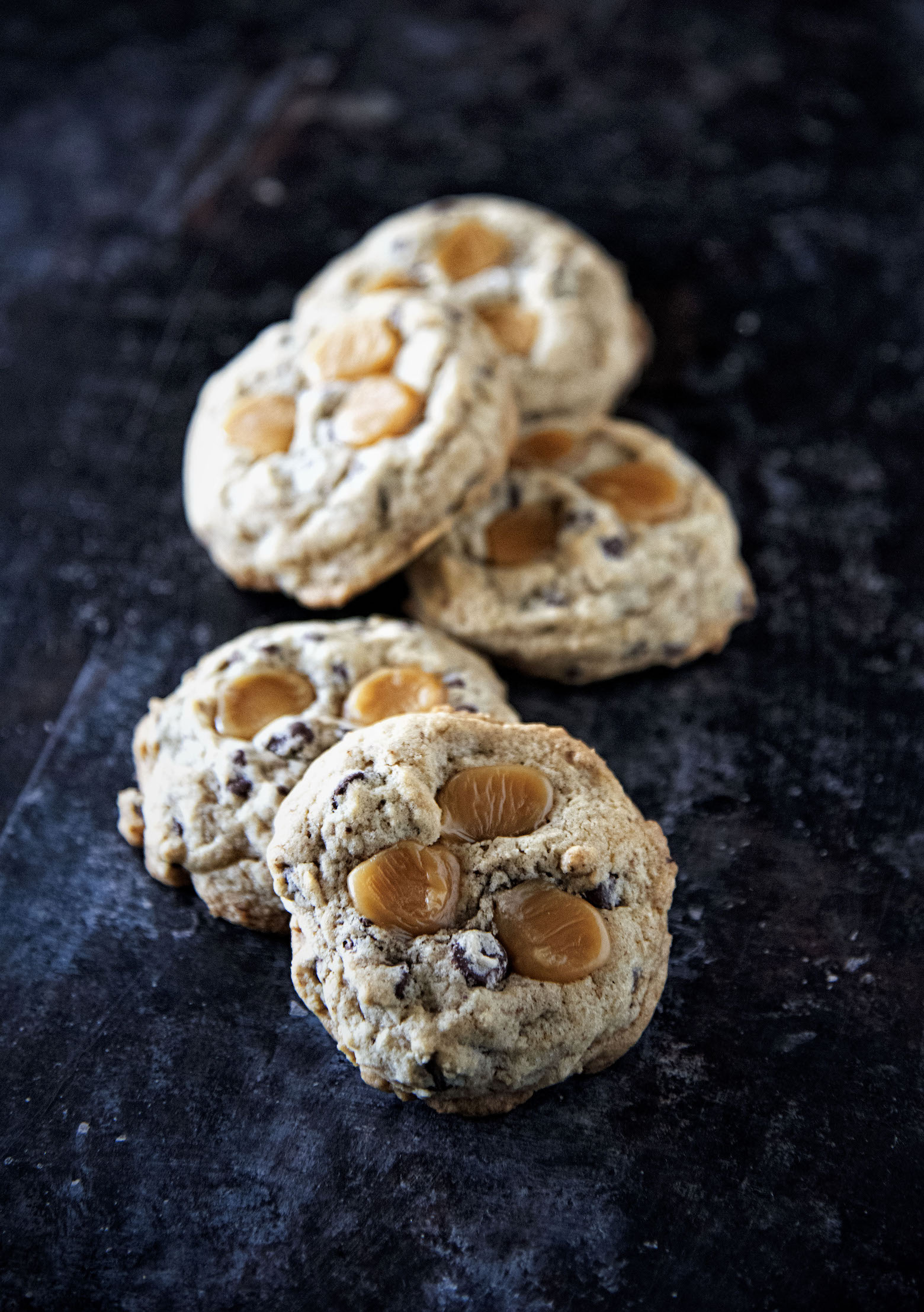 My mom always ordered Bailey's in her coffee growing up.
Not like everyday kind of thing but just when we went out to nice restaurants.
And she actually ordered what she called a Bailey's Irish Nut.
Which I have made several recipes over the years in honor of that.
This is not a Bailey's Irish Nut recipe.
It's a Bailey's Irish Coffee Caramel Cookies recipe.
But they do remind me of her.
St. Paddy's Day is fast approaching and I'm all about Bailey's and whiskey.
So when I saw that Bailey's was coming out with a baking chip I was all over it.
They were hard to find and luckily for me a reader had found some and sent it to me.
But according to Bailey's they are going to be nationwide in April.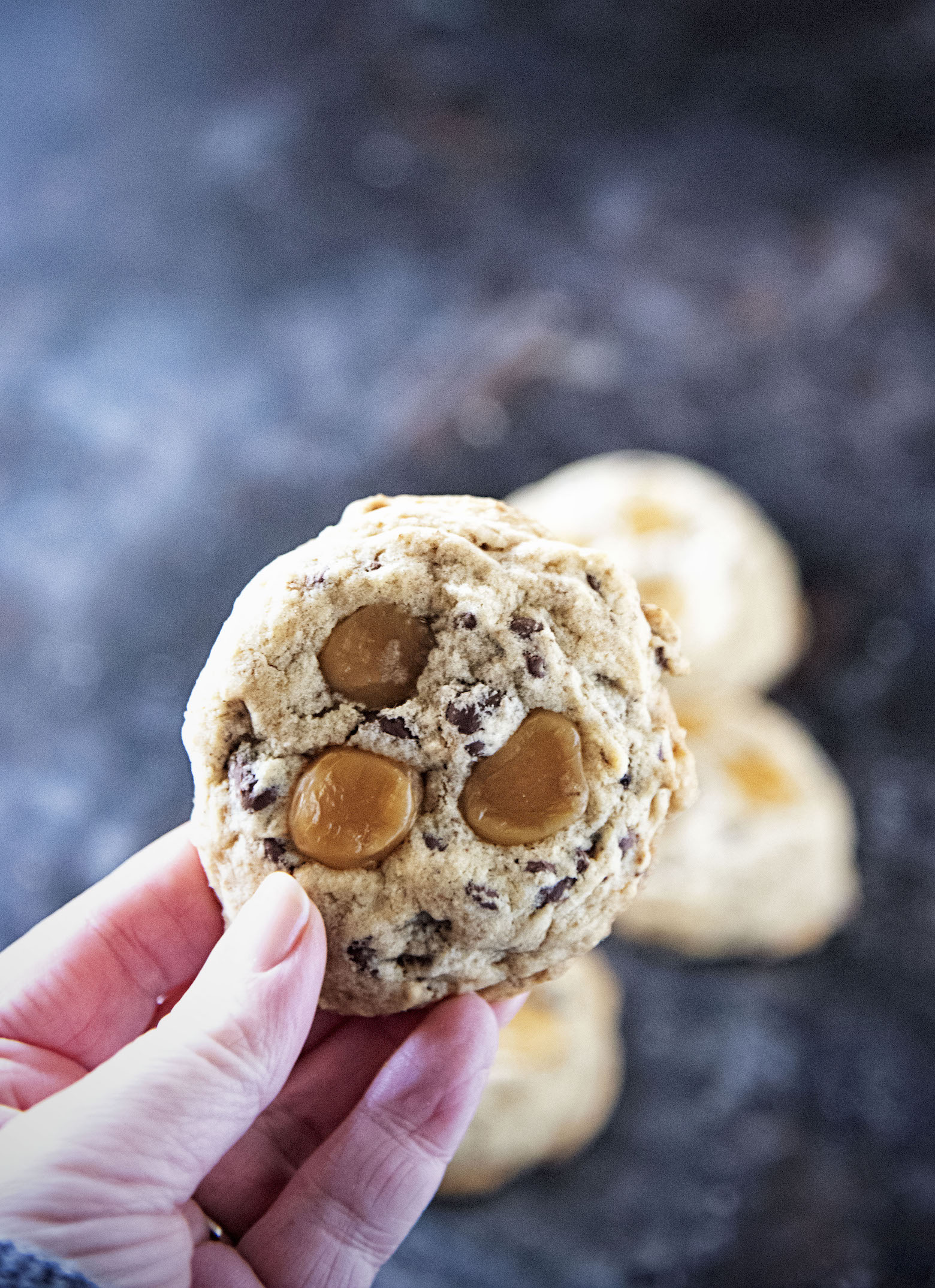 If you can't wait I found them on Amazon (link in recipe) but they are pretty pricey.
Though some dreadful people are selling one bag of chips for $24. WTF people?
They do indeed taste like Bailey's Irish Cream though which is what I was going for.
If you can't find them and want to use just chocolate chips you can.
You of course won't get the Bailey's flavor but you can always add a TBSP of Bailey's in with the whiskey.
I put down Irish whiskey but you can use whatever you choose.
The caramels were just an afterthought but everyone that has had these cookies say they are great with the flavors.
Speaking of the caramels, make sure to put them on after while the cookies are still hot.
If you put them on and bake them you will get one hot mess. 🙂
P.S. It's a great day to buy my cookbook Holy Sweet!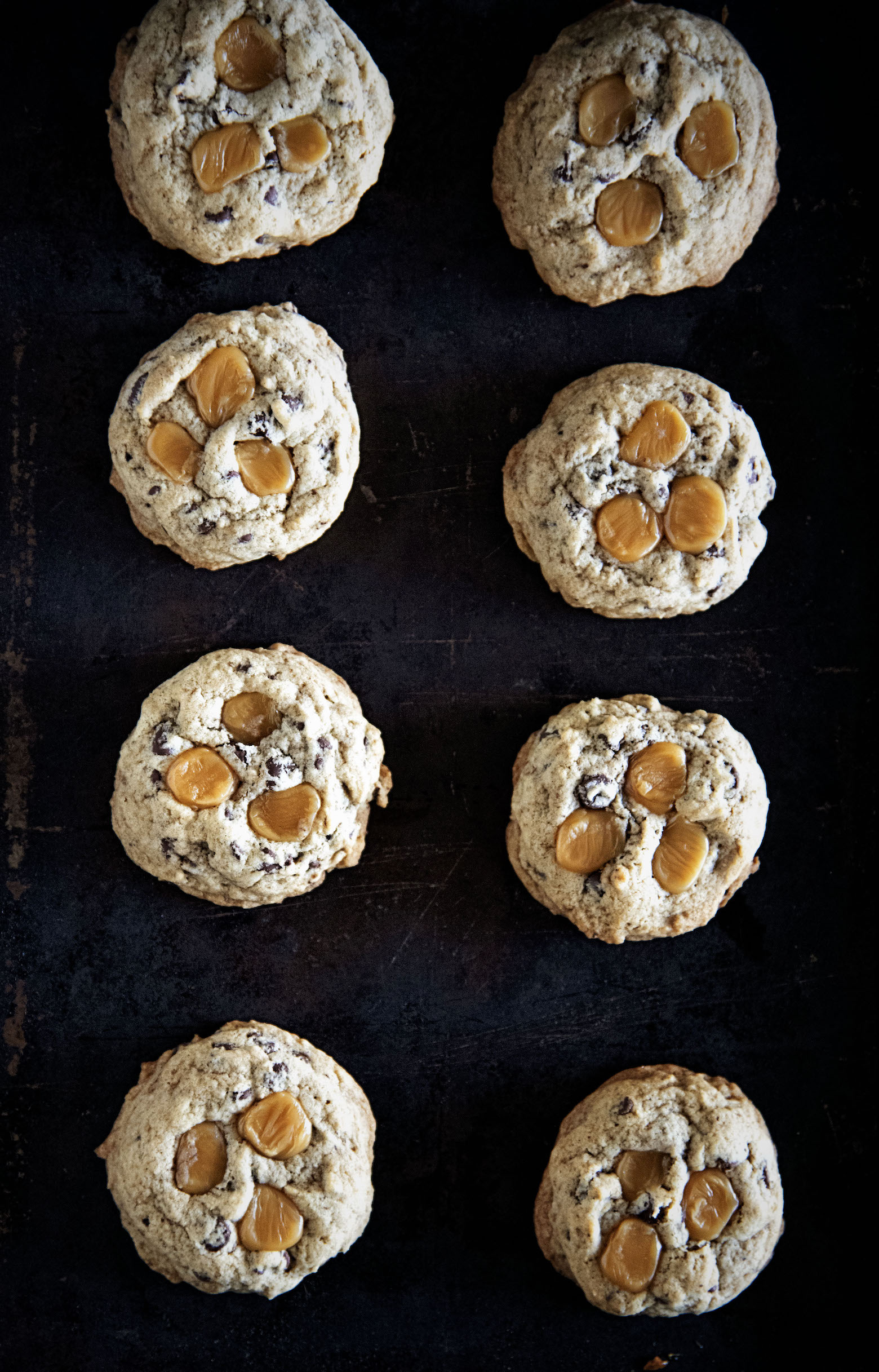 Want More Cookie Recipes?
Roll Out Shortbread Sugar Cookies
White Chocolate Chip Creamsicle Cookies
Vanilla Bean Caramel Thumbprint Cookies
White Chocolate Dried Pineapple Salted Macadamia Nut Cookie
Instructions
Preheat oven to 375° F.
Combine flour, baking soda, espresso powder, and salt in small bowl and set aside.
Using a stand mixer with a paddle attachment beat butter, granulated sugar, brown sugar, and whiskey in large mixer bowl until creamy.
Add eggs, one at a time, beating well after each addition.
Gradually beat in flour mixture.
Stir in the Bailey's baking chips.
Using a regular size ice cream scoop, scoop out 15 cookies.
Bake for 13 to 15 minutes or until golden brown.
Remove from oven and while hot place the caramel pieces onto the hot cookies.
Cool on baking sheets for 2 minutes; remove to wire racks to cool completely.