This Apple Pecan Oatmeal Bread will help bring your grilled cheese to a new level. Especially when making one with lots of cheddar.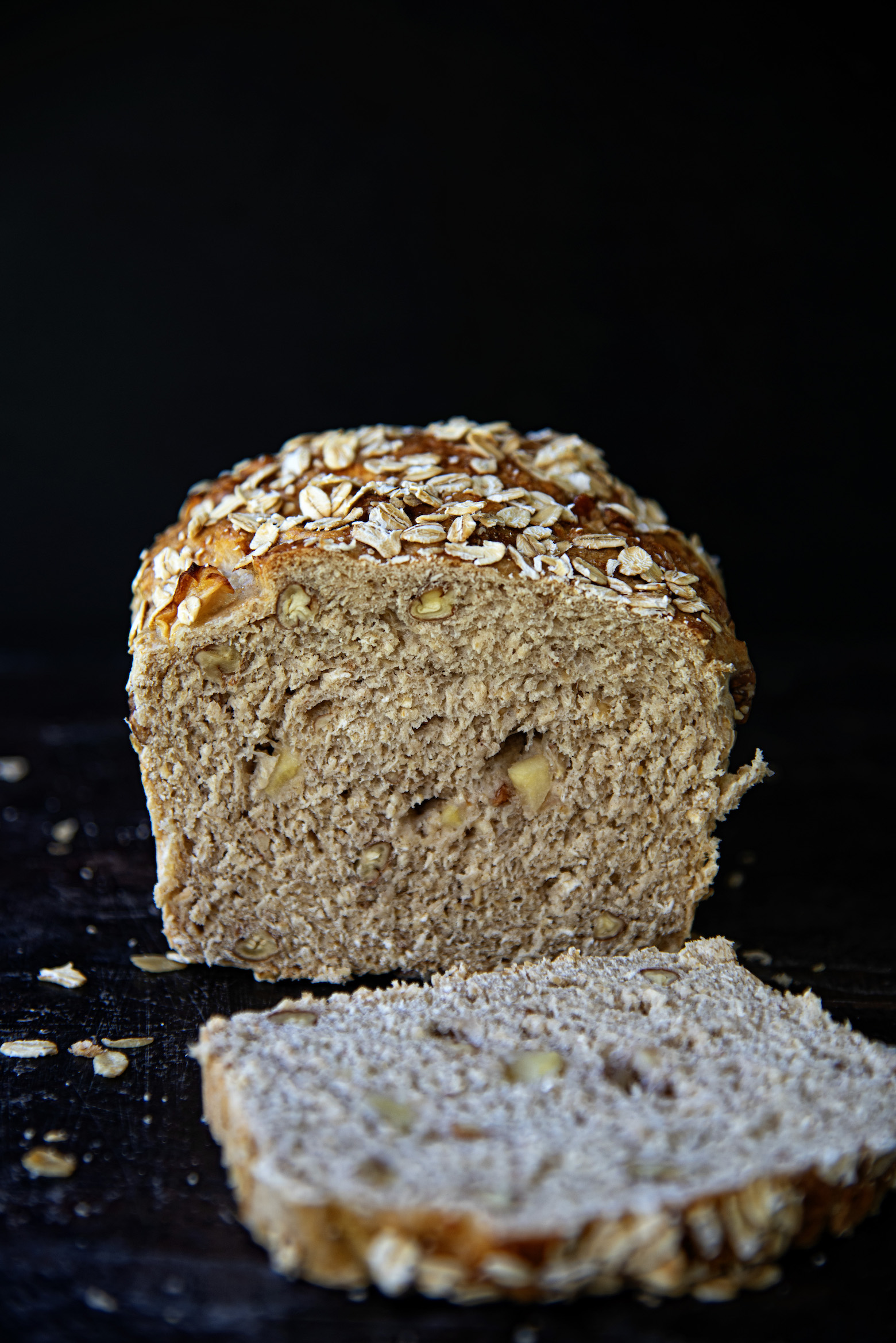 So many people during the pandemic, especially in the beginning when we were all staying home, turned to bread making.
First it sort of began as just learning to make plain white sandwich bread since that was getting hard to find at the grocery store.
And your child was not eating their peanut butter and jelly sandwich with bread that had "twigs and sticks" in it.
But then as time went on people started getting more and more adventurous.
Which then led to a yeast shortage.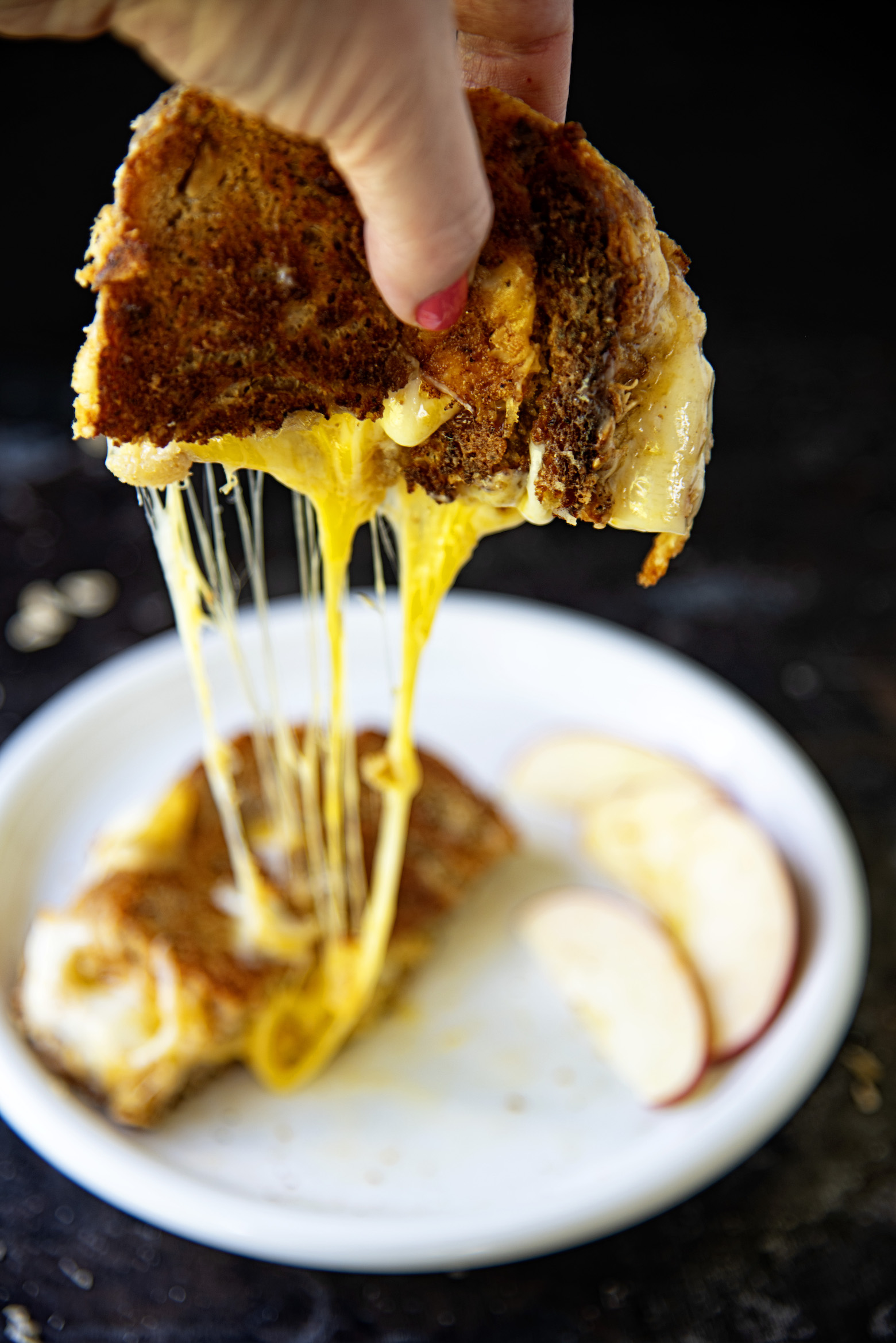 And that brought people to the dark side.
The rabbit hole of sourdough and artisan bread making.
Next thing you know I have friends swinging by and picking up starter from my front porch like a very bizarre drug exchange. 😀
It reminded me of the days of Amish Friendship Bread that my mom would get baggiess of starter from her friends.
Some of you even got to the crazy point (FYI, I'm crazy and do this) where you named your starters.
And I say starters because once you do one you start getting into more and more varieties.
I have 5.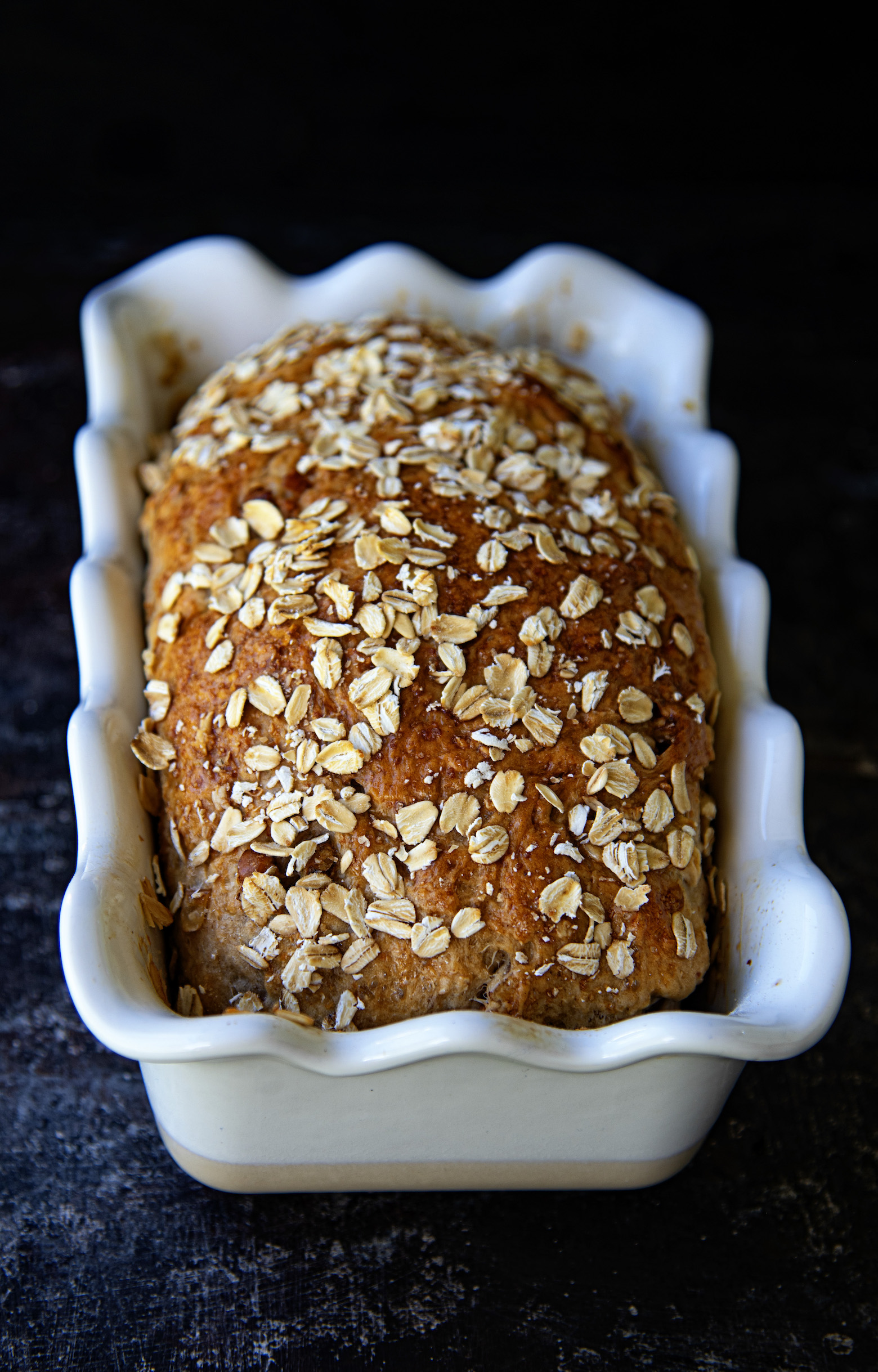 And while I enjoy sourdough and artisan breads the bread I make the most is sandwich breads.
Because we eat a lot of sandwiches.
Grilled cheese is my go to a lot of times.
Simple and tasty.
So a few years back I started pairing my sandwich bread with what cheese was going in my sandwich.
Having rye bread?
Throw in some swiss cheese.
Blue cheese going in there?
Add some walnuts or pecans to the bread.
Then there is cheddar.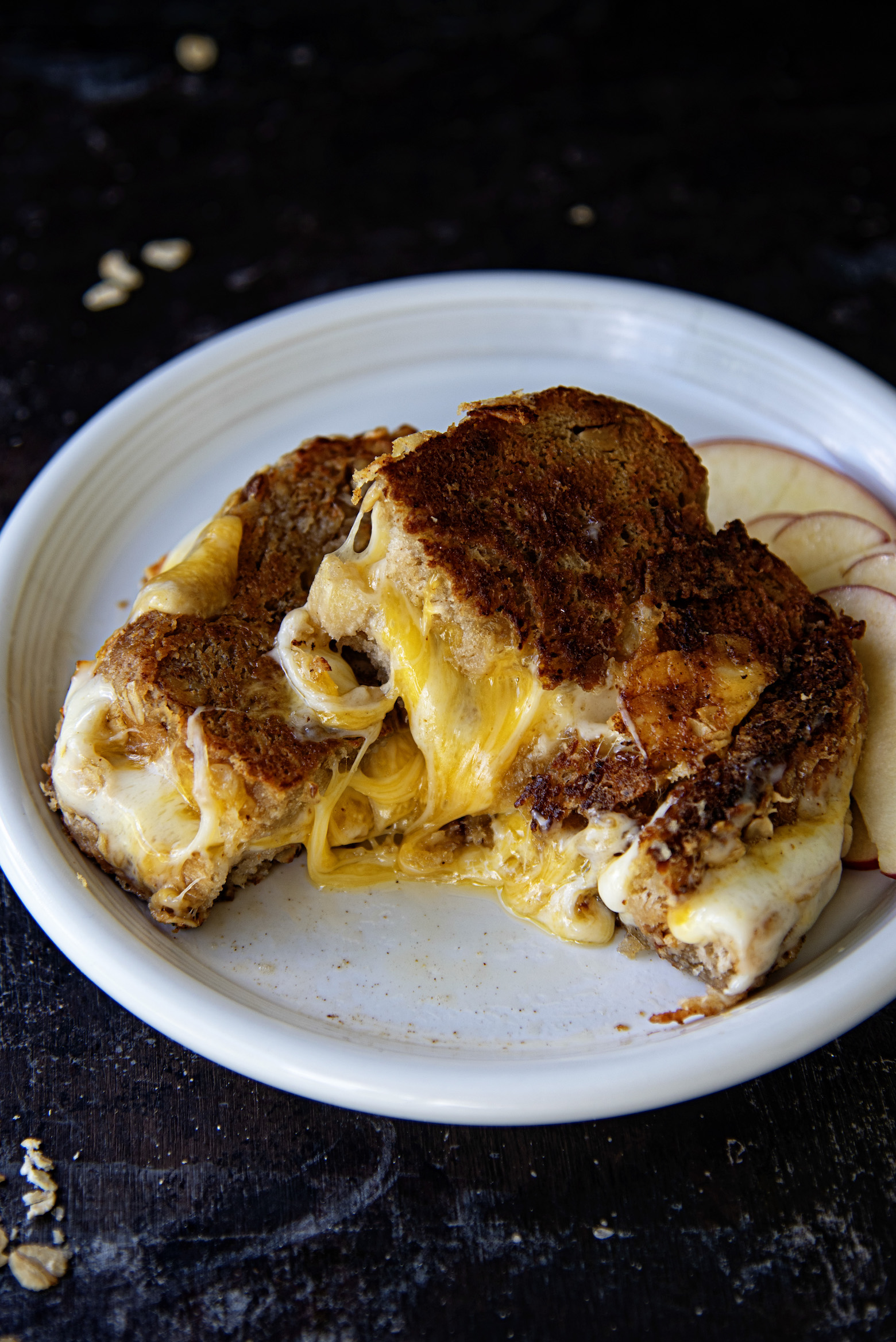 Cheddar and apples is a classic.
Which is how this Apple Pecan Oatmeal Bread came about.
Oatmeal bread is my main staple of sandwich bread.
So adding some apple and pecans to the mix seemed like a good idea.
It was.
This makes for a great bread to go with cheddar!
If the bread baking bug got you during COVID you should add this to your list to try.
Last but not least…it's a great time to order my cookbook. 😀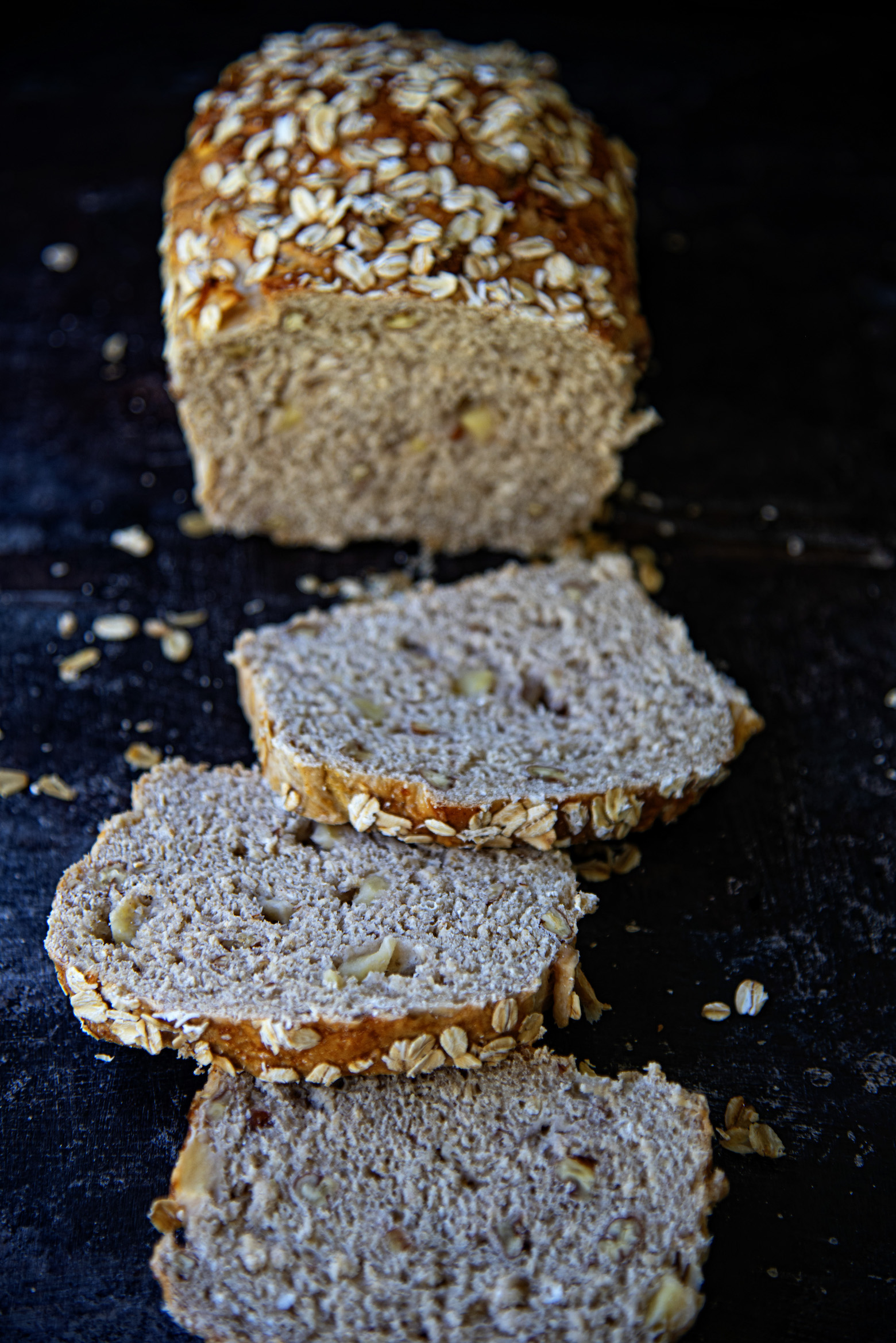 Want More Bread Recipes?
Orange Blossom Chocolate Challah Bread
Ingredients
2 packages (1 TBSP+ 1 1/2 tsp) active dry yeast (I used Red Star)
1/2 cup warm water
1 cup warm milk
1 cup warm buttermilk
2 TBSP vegetable oil
1/2 cup brown sugar, packed
2 tsp salt
2 cups old-fashioned rolled oats (I used Quaker)
1 tsp cinnamon
5 cups Unbleached All-Purpose Flour
2 cups coarsely chopped tart apples
1 cup coarsely chopped pecans
additional oat flakes or rolled oats, for sprinkling in pan and for topping
1 large egg, beaten with 1 TBSP cold water, for topping
Instructions
In a large bowl, stir yeast into water to soften.
Add milk, oil, brown sugar, salt, oats, cinnamon, 2 cups flour, apples and pecans. Beat vigorously for 2 minutes.
Gradually add remaining flour, a little at a time, until you have a dough stiff enough to knead.
Turn dough out onto a floured surface.
Knead, adding flour as necessary, until you have a smooth, elastic dough.
Put the dough into an oiled bowl, turning once to coat the entire ball of dough with oil, and cover with a towel. Let rise in a warm place until puffy, about 1 hour.
Grease two 9″ x 5″ or 10″ x 5″ loaf pans, and sprinkle with rolled oats.
Turn dough out onto a lightly oiled work surface. Divide dough in half.
Shape dough into loaves and place in prepared pans.
Cover with a piece of lightly greased plastic and let rise until almost doubled, about 45 minutes.
While the bread is rising, preheat the oven to 375°F. Just before baking, brush tops of loaves with egg/water mixture. Sprinkle with additional rolled oats.
Bake for 30 minutes, or until internal temperature of loaves reaches 190°F. Immediately remove bread from pans and cool on a rack, to prevent crust from becoming soggy.
Store, well-wrapped, for 5 days at room temperature, or freeze for up to 3 months.