This Apple Oatmeal Butterscotch Bundt Cake is filled with shredded Honeycrisp and butterscotch chips and topped with an apple cider glaze.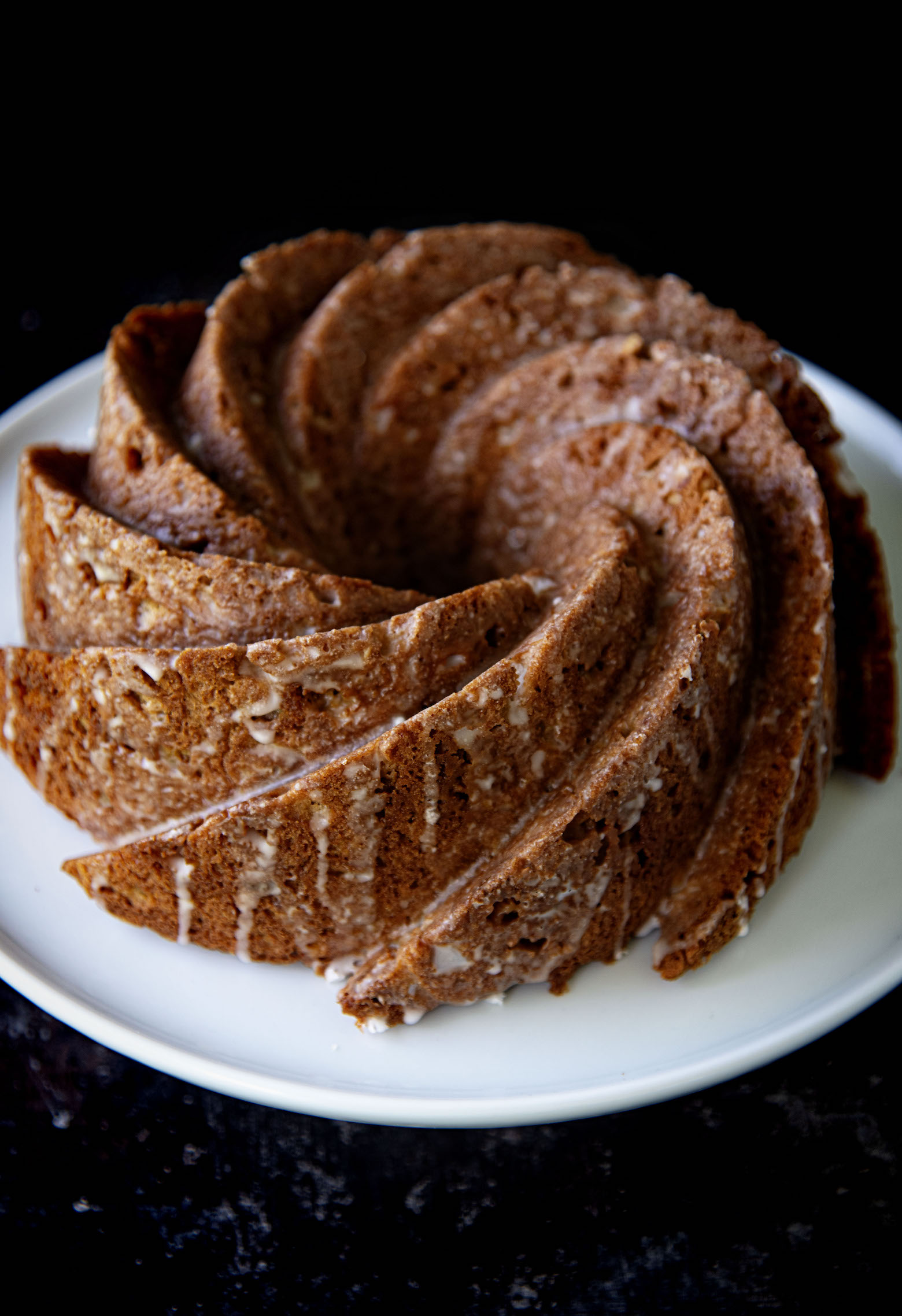 So my favorite show is back on.
If you have no idea what I'm talking abou then I'm sad for you.
Because you are missing out.
Great British Bake Off is back on.
Just like the NHL (which the Tampa Bay Lightning won the cup this year if you are wondering) the bakers are in a bubble.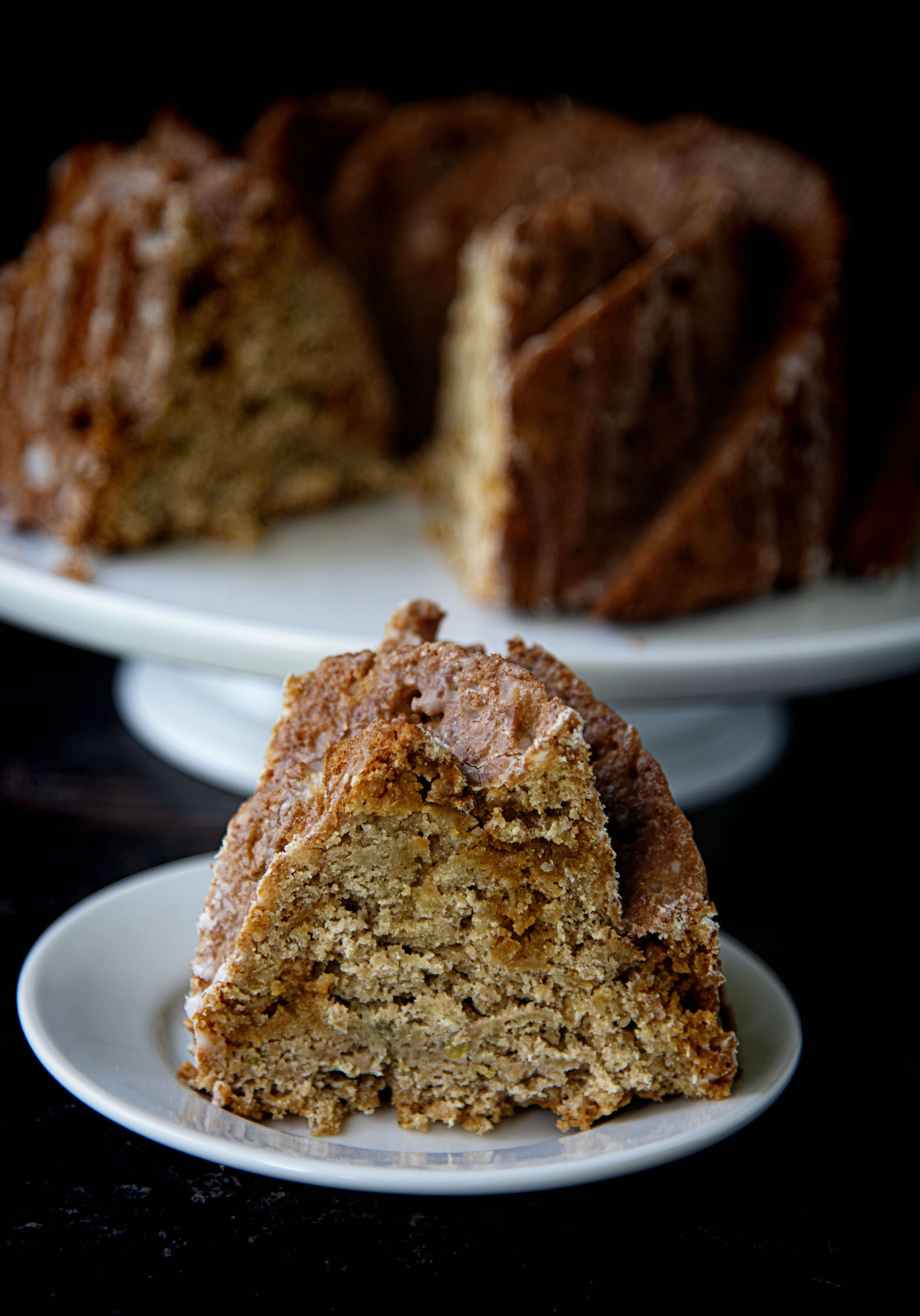 Unlike previous years they don't get to go home each week after their weekend in the tent.
What I want to know though is how much practice time they get.
Because for some it could be a great advantage not to be home and have distraction.
And others it can be a downfall if you don't get to practice as much as you do at home.
The first weeks show stopper was a hard one.
They had to make a cake bust of someone they admired.
Those that have seen my decorating skills know why I make so many Bundt cakes. 😀
I tried to figure out who I would want to make a bust of and I landed on Carrie Fisher.
Not as Princess Leia but as herself.
I mean not that she wasn't awesome as Leia.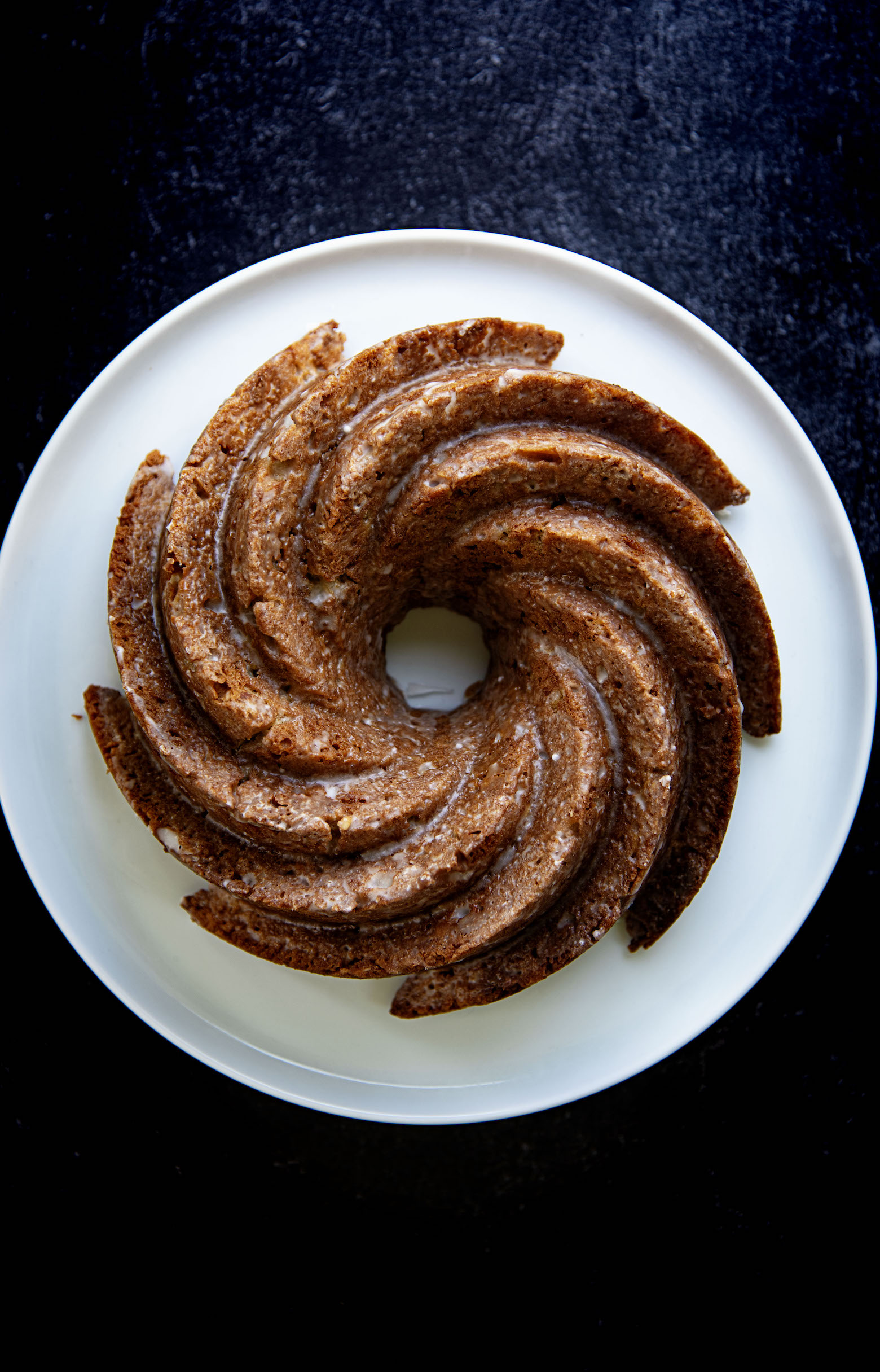 But I admired Carrie Fisher the woman.
Especially in her older years.
Where she dragged her dog Gary everywhere and if he wasn't allowed to go with she wasn't coming.
I remember her taking him on Good Morning America.
In the interview she says the comment that I live…"I think with my mouth".
Meaning she says things as she is thinking them.
And well, I tend to do that too.
Rarely in life will you wonder where you stand with me. 😛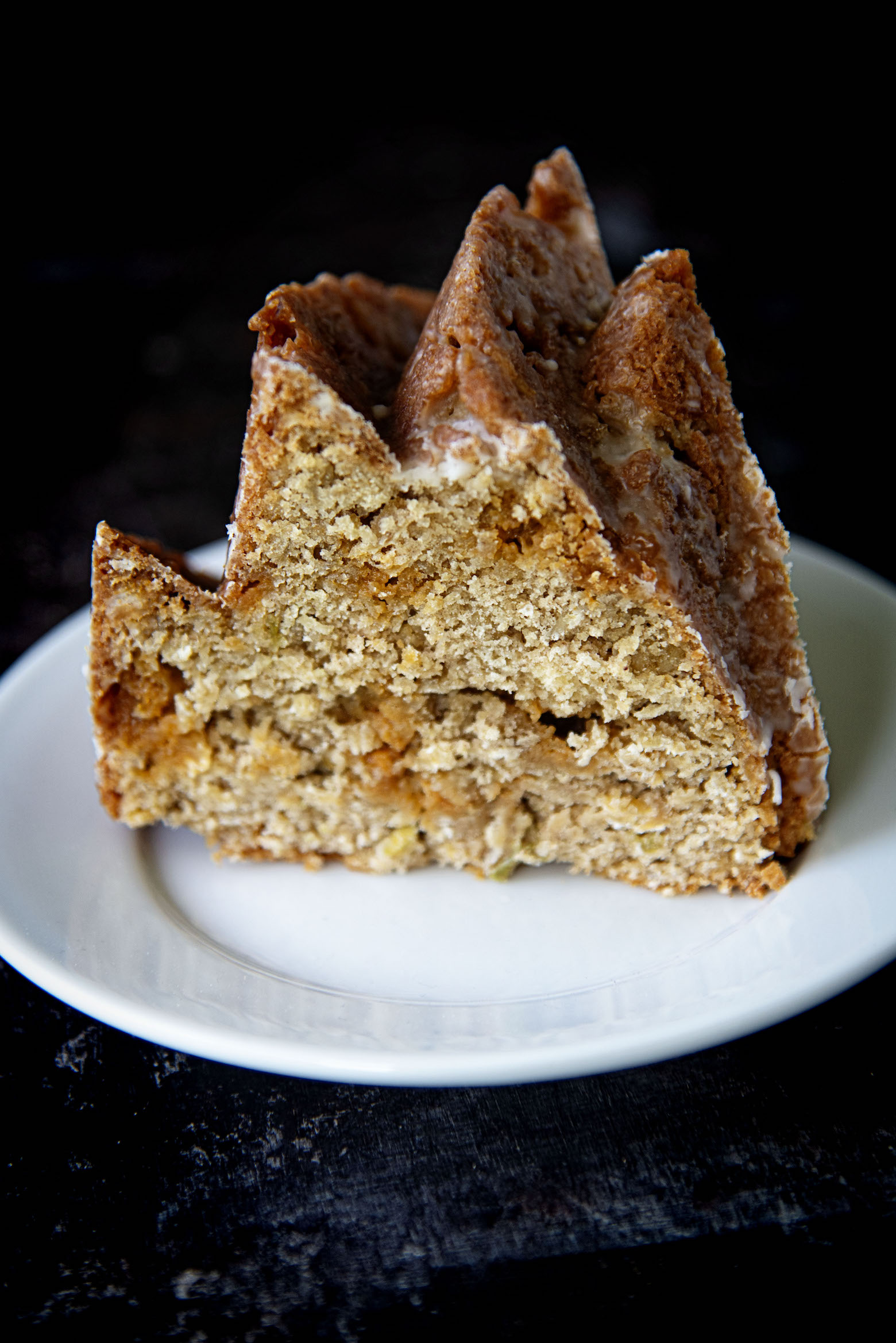 She held nothing back and was immensely vocal about the double standards in Hollywood when it came to age.
You know how you see a 60 plus year old man with a 22 year old woman and that's fine.
But you never see a middle aged or older woman with younger men.
I mean there are a couple movies but on average that is not the norm.
And she was never one to shy away about talking about the ridiculous standards woman have (and men too) with regards weight.
Which as a body positive person I greatly appreciate.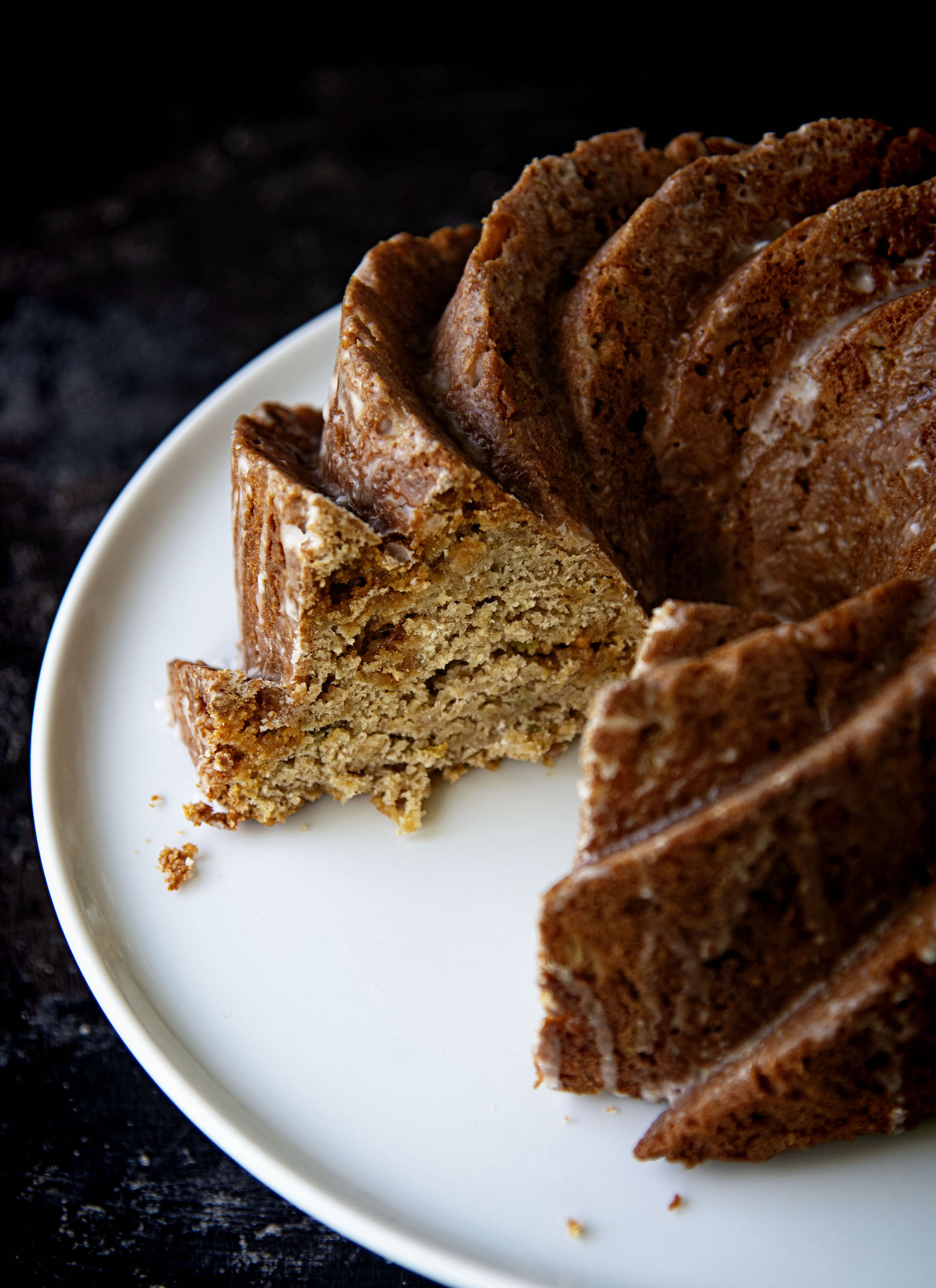 This Apple Oatmeal Butterscotch Bundt Cake has nothing to do with anything I talked about…you know, like most things on this blog.
But it's one of the flavor combo my husband really likes.
At least the oatmeal and butterscotch chip combo.
He liked the apple and apple cider addition as well.
This cake was a big hit with him.
P.S. It's a great day to buy my cookbook.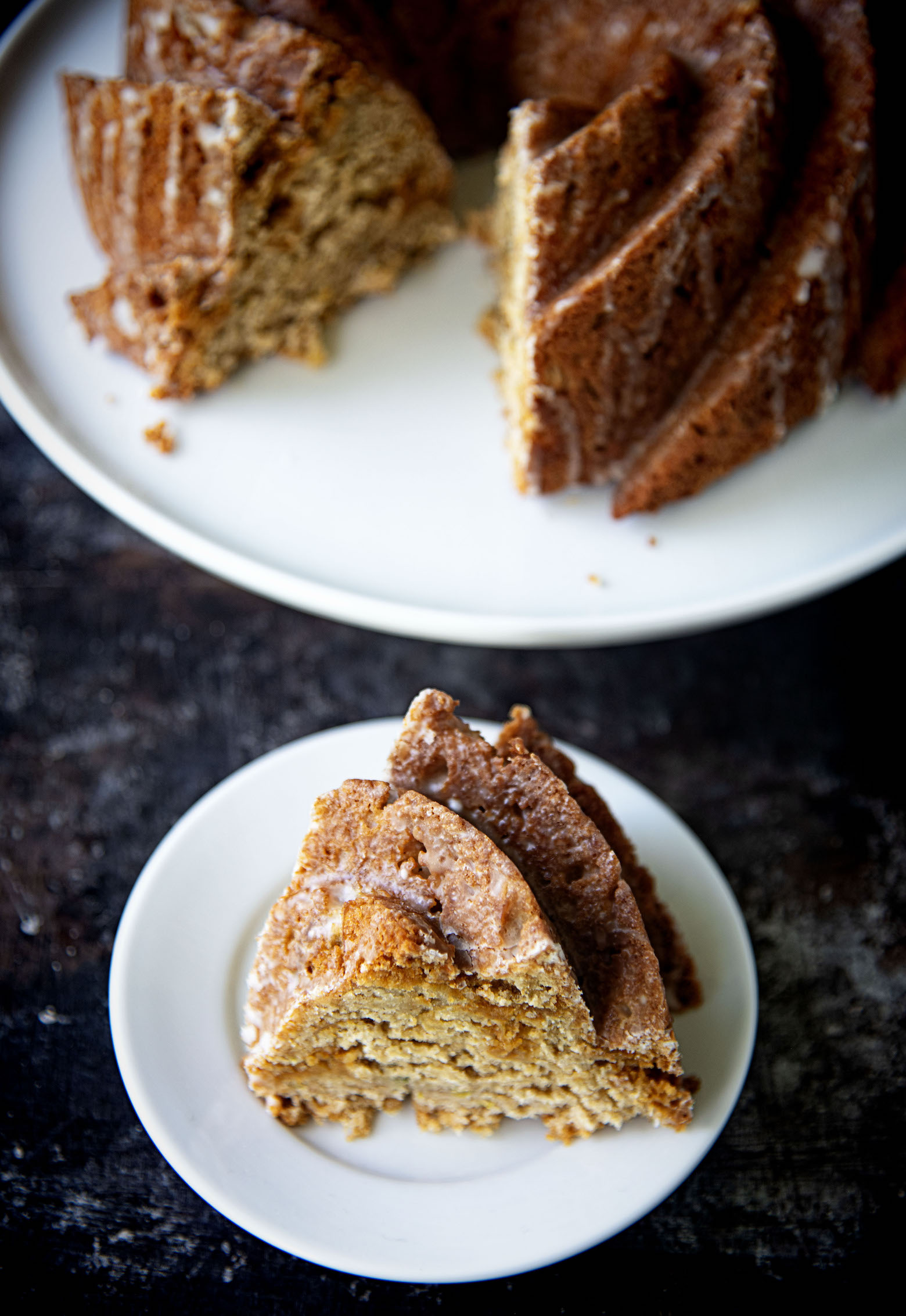 Want More Cake Recipes?
Bourbon Brown Butter Chocolate Chip Cake
Strawberry Lemonade Bundt Cake
Whiskey Glazed Apple Buttermilk Pound Cake
Ingredients
For the cake:
2 1/2 cups all-purpose flour

1/2 cup oatmeal (old fashioned)
2 tsp apple pie spice
2 tsp baking powder

1 tsp salt

1/2 tsp baking soda

1 cup unsalted butter , melted

1 1/2 cups brown sugar , packed

3 eggs

1/2 cup full fat buttermilk 

2 large Honeycrisp apples, shredded, padded dry with paper towel to remove some of moisture
1 1/2 cups butterscotch chips
For the Glaze:
2 cups powdered sugar, sifted
2-4 TBSP apple cider
Instructions
For the cake:
Preheat oven to 350 F.
In a medium bowl, mix flour, oatmeal, apple pie spice, baking powder, salt, baking soda and combine thoroughly.In a separate large bowl, add together the melted butter, brown sugar, eggs, and buttermilk.
Using mixer, combine these ingredients until well-incorporated.
Gradually add flour mixture into the butter-sugar-egg-buttermilk mixture, whisking until all ingredients are well combined. Make sure not to over-mix.
Using spatula, fold shredded apples into the cake batter.
Then fold in the butterscotch chips.
Spray your cake pan with a Baking Spray with Flour. Pour batter gently into prepared pan.
Bake for about 1 hour until the toothpick inserted into the center comes out clean. Mid-time through the baking, turn the pan around in the oven for even baking.
Let the pan cool off on wire rack for about 40 minutes, then invert the bundt pan to release the cake.
Let the cake cool for 15 minutes before glazing.
For the Glaze:
Whisk ingredients together and pour over cake.
Let glaze set up, about 30 minutes.