This Apple Berry Crumb Topped Pie is a mix of apples and mixed berries topped with a butter crumb top and a mixed berry glaze.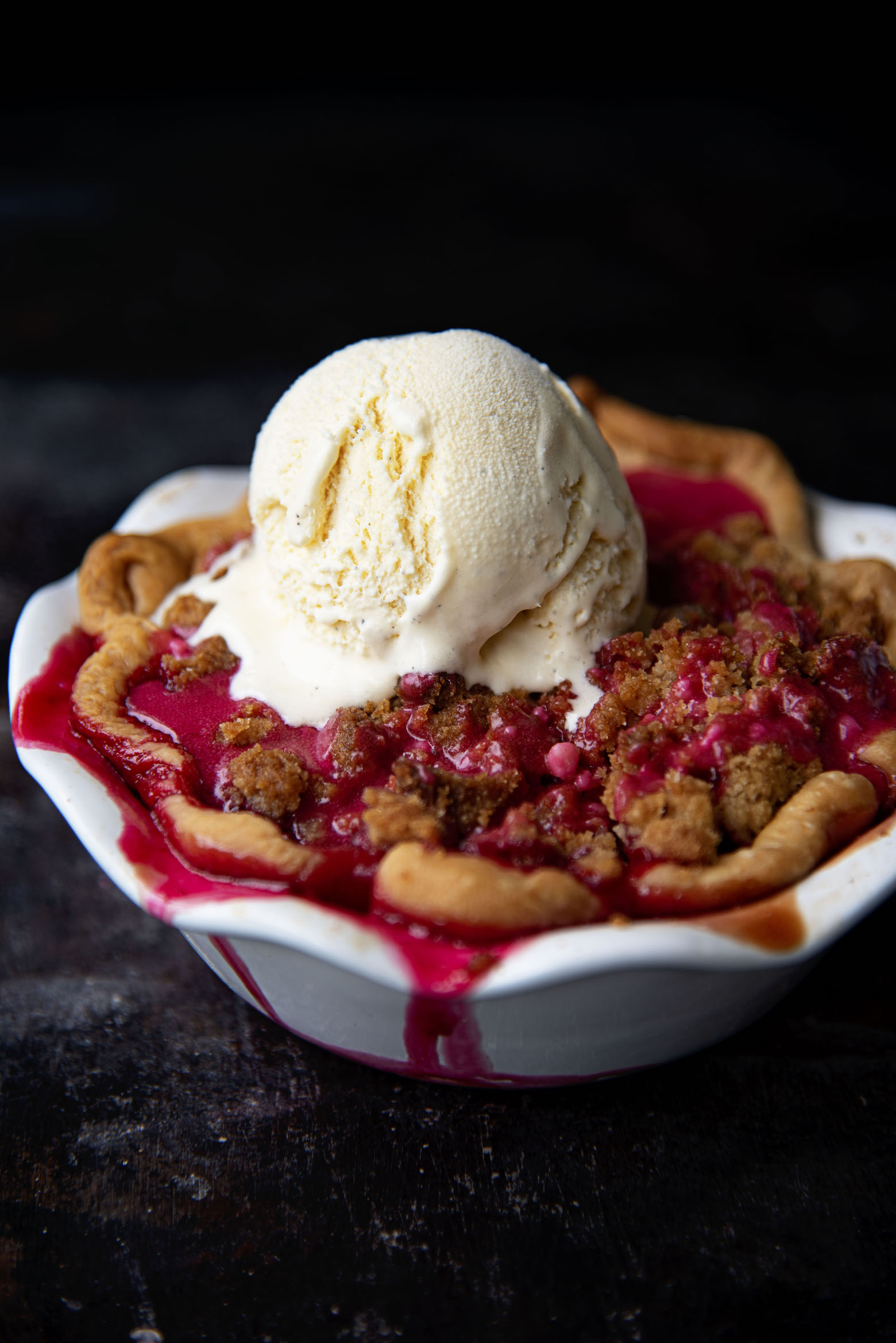 This morning I woke up and didn't want to get out of bed.
Because it was freezing.
In our area it may get to 75 degrees during the day but the nights now get down to the 40's often.
It's a clear sign that summer is leaving us and fall will soon be calling.
And so we are in an inbetween season.
Which this Apple Berry Crumb Topped Pie represents.
Berries that I froze from earlier this summer and apples that are the quintessential fall baking staple.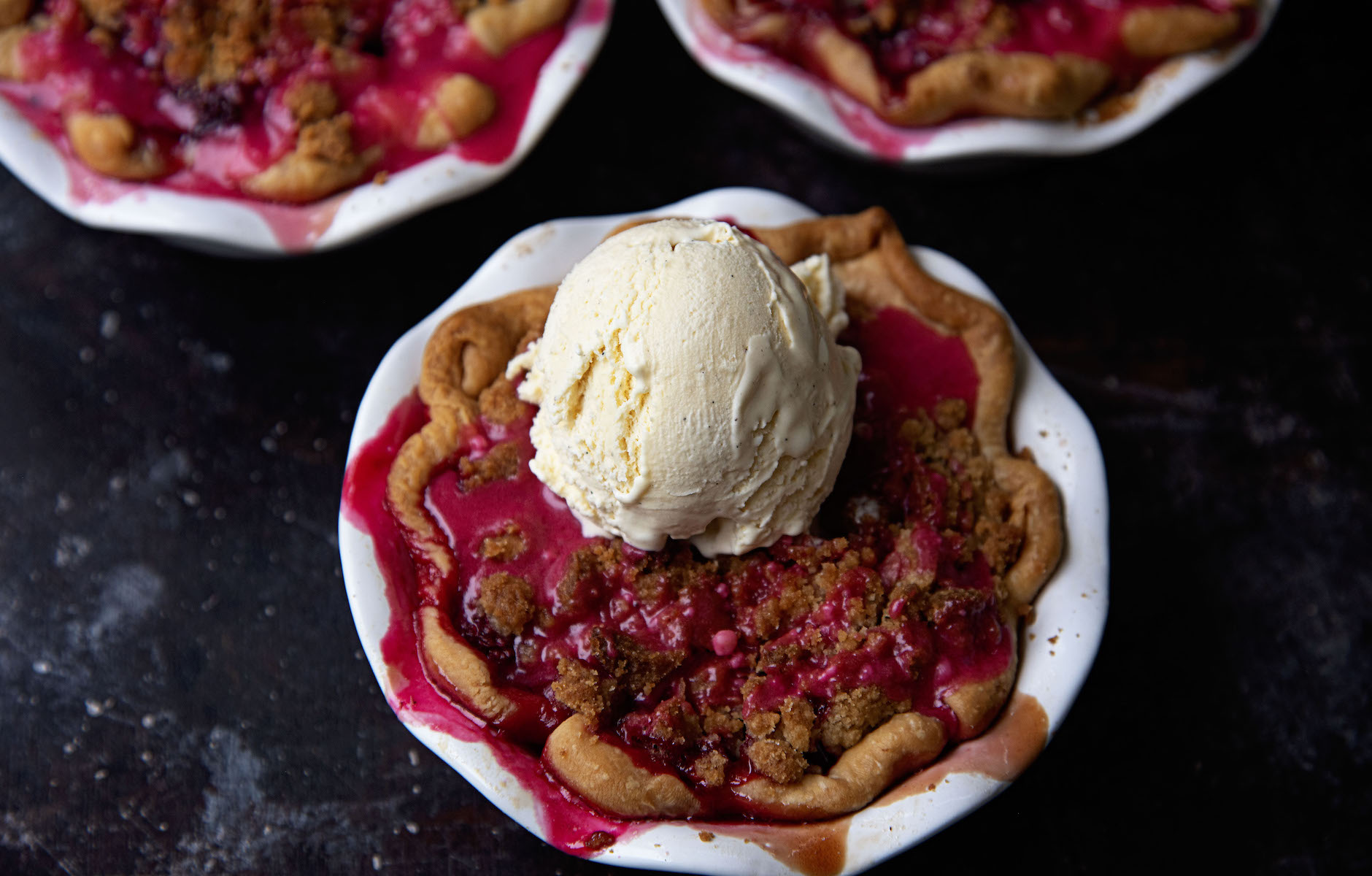 For the berries I had some fresh and some frozen.
We are at the end of blackberry season here and so I used those fresh.
The marionberries I used were frozen from earlier this summer.
The apples are Koru apples which are newer variety of apple.
They are a cross between Fuji and Braeburn.
This variety holds is shape while baking and you can get throughout the summer.
But use whatever apple is your favorite in pie.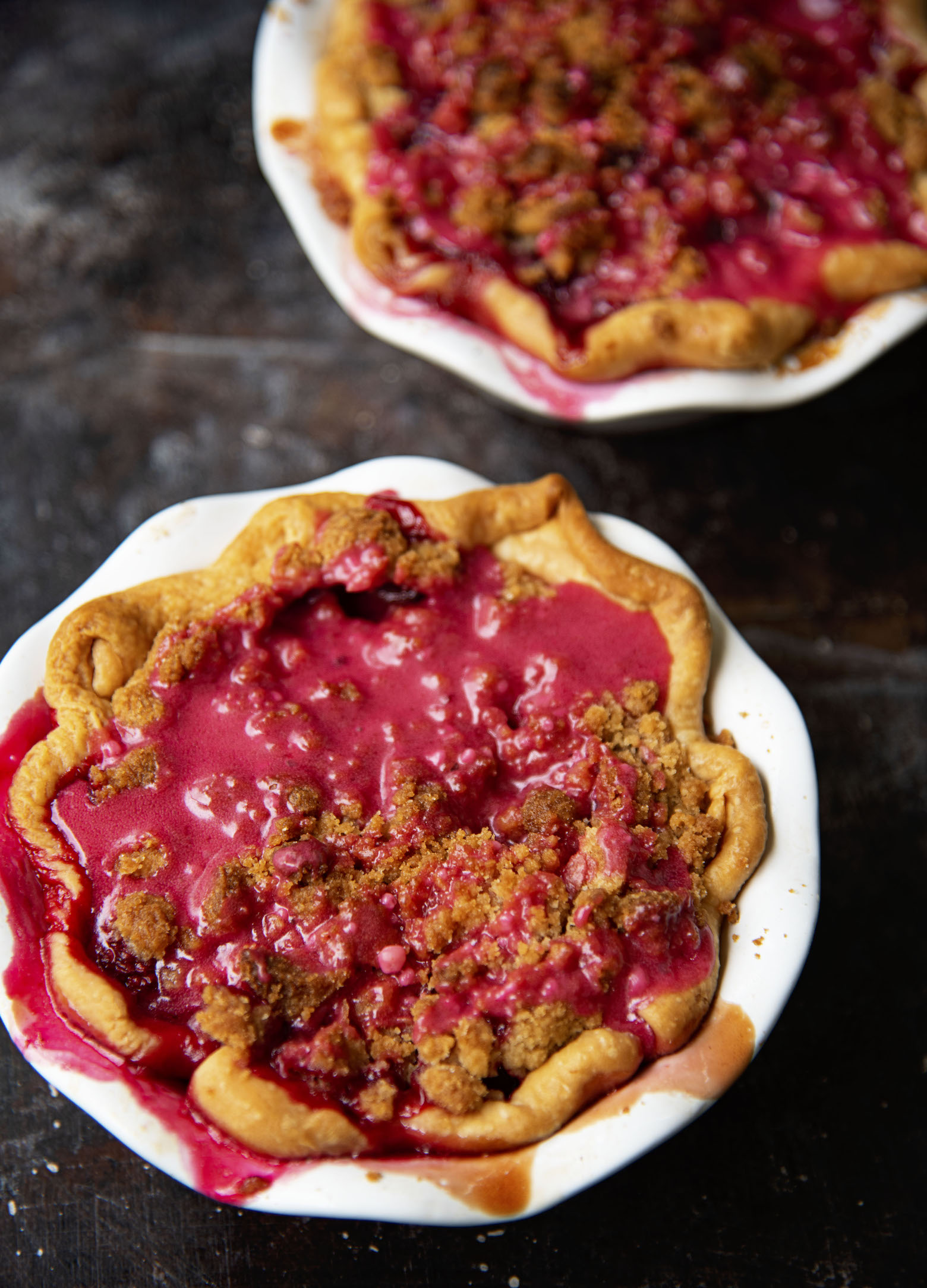 This pie has a crumb top.
I like pies that have a crust bottom and a crumb topping.
It's the best of both worlds for a pie.
The glaze for this pie is optional.
I added it because of the beautiful color it has.
Apple pie can be a little boring in all beige and brown colors so I loved the splash of the bright glaze.
So if you don't want the glaze you don't have to have it.
The pie is still yummy without it.
But I, of course, feel I needed it.
And as always it's a great day to order my cookbook.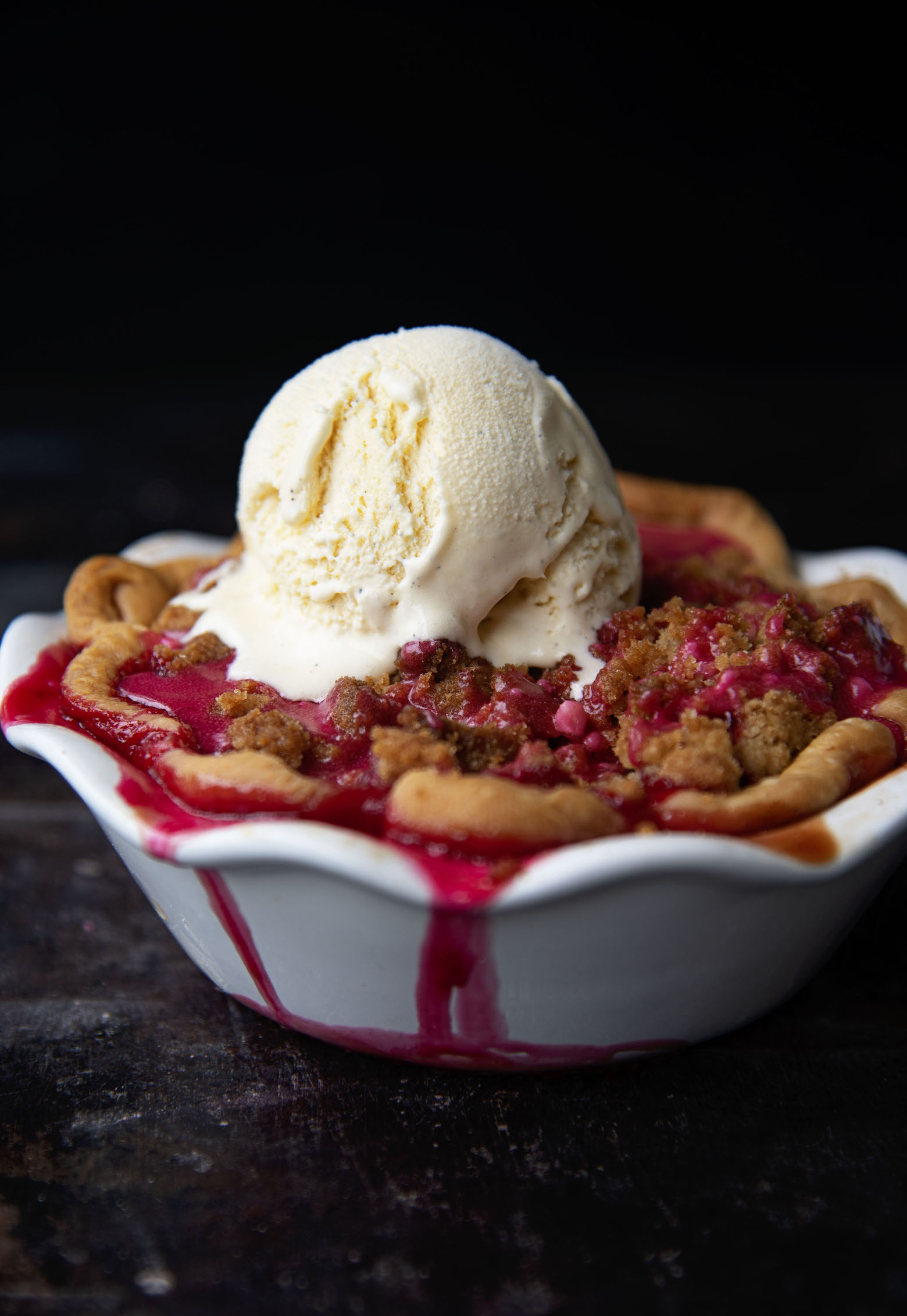 Want More Pie Recipes?
Cinnamon Toast Crunch Apple Slice
Key Lime Vanilla Ice Cream Pie
Ingredients
For the Crust:
2 cups all-purpose flour
1/2 tsp.salt
2 TBSP granulated sugar
2/3 cup chilled unsalted butter
4 to 5 TBSP ice water
For the Crumb Topping:
1/3 cup granulated sugar
3 tablespoons firmly packed dark-brown sugar
1/2 tsp. cinnamon
1/4 tsp. salt
1/3 cup all-purpose flour
1/2 cup chilled unsalted butter
For the Filling:
3 cups sliced apples
2 cups fresh or frozen mixed berries (I used blackberries and marionberries)
1/3 cup granulated sugar
1/4 cup packed brown sugar
1 TBSP plus 1 tsp.cornstarch
2 tsp. vanilla extract
1 tsp. dry pectin or an extra 1/2 tsp. cornstarch
1/2 tsp. ground cinnamon
1/4 tsp. freshly grated nutmeg
1/4 tsp. kosher salt
For the Glaze:
1/2 cup fresh berry juice (try and use the same berries that are in the pie)
1 1/2 cups powdered sugar
Instructions
For the Crust:
Using a food processor combine flour, salt, and sugar on and pulse for 30 seconds.
Cut butter into 1/2-inch cubes and add to flour mixture and pulse until mixture looks crumbly, with bits of dough the size of peas, about 1 minute.
Add 4 tablespoons ice water, 1 tablespoon at a time, mixing on low speed for 10 seconds after each addition. After final addition, dough should begin to clump together in a ball. If it doesn't, continue mixing for about 10 seconds longer. (If it still looks too dry, add 1 more tablespoon ice water.) Gently mold dough into a disk, cover in plastic wrap, and refrigerate for at least 1 hour.
Transfer unwrapped dough to a lightly floured surface.
Roll into a 1/8-inch-thick circle large enough to cover bottom and sides of a 9-inch-diameter deep-dish pie pan; do not use a regular (shallow) pan. Transfer dough to pie pan, crimping edges with your fingers or a fork. Prick bottom with a fork.
For the Crumb:
In a food processor fitted with a metal blade, process sugars, cinnamon, salt, and flour for about 1 minute.
Cut butter into small pieces and add to sugar-flour mixture. Pulse 10 to 15 times until mixture is crumbly.
Remove from processor and refrigerate topping, covered, until ready to use.
For the Filling:
Place two large saute pans over medium-high heat and divide the 1/3 cup sugar evenly between them. I have tried it with one large pan and the two pans work better. If you do the large pan the apples don't cook evenly at all.
Cook the sugar without stirring, until it melts and then caramelizes and turns amber, tilting the pans a little to swirl and distribute the color, adjusting the heat as needed. As soon as the sugar melts, it will quickly start caramelizing, so be ready to add the apples and berries immediately.
Add the apples and berries to the two pans and saute until they are half-cooked and the released juices boil away until no liquid remains, 8 to 10 minutes. Toss and stir the apples and berries often so they cook evenly on both sides.
Transfer the apples to a bowl and cool to room temperature.
Preheat the oven to 350 degrees.
In a large bowl, combine the brown sugar, cornstarch, pectin (if using), spices and salt, then add the vanilla, and stir.
Add the apples and berries and toss to combine.
Put the mixture into the prepared pie pan.
Sprinkle the crumb topping over the top of the filling.
Place the pie on a baking sheet, place in the oven, and bake for 30 minutes.
Tent the pie with aluminum foil and bake for an additional 30 minutes.
Remove the foil and bake for an additional 10-20 minutes or until the pie is evenly golden brown.
Remove from oven and cool on wire rack before glazing.
For the Glaze:
Whisk together the ingredients and drizzle over pie.
Serve it with ice cream.
Notes
I used mini pies for the photos (they photograph better) but the recipe is for one full pie. If you are wanting to make mini pies, this makes about 5 mini pies. The bake time is about 10 minutes less with the mini pies.