This Circus Animal Cookie Cheesecake Cheeseball is made with cream cheese, cookie mix, and circus animal cookies all rolled in nonpareil rainbow sprinkles.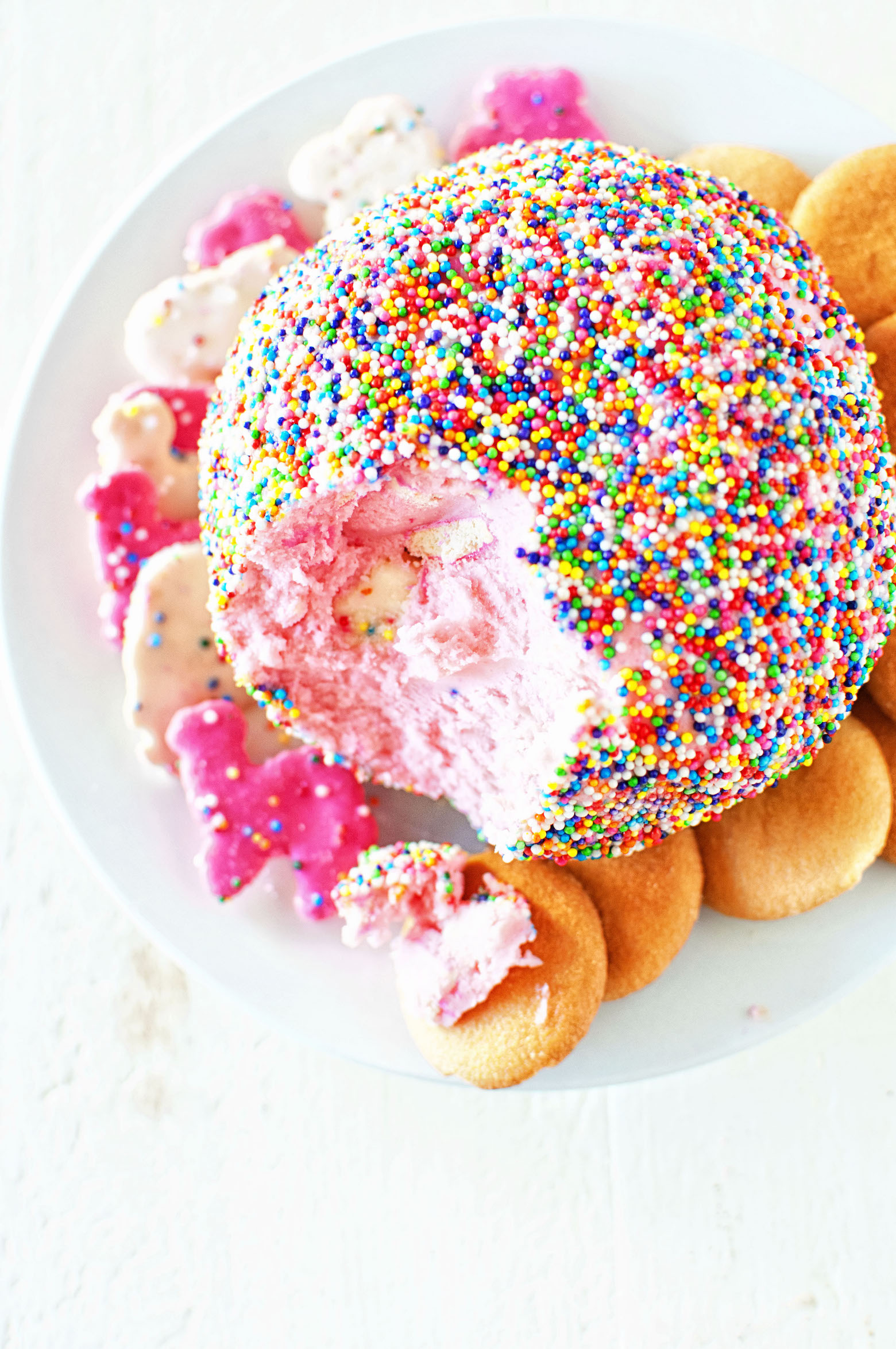 Hello 2018!
I'm glad to meet you.
Many people have high hopes for you, I'm one of those people.
Now I'm not a resolutions kind of gal.
But in the last year I have worked on letting go of obligations.
I don't mean like not paying your bills obligations (though wouldn't that be nice 🙂 ).
I mean the ones that have you going to a dinner with people you don't want to go with.
Family things you don't want to attend.
Buying someone a gift because it's what you are supposed to do.
Going to 2 year olds birthday parties…even though you don't have kids yourself.
Every person has a different set of obligations so what one person considers an obligation you might not.
One of the things I love about my parents is that even though I often only see them physically once a year there is never an ounce of guilt.
Not once do you hear you never call, I never see you, we never know what's going on come out of their mouths.
Because they don't pile on the guilt we actually enjoy spending time with them.
We don't do it out of obligation or guilt we do it because we want to.
You may be saying to yourself…your parents live only 5 1/2 hours away and you only see them once a year?
Well, first off, my parents are crazy busy people.
Especially for retired people.
No matter when I call I seem to catch them coming or going to something.
So often just pin pointing them down for a time to see them can be hard.
Second is a very large mountain that likes to collect snow that is between my parents and us.
They have a car that can get over that snowy mountain and we do not. So that impedes going there Fall, Winter, and most of Spring.
And summer you can refer back to my parents always being busy. 🙂
We are also busy too.
Having a new home makes our weekends get sucked into projects that we will probably be doing for like the next 17 years. 😛
There is trying to spend time as husband and wife.
Spending time with our friends.
And of course, hockey.
So join me in saying goodbye to certain obligations that drain you.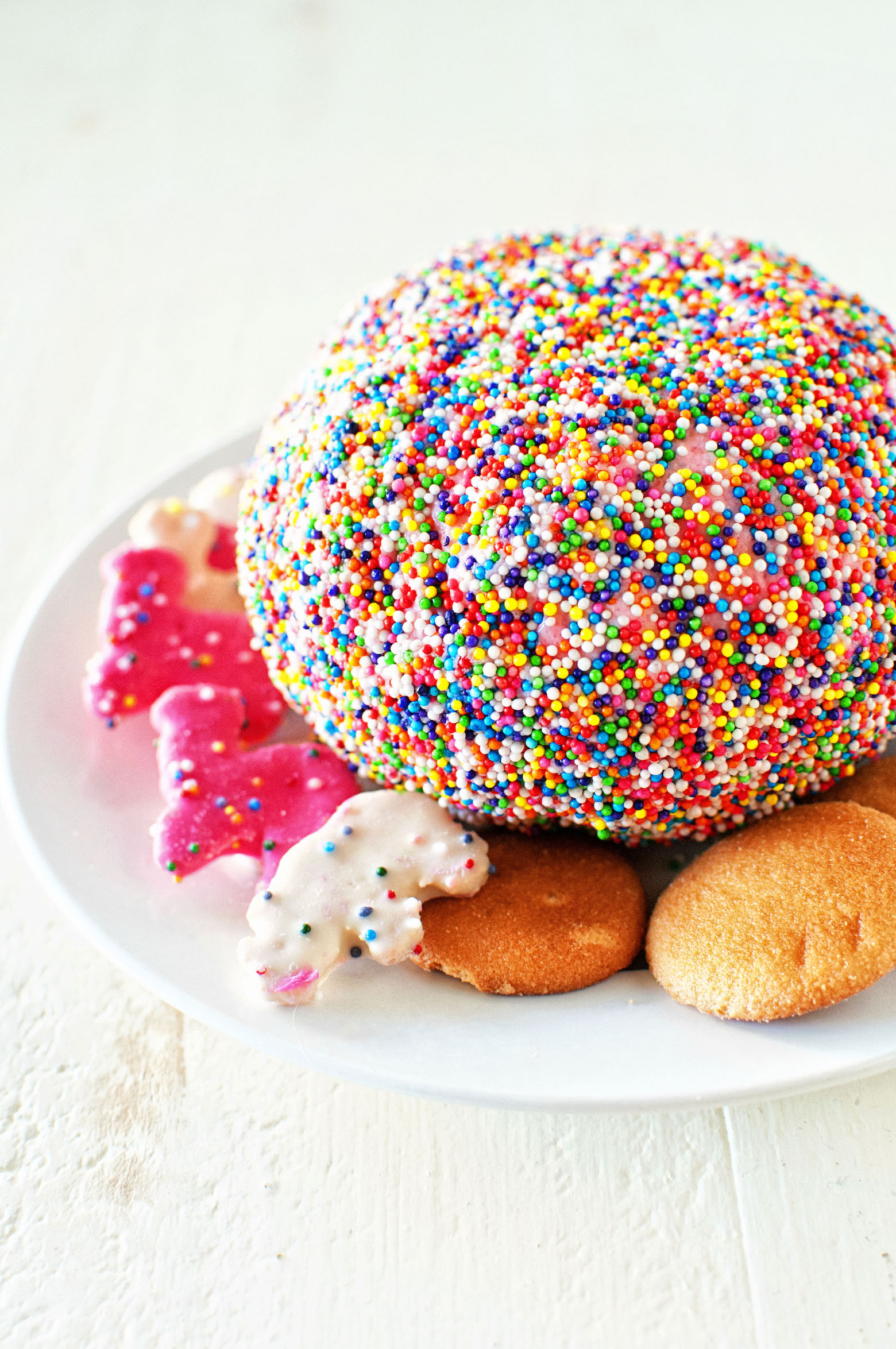 Another obligation I won't doing is the January healthy food blogging obligation.
Many do…I won't.
In fact, our first recipe of the new year is this Circus Animal Cookie Cheesecake Cheeseball.
Why?
Because Circus Animal Cookies make me happy.
Pink makes me happy.
Sprinkles make me happy.
Sugar cookie makes me happy.
Cheesecake makes me happy.
All of my cheesecake cheeseballs have been super popular and this one is no different.
And oh yeah, it's super tasty.
The recipe is for one large ball but I actually made three smaller ones so that I could freeze two for later.
If you are freezing for later I suggest not rolling in the sprinkles until when you are going to serve it.
I find these cheeseballs are always best when they get to sit for a day and the flavors really set in.
It's a great way to say hello to 2018!
Last but not least…it's a great time to order my cookbook. 😀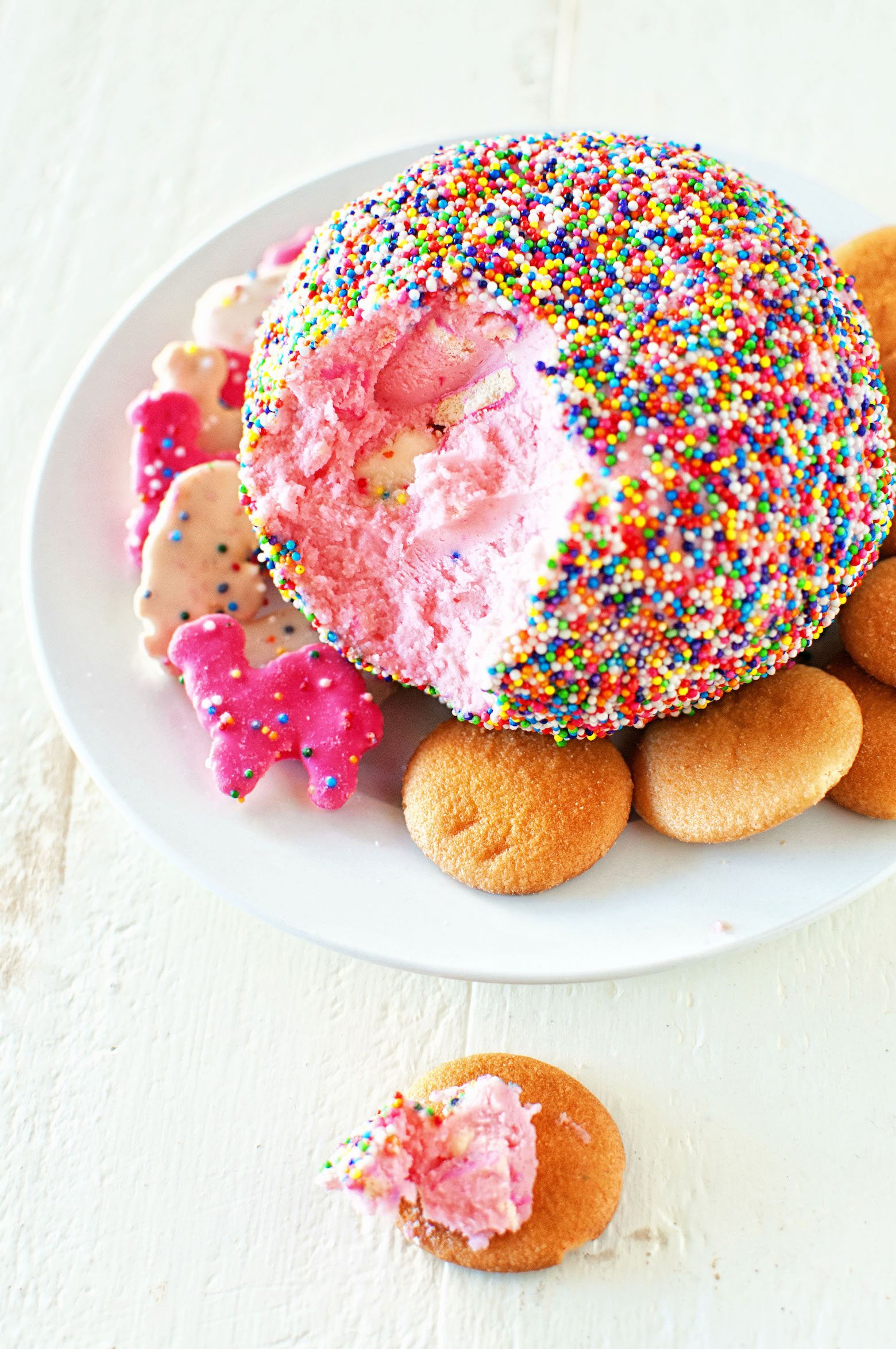 Want more cheeseball recipes?
Try this Angel Food Cake and Strawberry Cheesecake Cheeseball.
Or this Coffee and Donuts Cheesecake Cheeseball.
Chocolate chip cookie lovers will love the Chocolate Chip Cookie Dough Cheesecake Cheeseball .
Or the most popular cheeseball on here is the Cake Batter Cheesecake Cheeseball.
Ingredients
16 oz. cream cheese, at room temperature
1 cup unsalted butter, at room temperature
½ tsp. vanilla extract
1 ½ cups powdered sugar
1 ½ cups chopped Circus Animal Cookies
pink food coloring
Rainbow Nonpareils Sprinkles
Instructions
Using a stand mixer with a paddle attachment beat together the cream cheese and the butter until fully incorporated.
Add the sugar cookie mix, sugar, pink food coloring, and vanilla extract and beat until fully incorporated.
Fold in the chopped Circus Animal Cookies.
Lay out a piece of plastic wrap and scoop the cream cheese mixture onto it.
Do your best to form a ball, then wrap up the ball in the plastic wrap. Do an extra layer of plastic wrap to help it keep its shape.
Freeze for about 2 hours.
Take the ball out of the freezer and unwrap.
Place the sprinkles in a low shallow baking dish or jelly roll pan (I find a plate too small).
Roll the ball in the sprinkles making sure you cover as much of it as you can.
Wrap the ball back up into some plastic wrap and place in the fridge.
If not serving that day, place back in the freezer and then take out an hour before serving to come up to room temperature.
Serve with assorted cookies.