A boozy twist on a potluck favorite. This Jack and Coke Texas Sheet Cake uses Coke instead of milk and kicks it up a notch with whiskey.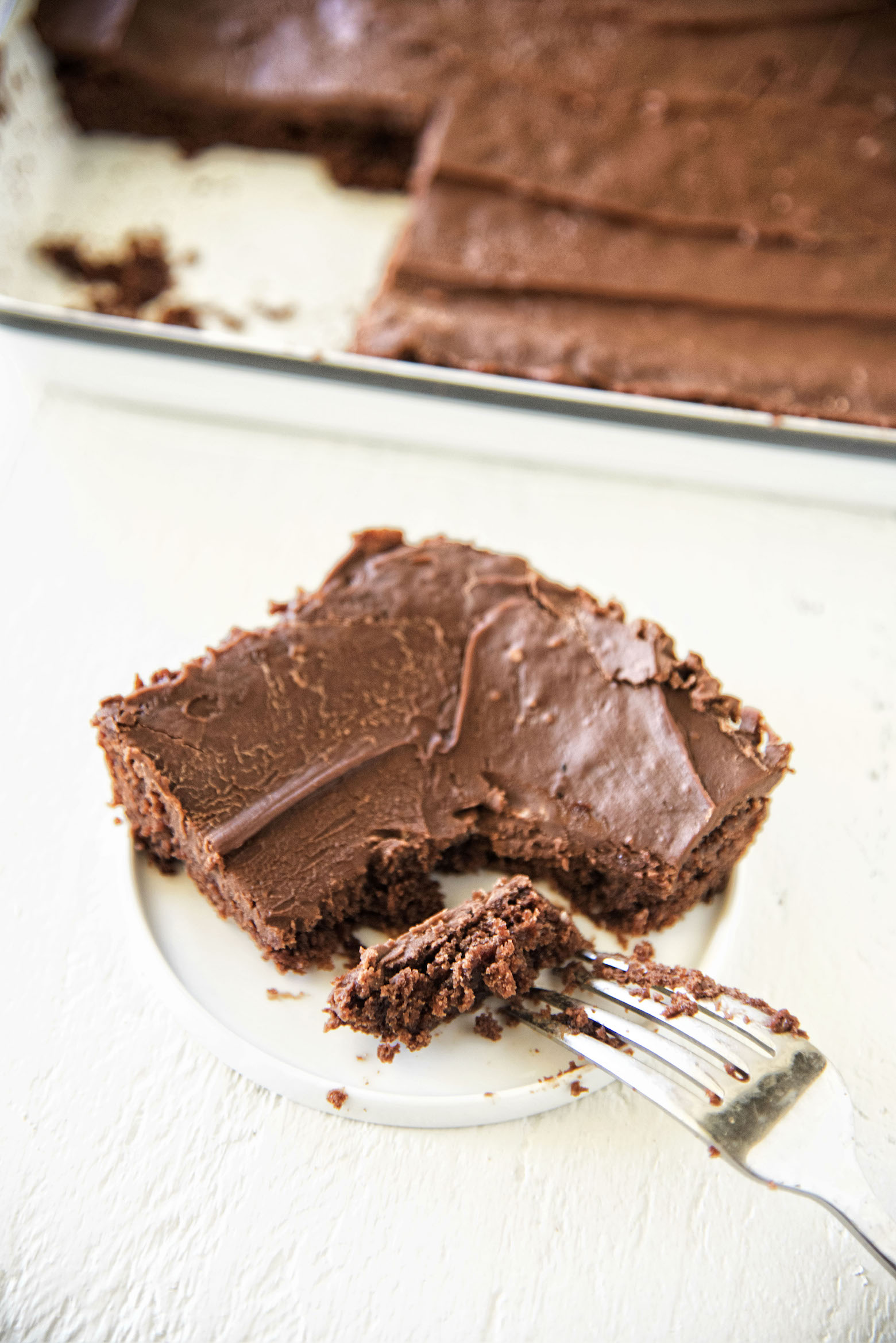 13 years.
Thirteen years ago, I started this blog.
Honestly, I never thought in a millions years I would still be blogging. 🙂
The vast majority of bloggers that started at the same time I did…are gone.
I know for sure if I were to start blogging today that I would not start.
When I started people were just happy if you posted a photo even if it was a slightly blurry blob.
And you hit publish and that was that.
Nowadays you have to search what recipes are hot right now (I don't do this) on Pinterest.
Then go recreate that recipe (I don't do this).
Make a video of it (I don't do this).
And make the recipe (I do this :P)
Photograph the recipe but not just the food but you have to create a mood and have a tablescape (I just take pictures of the food).
There are even bloggers who hire food stylist and photographers as well (I don't do this).
Write about the recipe (I don't do this…I ramble on about stuff like I am right now).
If it's a sponsored post chances are it won't be your own words just the words the company wants you to say (I don't take those types of sponsored posts).
Then you have to pick what words to put into your keywords section for SEO (I sort of do this but not really).
And apparently there are programs you can buy that will tell you the best words to use (I don't own that program).
Then you hit publish. (I do that).
I just hit publish whenever I finish.
But most bloggers have graphed when the best day and time to post is. (I don't do that).
Social media did not exist when I first started.
Nowadays I have to go around and make sure I have shared my recipe on all the different sites (I do this).
Some even go on Instagram and Facebook Live to tell you that you have a recipe (I don't do this).
So much has changed in 13 years.
I remember how excited I was the first time I got 10 comments on my blog.
For I would be excited again if I got 10 comments on the blog. 😛
When a stat counter came out and I was in awe of how many people were reading my blog but also completely freaked out at how many were reading my blog.
Back then people came to my blog to READ my blog.
Now people complain they had to scroll through to get the recipe or that we have ads running on our sites.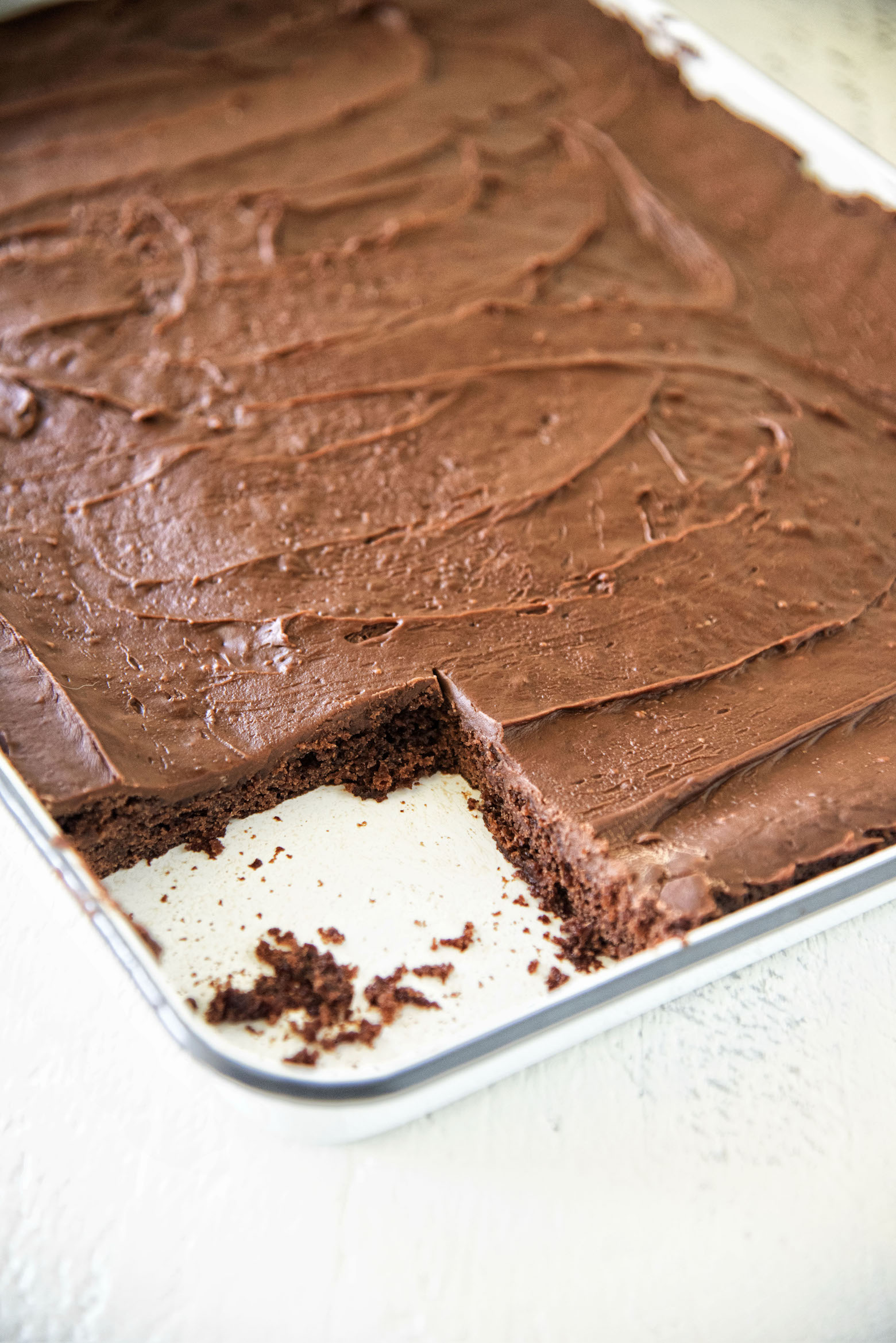 The blog was started because we had moved to a state and a city where I knew no one and longed for connection.
And to make and share food.
Today I have many friends in this state, though most are not food related friends.
Most are through hockey and spaniels (dog people stick together).
But I still very much enjoy making food and sharing that food.
I thought a lot about what I would make for my 13th blog anniversary.
Layer cakes.
Cupcakes.
Bread pudding.
Then someone posted a Texas Sheet Cake they had taken to a party.
I had not had Texas Sheet Cake in forever.
The kind I grew up on had nuts but as usual I did not want to do the usual.
Enter the Jack and Coke for a Jack and Coke Texas Sheet Cake.
If you are not a booze fan you can simply omit the whiskey.
This cake is perfect for my 13th blog anniversary.
It's tasty, boozy, and no nonsense. 
Thank you to those that still come around.
And to those that have been here since the beginning you deserve a badge or a beer or something. 😀
To those who recently started reading…welcome.
And to everyone in between.
Thank you.
Peabody
P.S. It's a great day to buy my cookbook Holy Sweet!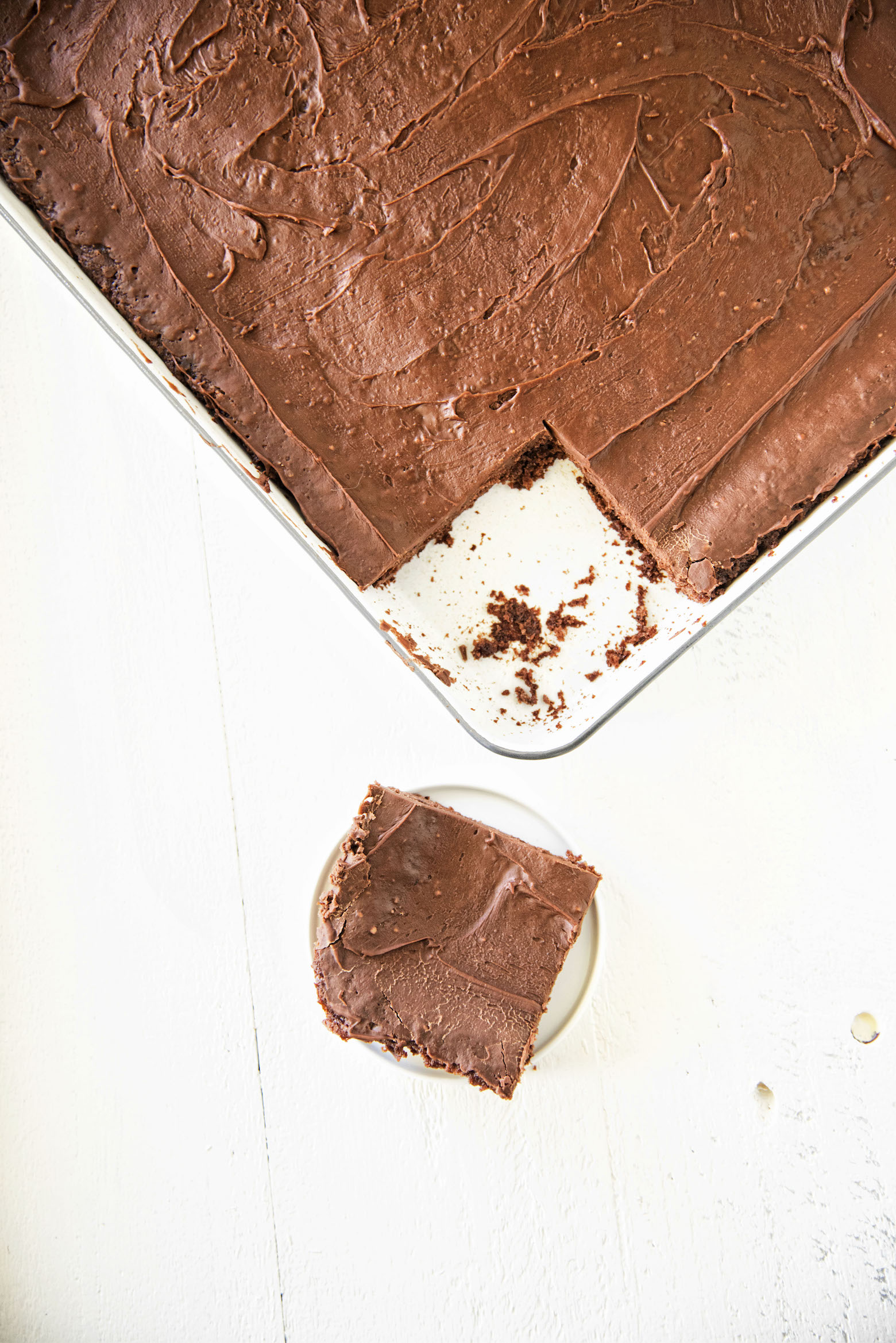 Want More Cake Recipes?
Chocolate Peanut Butter Stout Layer Cake
Vanilla Cheesecake Funfetti Pink Ombre Layer Cake
Chocolate Salted Caramel Popcorn Cake
Ingredients
For the Cake:
1 cup unsalted butter, cube
1 cup Coke (or any regular cola, not diet)
3 TBSP Jack Daniels Whiskey (or whatever whiskey you want or you can omit)
1/4 cup baking cocoa
2 cups all-purpose flour
2 cups granulated sugar
1 tsp.baking soda
1/2 tsp. salt
1/2 cup buttermilk or sour cream
For the Icing:
1/2 cup unsalted butter, cubed
1/4 cup Coke
3 TBSP Jack Daniels Whiskey
3 TBSP baking cocoa
3-3/4 cups powdered sugar
1/8 tsp. salt
Instructions
In a large saucepan, bring the butter, Coke, whiskey, and cocoa to a boil.
Remove from the heat.
Combine the flour, sugar, baking soda and salt; add to cocoa mixture.
Stir in the buttermilk until smooth.
Pour into a greased 15x10x1-in. baking pan.
Bake at 350° for 20-25 minutes or until a toothpick inserted in the center comes out clean.
For the Icing:
In a small saucepan, melt butter; add Coke and cocoa.
Bring to a boil.
Remove from the heat.
Whisk in powdered sugar and salt until smooth.
Add the whiskey and whisk until smooth.
Pour over warm cake.
Cool completely on a wire rack.